In Response To: Re: Come and Take Your Medicine Term 1.1 (jonny)
: As for my original search (which has so far been unsuccessful), does anyone
: have any "data" on the speed of the Pfhor FTL drives? My guess
: is that the travel time in FTL mode is instantaneous, as the ships are
: generally described as "folding", which in SF trope terms has
: always implied instant movement between two points in spacetime.
Interesting question. You are right about the references to "folding". The Marathon 2 manual, for example, describes the Pfhor scoutship folding...
"In the dark between the orbits of the sixth and seventh planets, slightly above the ecliptic, a ship vanished, folding soundlessly in on itself in impossible ways. As the long craft twisted and faded in one place, it began simultaneously to appear in another."
But then you have a terminal on Eat It, Vid Boi! where Durandal tells you that that Battle Group Seven is en-route and will arrive in about twenty hours. Of course, this might be because they folded outside the system and are approaching Lh'owon at sub-FTL speed. But that just doesn't sound very tactical.
But then what do I know about Pfhor battle tactics.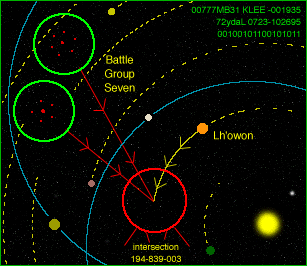 Cheers
Hamish