In Response To: Re: Come and Take Your Medicine Term 1.1 (Godot)
: I've always assumed it to be Earth since he uses the terms "Sol"
: and "UESG".
: Of course, it does seem a bit odd that he would take time out of his
: obsessive 17 year search for Lh'owon at the galactic core. Then again with
: FTL it's probably a hop, skip and a jump to get there and a quick download
: of the necessary data, and then back again.
Indeed. Then again, I guess it's possible he was just referring to the galactic neighbo(u)rhood of Sol and Tau Ceti, the map on Waterloo Waterpark shows them to be relatively close together.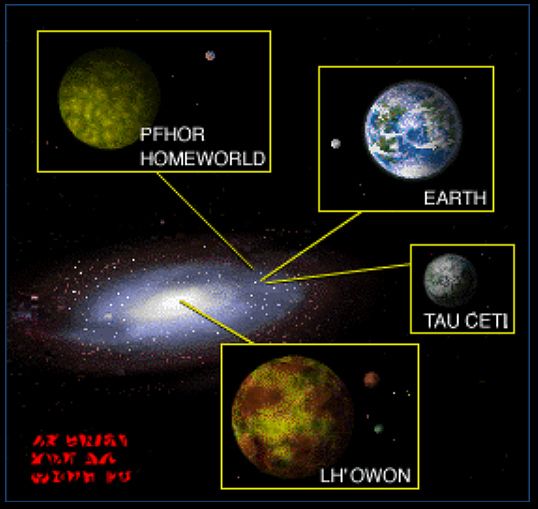 By this time it's possible that Earth had developed the capabilities for FTL communication but not FTL travel. Of course, we'll never know this because we're digging deeper than canon at this point it seems.
Another thing that has perplexed me, in regards to the above map, is the relative proximity of the Pfhor Homeworld to Earth. It seems to me that the Pfhor would have detected and invaded Earth long before they ever made it Lh'owon, and long before humanity had any appreciable technology to resist them. In fact, how could the Pfhor have possibly been near enough to Tau Ceti for Durandal to contact them and they not be aware of Earth?
What gives? By the time the Marathon launched from the Sol System there would have been light-speed radio transmissions emanating from Earth for over 500 years.
I can only think of a few possibilities for this:
1. Pfhor bureaucracy bungled, delayed, miscalculated, or misclassified the Sol System and its inhabitants.
2. Jjaro providence was at play in "protecting" the Sol System
3. Some natural galactic feature shielded Sol from the Pfhor, some shroud of dark matter or some opaque nebula or somesuch.
4. Some combination of the above.
Leela whispers across the void of space, "There are obviously many things which we do not understand, and may never be able to."