In Response To: Re: Bungie Connections (Enkidu)
: Yep, you're right. So that makes Mr. Hefty at the top left our Drinnol?
: -- Steve'd like to blame the dinky monitors at work for the misjudgement, but
: it probably is just being in a rush to judge.
I've looked at a new pic, a brute, which is here:
Look at where his body armor is. Remember this.
Now lets look at the Hulk.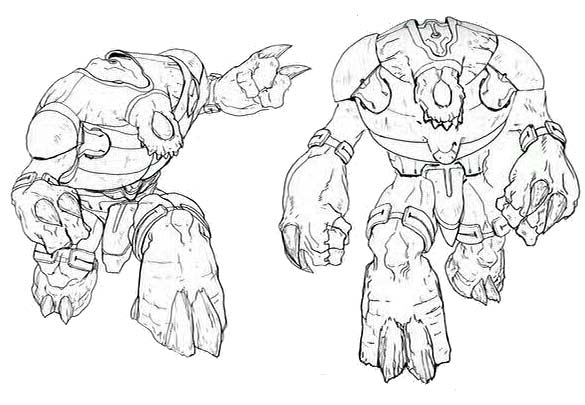 Look at his body armor.
Now lets look at the pic in Halo 2.
Look at the body armor of the monster in the lower left. Note the forked top to the shoulder armor. Same as the Brute.
Some problems with this though. Look at the elbow and knee joints. In the render, the Brute doesn't have any armor on his elbows or knees. In the Hulk sketch, he wears bands on both. Also, the brute doesn't wear any groin protection as depicted on the glyph. The Hulk does. Hmmm.
Now for the Drinniol. I mentioned before that the Hulk has something of hooves for feet, as does the glyph on the top left. Note also on that glyph that the outside of the hand has a line splitting it in two. Much like the spikes protruding from the knuckles of the Hulk.
But there's two problems with it being a Hulk. Firstly, the limbs appear too long. Hulks have short limbs. Secondly, the glyph has a head, Hulks don't. Well, they do, but its more of a flap; they lack the humanoid cranium that appears on the glyph.
Now I'm confused.
One other thing is that we can't seem to take into account is scale of the glyphs. In the game, the Hunters were larger than the Brutes by quite a bit. In the glyphs, they're about the same size. The beast on the top left dwarfs em all though. If I'm wrong about the brutes' size, someone correct me.