In Response To: Re: Eternal X v1.1 beta 4 (Forrest of B.org)
: I just got around to trying to fix this and I can't replicate the problem. I
: am still seeing the shorter landscapes (because I never copied the new
: taller ones into the shapes file before), but I'm not seeing the problem
: that the taller landscapes were supposed to fix. Can you send me a
: screenshot of what you're seeing?
: Thanks,
: -Forrest
You can see some stretching at the top of this image, with Eternal X's 'normal' 90deg field-of-view (Infinity's is 80deg). It's worse at the 'extra' 135deg fov. Snapshot taken using AO 2013.08.13 preview build.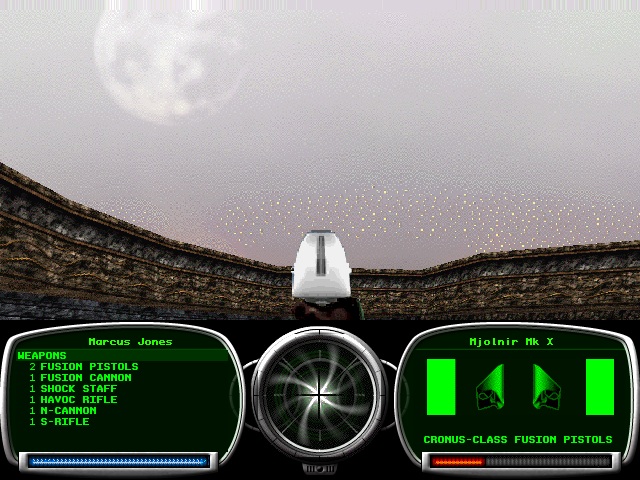 But this is what I was really getting at, stupid me: 540x2048 landscape images don't work well with how od28-6 was adapted for larger landscapes, assuming a larger resolution for the same yaw scale (one repeat). This was fixed at the last minute with text patching (biglandscape_stretch=1). Only the yaw positioning differs.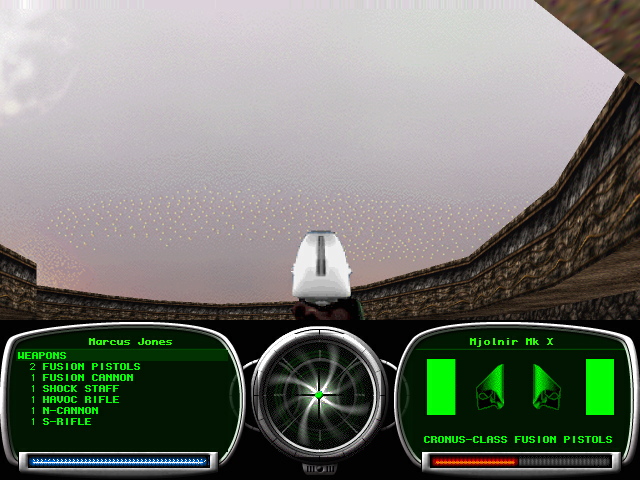 Anyway, 540 in height isn't enough for Eternal X's fov values. Beyond that, a number of bitmaps are improperly dithered, including the texture you see for the floor on the first level (contains orange and magenta pixels) ónot the case for v1.0.