In Response To: Re: Japanese Marathon Trilogy iso (Lion O Cyborg)
: I thought that the trilogy release games were the CD versions only, including
: M1 with the CD tracks and all. Is it just another floppy disk copy on the
: trilogy CD?
: Or did the CD version just have the MIDIs as well, and the 7 tracks were as
: an OST only, without there being 16 CD tracks on the actual game disk,
: with 7 of them for the OST like I was led to believe?
To my knowledge, the Trilogy discs never carried CD Audio tracks, only the respective AIFF and MIDI/QT Music files; whereas the CD Audio tracks appeared on limited-release discs for specific versions (M1, M2, Infinity) when each came out.
This is covered in the Marathon Story Music section:
http://marathon.bungie.org/story/music.html
: Are you saying that the OS itself is still in English but the Japanese game
: text is kanji in the menus? It's the main OS that's the bit that needs
: translated most; I have a copy of SA1 1998 on Null DC which is kanji only
: but its menus aren't that hard to follow too much.
Itís just the OS Iíve been using is in English. Here is a snapshot of the Map Collection disc at root, under Mac OS 7.5.5 U.S. (with Appearance SDK, no Language Kit):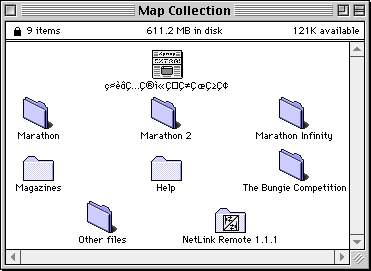 (The file names in Japanese show up garbled here, and should not be renamed if they do.)
Here is the Infinity menu, regardless of OS: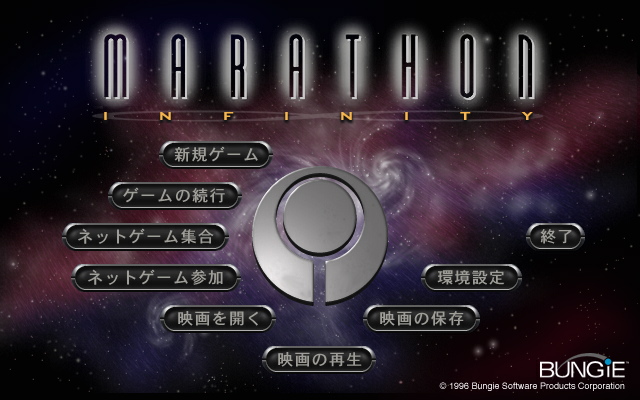 So yeah, itís not hard to guess what is what there.
: What I meant before was is there a language pack for the main OS text outside
: of the games, as that would need to have the option in any version of an
: OS worldwide for accessibility reasons.
Yes. The Japanese OS or Language Kit is needed for the text outside of the game, or within the terminals.
The Mac OS 9 CD (if you can find one ó on disc or online) contains the Japanese Language Kit (among other encodings) and only requires checking the Language Kit check box during installation; that would result in full Unicode support (for the late 1990s, anyway). Note that Mac OS 9 is PPC only, and would require an emulator like SheepShaver.
I forgot about one downside: Due to wrap-around bugs in the terminal text drawing code, the game hangs in the terminals without any working Japanese fonts or encoding support. So not all of the game will work in an English-only OS. My bad.