In Response To: Tour Of Duty: Poor Yorick (VikingBoyBilly)
: Is that a pfhor head without the respiratory face attachment? Then why is the
: blood red? There's some yellow blood and a staff next to it, so that
: definitely came from a pfhor, but this "head" in a pool of red
: blood with something that looks like an amulet or a necklace is
: bewildering to guess at.
Go on... try it on. ;)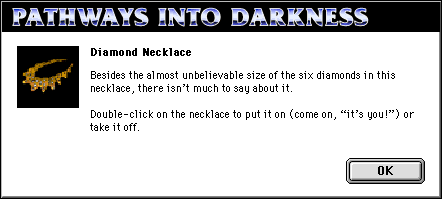 The bigger question of course is why there are Bobs on the level at this particular time in the story.
At the end of this level we learn that Durandal's ship has entered the system and the Bobs are moving through the southern edge of the ruins. This of course sets us up for the event on Confound Delivery.
Cheers
Hamish