In Response To: Re: Tour of Duty - Beware of Abandoned Rental Truc (Martin)
: But wait that's not all. Wow, I had missed that as well. So Blake says they
: plan to steal a Pfhor ship, we get sent to a Pfhor ship by Thoth, and
: we're not even clear on which ship it is - reading up at 1am I was
: suddenly like, oh that's Tycho's ship and we actually had some part in his
: end, but no it's still less simple!
Really, Bungie left clues - nay, clear, cold and plain evidence - all over the place in M2 that that ship we undocked was the one Blake's men used to get off the planet. Not only are there the aforementioned hints, but there is yet another obvious yet hard-to-notice clue sitting around for all to see. On Requiem For A Cyborg, we encounter this terminal: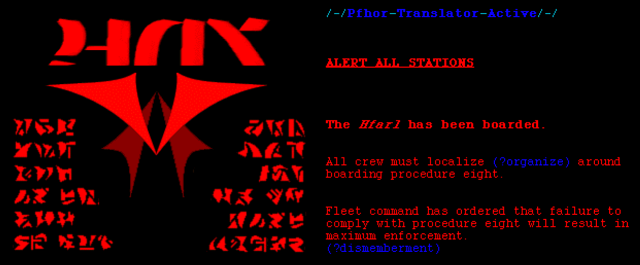 (Yes, I did just use a terminal image from our Tour of Duty collection before Martin even got around to the level it's on - who cares?)
Note the mention of the Hfarl. That must be the name of the ship we are on. Now skip ahead to the Final Screen of M2.
Robert Blake and his men escaped the destruction of Lh'owon in the captured Pfhor refueling ship Hfarl, and returned to Earth. None of them ever questioned who had killed the crew before they boarded the vessel.
Blake and his men left in the Hfarl. If that's not evidence enough, then I don't know what is.
Gentlemen, I rest my case.
Vale,
Perseus