Jason's elaborately designed cargo level complete with whacky lift system and mind warping secret terminal. Mind warping? Well you figure out how you can stay up there to read it WITHOUT a ledge to stand on. Did my mind in when I first played the game. Thank god for comp.sys.mac.games, that's all I'll say.
Tuncer Deniz's Oficial Strategy Guide has this to say about this secret terminal...


That's right… nothing, not even how to find it even though it is clearly shown in the accompanying map. Too late to get my money back. ;)
The Marathon Spoiler Guide has this to say about accessing the secret terminal.

To get to the high terminal, you'll have to SPNKR-jump yourself up there, with a midturn twist and action key.

Tricky stuff this mid-air twisting. This is what v1.0 of the Marathon Spoiler Guide had to say on the subject back in Feb '95.

When you get in the room you will need to grenade hop up to the terminal and hit action.

Straight forward grenade hoping works a treat provided you have at least 1X shields left. Why was this tip dropped in preference to the SPNKR-jump mid-air twist thingie?
But I digress.

In the immortal words of Captain James T Kirk:
Get off my ship!
(seventh episode of the third season)
Some gaming companies would have ended their game with the death of the 'alien leader'. Granted you would have needed a bazillion bullets to do it but it would have ended with a satisfying conclusion, a job well done, let's go home for tea. But not Bungie. Oh no…
THIS IS BUNGIE… and…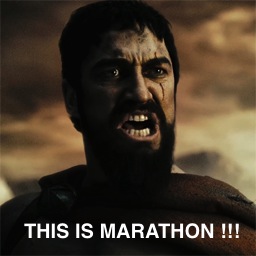 Get off my ship!

Apart from kicking the Pfhor off your ship, your mission here is simple.

Two doors to open.
Two switches to activate.

Oh wait that's from Infinity, I'm ahead of myself. Actually while there are two doors and two switches you only need to activate one switch and open one door. Oddly Jason made each switch opened the furtherest door. See my OCD is getting the better of me. ;)
This two switches/two doors objective kind of reminds me of the Jason's PID level 'Never Stop Firing', only this time Durandal is yanking my chain.
This level only has one glue trigger and that's working correctly. The rest of the level is enter room, bad guys activate, kill bad guys, repeat and rinse. The S'pht still show up as red dots on the old motion detector (as per the original game), then again how does a motion detector know who is naughty or nice?
There is a case of beer up for grabs if someone can tell me why this level's suicide trap is different. :)
I'll leave the last word to Tommy Lee Jones.
Welcome to the Revolution
Cheers
Hamish