In Response To: Images Seen Once More... (PerseusSpartacus)
After adopting Craig Mullins' Infinity horizon as my desktop, I sat there wondering what it could represent. Certainly not Lh'owon - those buildings are far too human. Perhaps someplace back in Sol? Mars? Earth?
I started trying to think of it in the context of the meaning of the Infinity chapter titles: Despair, Rage, Envy. As has been pointed out before, these are clearly references to the three stages of Rampancy: Melancholia, Anger, Jealousy.
The image that kept flashing into my mind was that of the Rage chapter screen: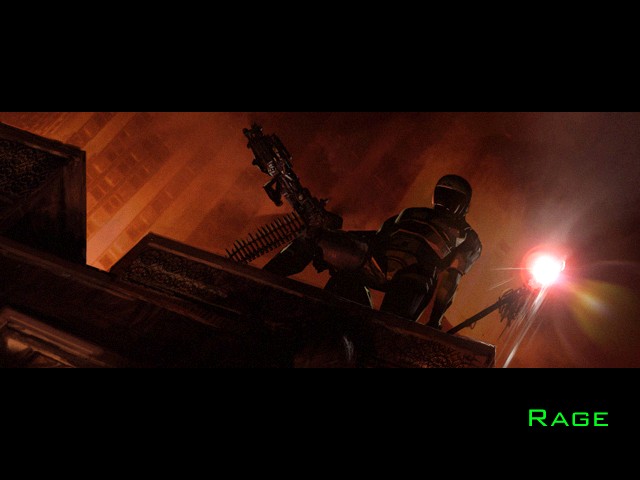 It likewise got me thinking of the discussion of Icarus, Thermopylae, and the Battleroids - how they slaughtered nearly everyone and caused horrendous destruction:
In 2194, a war was fought between the Independent Asteroid
Government of Icarus and its neighbor, the Republic of
Thermopylae on the asteroid of Onicis 492. These two small
governments soon became the testing grounds for new weapons.
Dead soldiers were recycled in makeshift battleroid factories.
Easy to manufacture chips enhanced the fragile human brain,
and genetically enhanced muscles and titanium bones replaced
the fragile human form. The modern battleroid was born. Of
course, the war was short. Battleroids got onto both
asteroids and killed almost everyone.
It has been pointed out before that we, as a Mjolnir Mark IV Cyborg, very well could be a Battleroid, and as such we might have retained memories from previous lives, thus explaining the constant feeling of deja vu, the continual daydreaming, the memories flooding back constantly. Some have suggested we might have memories of Traxus IV or even Icarus and Thermopylae.
The latter part is what I'm interested in: do we remember Icarus and Thermopylae? If so, there's some potential connotations with the Rage chapter screen. Perhaps we're remembering what happened? Perhaps we're imagining what it would be like if the same thing happened on Mars, or even Earth? Memories flooding back, or dark visions of what could have been or could be? Perhaps if they are visions, they can be explained by our seeming 'Rampancy'? After all, Rampant sentiences seem to have a tendency to get a bit nasty or bitter towards their masters. Maybe we're experiencing the same kinds of feelings towards humanity? Perhaps our memories of the asteroid governments are giving us ideas?
If any of this makes a glimmer of sense, tell me. I'm desperate to know I'm not just going crazy with vague associations. ;)
Vale,
Perseus