In Response To: Re: Pathways Into Darkness 2.0 (VikingBoyBilly)
: It looks red to me.
At the risk of being overly pedantic, the hue of that screenshot is consistently 13-14°, which is almost exactly halfway between red (0°) and orange (30°). So it's technically both. However, my brain tends to simplify red-orange and yellow-orange to orange unless the red or yellow are far more dominant. This isn't past that threshold, so it just looks orange to me. Compare to Ye Olde Smokey Dude: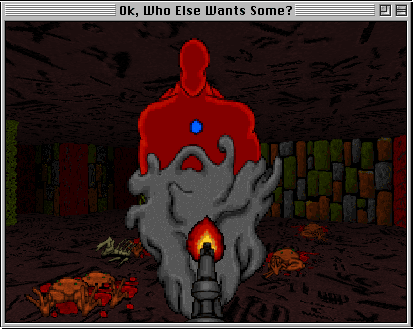 Whose hue is exactly 0°.
(For the record, M2 compilers' cloaks are 21-22° and M1 compilers' cloaks are 9°. The M1 compilers are just about at the threshold where I might start to think of them as more red than orange… which just means I think of them as both red and orange rather than thinking of them as orange. You'd probably have to get to around 5° before I stopped seeing orange at all.)