We know from M2 terminals that the s'pht and f'licta have a common ancestor (or the s'pht are descended from f'licta somehow), and while all that's told about the s'pht's biology is their actual appearance beneath the mechanical shell and their lives are dependent on being cyborgs, we're told a bit about the f'licta organic structure:
They ingest nutrients through pores in their skin that they absorb through water.

The orofice on their torso is an organ to incubate their eggs

Helpful terms: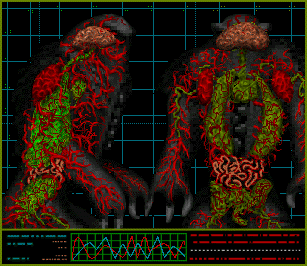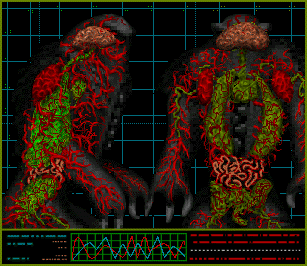 We never see a f'licta without the orofice, so it can be inferred that they have no sexual dimorphism (if there's a terminal somewhere confirming there are males and females, someone point it out). There's only a couple of terminals that give us a picture of unarmored s'pht, and here they are: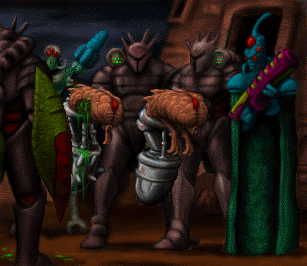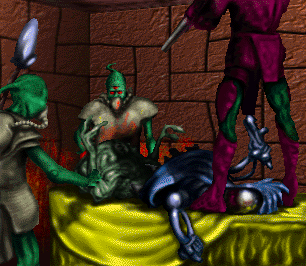 (Why are all the aliens green in that second image? That's something I always wanted to know)
In the first image we can see the s'pht have one eye, which diverges from f'licta biology who have two, but on the second imgage we can see what looks like a mouth. I posit that this is not a s'pht mouth, but the egg incubation organ which they have in common with the f'licta.
The s'pht also used to be living with their upper bodies exposed before the pfhor enslaved them, so here are my theories:
The pfhor reproduce by sharing eggs that they incubate in their orofice. The pfhor have given them an inpenetrable shell, so it seems they can no longer do this voluntarily under pfhor control (other than, you know, the mind control thing). The pfhor may have devised ways to regulate their reproduction.

The s'pht absorb nutrients through their skin. Is there liquid s'pht-food flowing underneath their mechanical shell?

Oh, one more observation: Green blood! Perhaps they have red and green fluids running through their veins like the f'licta do. On image 1 a s'pht is oozing green, but on image 2 the wall is stained with red.

There are no s'pht sexes. All of them are capable of producing eggs capable of fertilization in their incubation orifices. Maybe jrro put his own eggs in his orifice to have all his s'pht children, so the race being his children is more literal than figurative?

All of this is pretty inconclusive, but it's neat to ponder. (I want a scenario with green pfhor in it)