In Response To: Re: Tour of Duty: Two For The Price of One (yaco)
: nobody mentioned that the map itself is very similar to the
: "infinity" terminal logon/logoff icon?
I presume you're referring to this: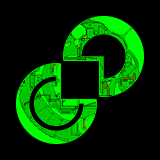 I already did my own study of this, and discovered that in fact the map hidden inside the picture is Aye Mak Sicur. When I went about and reported my findings, I realized that others before me had in fact discovered the same thing.
Vale,
Perseus