Came across this blog at Freeverse by Bruce Morrison (aka Hippieman). It's a interesting account of playing Super Marathon on a Pippin, including his attempts at first finding both elusive items.
http://blog.freeverse.com/monkeyblog/archives/2010/06/super-marathon.php
Anyway, what struct me was this screenshot of Couch Fishing from the first game. It's from the start of the level.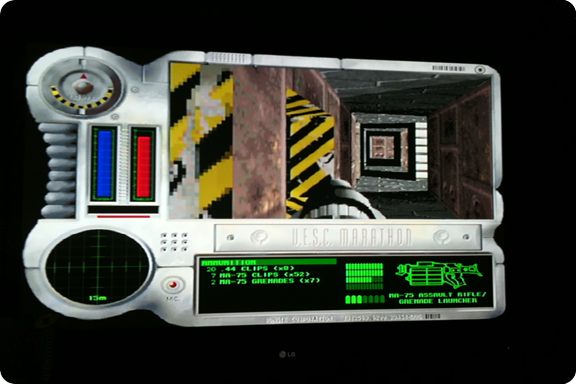 What is odd about it is the lighting. In the original Mac version the end of the long corridor is in total darkness. Jason Jones positioned a single Pfhor fighter at the end of corridor and when you teleport in he begins his lone run towards you. You don't see him at first until he comes out of the dark. It's a nice effect which can catch you unawares. This effect is currently replicated exactly as the original in the Aleph One version of Marathon.
So it would appear that Super Marathon is not playing the exact same levels as the original Marathon.
Cheers
Hamish