After doing an random google search for Nebulons I found a Marathon Story Page that had some images, and description of them:
http://marathon.bungie.org/story/sphtkr.html
I'm curious. Jason Jones, in a secret M2 terminal stated the creatures under T'fear's feet are Nebulons: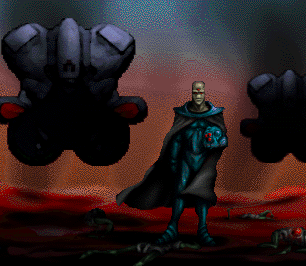 Q.) Looking closley: is this odd creature being tortured / beaten by the odd purple pfhor *also* a Nebulon?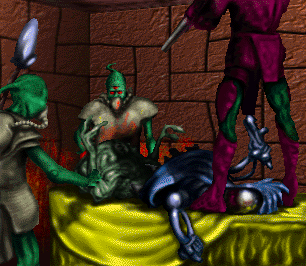 In the Marathon GURPS guide, the author describes Nebulons as:
"... very small in stature, but are quite well-built for their size. They are remarkably fast and are famous for their daring rushes in battle.
[...]
Environment: Nebulons breathe carbon dioxide, and prefer a cold .8G environment."
So... would it make sense to most peoples minds to have the Nebulons, as they appear (green skinned aliens with cybernetic apendages?) to have ships that look like this:

This is an image from the halted Ares Conversion "Marathon:Invasion".
So... would a green skinned species drive organic, magenta colored ships? I'd like peoples input. I wanted to place an short Nebulon ship level in WMaiD... but I need some artistic direction on this. : D
Regards,
-Blayne [ernie]