In Response To: Re: Let me speculate man! It's healthy! :-) (Warbow)
: If Bungie calls this the spore then that must make this the ranger!
: Seems pretty simple to me.
Then why is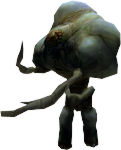 called the Carrier by Bungie and not the Ranger?
No, I think the Infection Form is what 343GS is referring to. "The small rangers" is the only term he uses in reference to the Flood, apart from the generic term "the Flood". He could mean "the smaller version of something bigger called a ranger", but I think it means "the small things called rangers", or alternatively "the small things that exhibit a behaviour that he would classify as rangers".
From dictionary.com:

rang·er ( P ) Pronunciation Key (rnjr)
n.
A wanderer; a rover.
A member of an armed troop employed in patrolling a specific region.
Ranger A member of a group of U.S. soldiers specially trained for making raids either on foot, in ground vehicles, or by airlift.

A warden employed to maintain and protect a natural area, such as a forest or park.
Chiefly British. The keeper of a royal forest or park.

The first definition of "A wanderer; a rover" would certainly be a good description of what the Infection Forms do, and even the second definition could be applied to them.
I also think that his comment "As long as any hosts remain, the Flood is virulent" is the key one to my original point, regardless of what you want to call the Infection Forms. He is explicitly stating that the Flood can spread as long as any hosts remain. He may mean that as long as there are potential hosts, the Flood can continue to spread. Again, from dictionary.com:

vir·u·lent ( P ) Pronunciation Key (vîry-lnt, vîr-)
adj.

Extremely infectious, malignant, or poisonous. Used of a disease or toxin.
Capable of causing disease by breaking down protective mechanisms of the host. Used of a pathogen.
Bitterly hostile or antagonistic; hateful: virulent criticism. See Synonyms at poisonous.
Intensely irritating, obnoxious, or harsh.

So, as long as any hosts remain, the Flood is "extremely infectious", to take the first definition. I think this makes it clear that he means infected hosts, rather than potential hosts. Which leads me to the conclusion that any infected host can spread the Flood, be it Ranger/Infection Form, Warrior, Carrier, and even Blobs (somehow). What we have seen in the game indicates that Infection Forms are the main vector for the spread of the Flood (again from dictionary.com):

vec·tor ( P ) Pronunciation Key (vktr)
n.
Mathematics.
A quantity, such as velocity, completely specified by a magnitude and a direction.
A one-dimensional array.
An element of a vector space.
Pathology. An organism, such as a mosquito or tick, that carries disease-causing microorganisms from one host to another.
Genetics. A bacteriophage, plasmid, or other agent that transfers genetic material from one cell to another.
A force or influence.
A course or direction, as of an airplane.

And, as you hear from 343GS at the beginning of Two Betrayals:
"...Which means that any organism of sufficient mass and cognitive ability is a potential vector."
If the Infection Forms have sufficient mass, then an infected host surely has the same capability to be a vector - though without the controlling Infection Form, it may not have the cognitive ability. However, we have seen one way the spores spread - the Infection Forms attack a living creature, kill it, and the spores mutate it to produce more spores while the infection form controls the body. So what happens next?
If it's a Carrier, it makes more Infection Forms, and on we go. But if it's a Warrior, we haven't seen what happens. Perhaps a new Infection Form is produced - maybe just one. Or maybe the Warriors take over the role of the Infection Forms and attempt to spread the spores. After all, they are a better vector in terms of their strength, durability, and mobility. How a Warrior gets the spores into a new host is anyone's guess, but I think it may involve the controller Infection Form.
I did originally wonder if the spores could spread without the Infection Forms. I think they can, but only very locally. They could spread through the air, but perhaps cannot survive long on their own, and require a host quickly. Having a host, be it an Infection Form, Warrior, Carrier, or whatever, allows the spores to survive.
So maybe I just argued against my own theory of some spores remaining on Keyes' neural net :-)
Anyway, this is getting too long - someone else's turn!