We have been away a really long time, but certainly can't claim it has all been spent working on this product upon which we embark today. Laziness, burnout, and just general real life really do seem to get in the way of Marathon projects! Over the last two months, I have played through the whole of the scenario in A1, and prepared the maps you will see over the next several months. PerseusSpartacus prepared more pretty headers, and the terminal pages, and arranged everything to go online. I will likely end up doing most of the writing, as I feel like I have the most motivation to work on it at the moment :). So I apologise to those not enamoured of my verbose style.
This scenario was a really early collaborative effort of the Marathon Map Makers' Guild, for M1 in Pfhorte, which is pretty amazing for so many reasons, like how it was to work with that program. I made a couple of maps myself but never did anything with them. I remember my brother messed around with it a bit, and a friend of his made a quite good fun map but it went out of sync in multiplayer, as so many did back them, when we were networking an LCIII and an LC 575. They also played a lot of Bolo with the 575 hosting an Indy bot … for those with similar memories :).
But yeah it was hard going, and with file sharing what it was at the time as well, it really does amaze me that a bunch of -you guys- put together such a scenario. And with some of you still around here, I feel rather unqualified to speak further about it, but it would be very cool to hear any development stories from those early days. This is of course a writeup of the 2.0 version in the M2 engine, and other than a few liquid things that M1 couldn't have done, I'm not sure how they differed. This one has some serious focus on secrets as we go through, to the point that I had to look up how to progress a couple of times. Thank goodness the Internet knows! The scenario also loves its 5D space.
I had played at least most of it in the early days of A1, I think skipping "With a little help" as I never figured out the lift puzzle, and maybe a couple of others. I remembered parts of Bats in the Belfry when I got there, and I suspect I must have looked up stuff for that one at the time as well! There is still at least one crash in A1, on Jaunt, where going into a room gives it an "invalid platform" error, but you can take different routes through the level to avoid that.
The scenario introduces itself with this the first level: Space Walk. Which it really is. First of all, we have a great splashscreen with a very close up Juggernaut, and a short and sweet intro sound.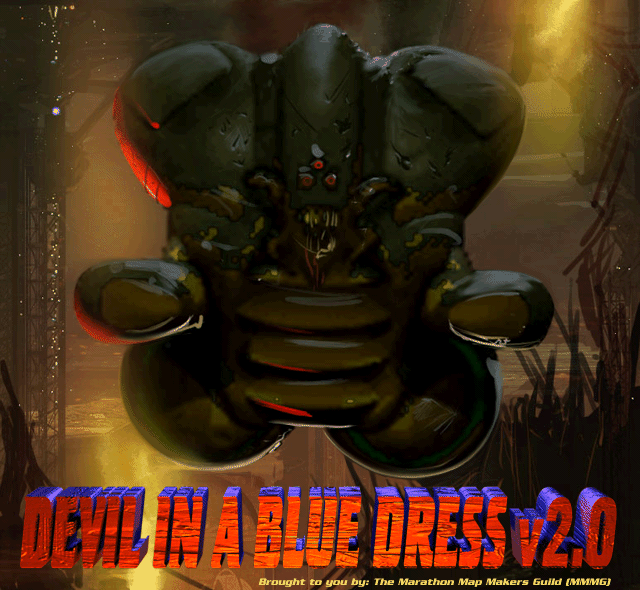 Then we start out looking at space and a large planet that we feel is quite familiar. It turns out we came in up in the air, and we soon land to find ourselves looking straight at a terminal.
Our surroundings are also very spacey, with the only textures visible being the treads of stairs curving down to our right, and a door at the bottom. Space is explorable to some extent, but there's nothing out there, and you can get a bit stuck in the process.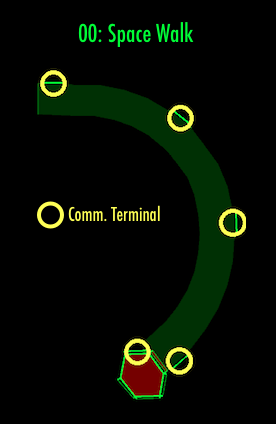 Appropriately enough, the level is vacuum. A bit mean when there is quite a bit of reading to do, but we can always respawn :). The first terminal comes on quite profound about the impact of Marathon on Mac gaming. I think the words "human endeavours" make it seem even deeper here. And we are told to head down the stairs – nice and to the point, and we're not exactly going to disobey a terminal!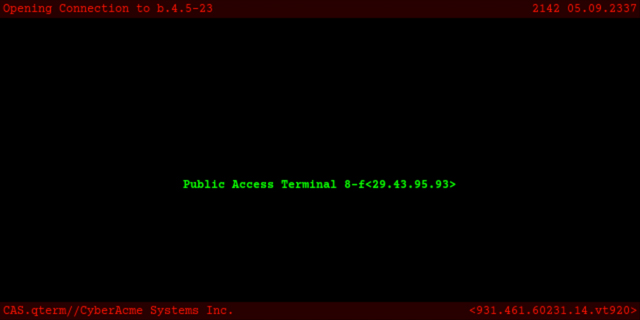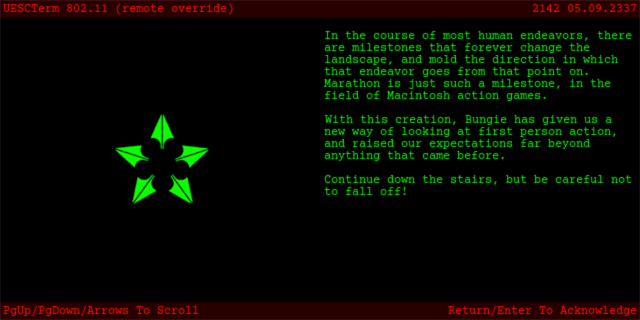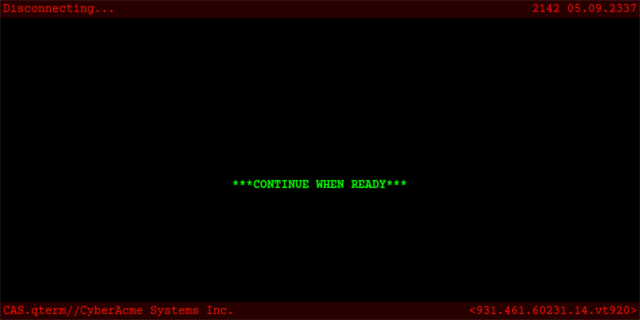 Next we get a history of the early mod work for the game – sounds patches, music patches, shapes patches, stories within the same universe, and total conversions, where everything was switched up including new enemies created.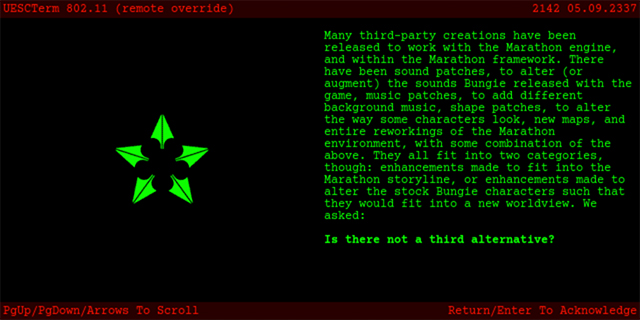 Then this scenario explains itself as something unique, leaving the enemy sprites untouched while telling its own out of universe story. It asks would anyone play it, and clearly the answer is "why yes!" Some people would go even further and be writing about it more than 20 years later - who could have foreseen that!?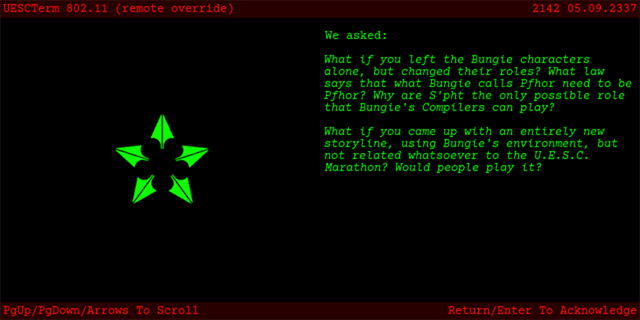 And finally the details: the Pfhor enemies are pirates, the S'pht are Galaxans, and we are some scrub UESC marine that never heard of the Marathon, what!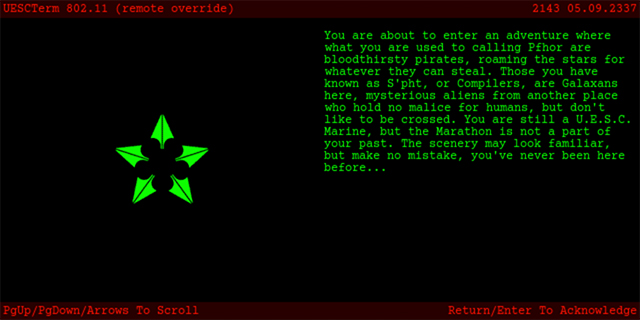 That brings us to the door, and I think also our first bit of 5D space, as we can run around the door to the right, stand what should be behind it, and see no textures, but then we can go back and open the door and see a lift shaft inside. A bit freaky, but I guess it is down the rabbit hole for us!
At the bottom we get a token magnum, and a ride to the top with one last terminal of preamble.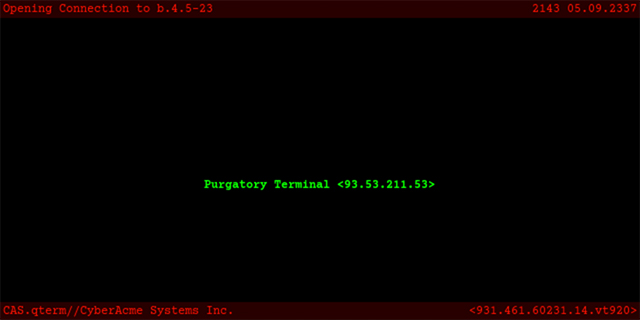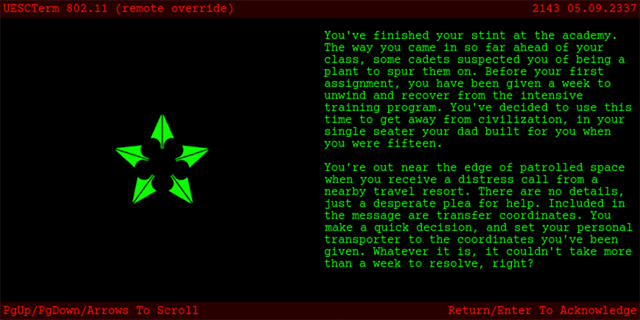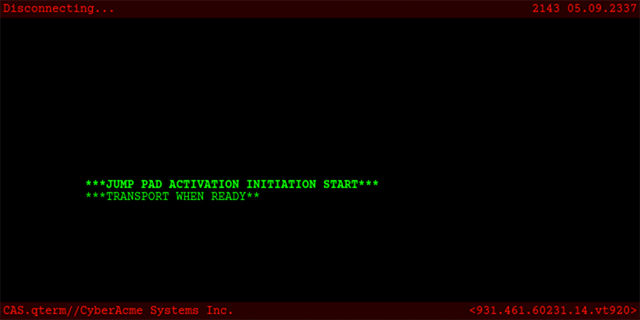 The first part sounds very reminiscent of some of the Marathon preamble, pointing out just how awesome we are even among our peers. And now we're on a break following training, cruising about space, and deciding that we really are up for more work, responding to a distress call from a resort near the edge of patrolled space – what could possibly go wrong?