In Response To: Re: Video on Marathon Stuff. *LINK* (Aaron Freed)
: See my link below for a complete set of textures in both games. (You may need
: to expand it to get the full effect, depending on your browser settings.)
Thanks for this very handy side by side comparison. I will add it to the Story page.
: A couple of other notes: The textures are a large part of the reason Infinity
: took place on Lh'owon, and thus a large part of the reason for the time
: travel and multiple timelines; Double Aught didn't think they'd have time
: to remake all four texture sets, and it would've been ridiculous to set
: the sequel on a planet that looked exactly like Lh'owon, but wasn't. Randy
: remade all the textures near the end of Infinity's development cycle. This
: is also why most of the terminal images in Infinity show the maps with
: Marathon 2 textures.
You can also see the Marathon 2 textures used in this officially released screenshot for the game. It first appeared on Bungie's website on 12 June 1996.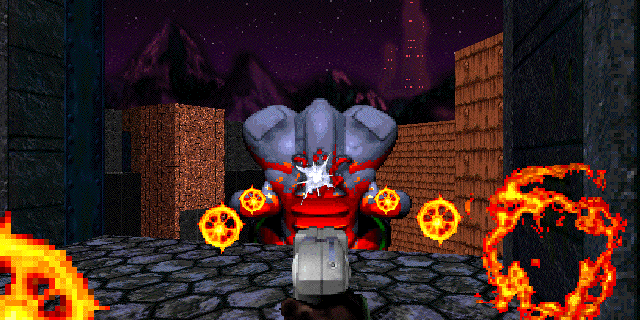 Even though it was using the Marathon 2 textures it would eventually end up on the front of the Marathon Infinity box.
: The landscapes (apart from the moon collection, which is not used in
: M∞) are also different; I didn't include those here, but may do so
: as an addendum to this post later.
Would be great to see this for completeness. Thanks.
Cheers
Hamish