In Response To: Re: Eternal X Tour of Duty Chapter 2 Stage 3 (Aaron Freed)
: If I'm not mistaken, those 'towers' in "My Kingdom Pfhor a Horse" are
: actually supposed to be alien trees. The planet that more than half of the
: Chapter Two levels take place on is meant to resemble an alien tropical
: rainforest. It's possible it'd be worth introducing some alien vegetation
: textures for 1.4 to make this more explicit. I've considered also revising
: the geometry to make the trees look a bit more tree-like, but that section
: already makes the engine cry badly enough as it is. We'll hopefully be
: adding purple rain to several of those levels¹, too, once the engine has
: the necessary features to support it.
: ¹As mentioned in my other reply: "A Friend in Need", "Unpfhorseen", both
: "Corporation" levels, and "My Kingdom Pfhor a Horse" almost certainly, and
: possibly the end of "To Sleep, Perchance to Dream" and the start of "The
: World Is Hollow", depending upon how the idea of retexturing those levels
: as the player progresses through them works out. "Unlucky Pfhor Some" will
: not be included because it all takes place underneath a forcefield that
: blocks rain, and "Hysterical Womb" doesn't actually take place on that
: planet at all (even though it has the same landscape texture – you can't
: actually see any regions that look like a planetary surface, though). And
: unless we can figure out why maps are slowing down so badly on Windows
: under the new Aleph One, we might end up foregoing it on "My Kingdom Pfhor
: a Horse" as well, since it currently lags even without precipitation.
I never knew the "control tower" antennae were meant to be trees. That's a cool idea, plus the fact it's meant to be an alien jungle reminds me of the Pfhor homeworld in Rubicon. If the rain in new maps works out, that would be great! The dream levels in the valley/mount point having rain not only would give the impression that yes, the sky ocean is supposed to be a storm (according to Forrest I think) but it also helps my Kingdom Valley comparisons to that location too: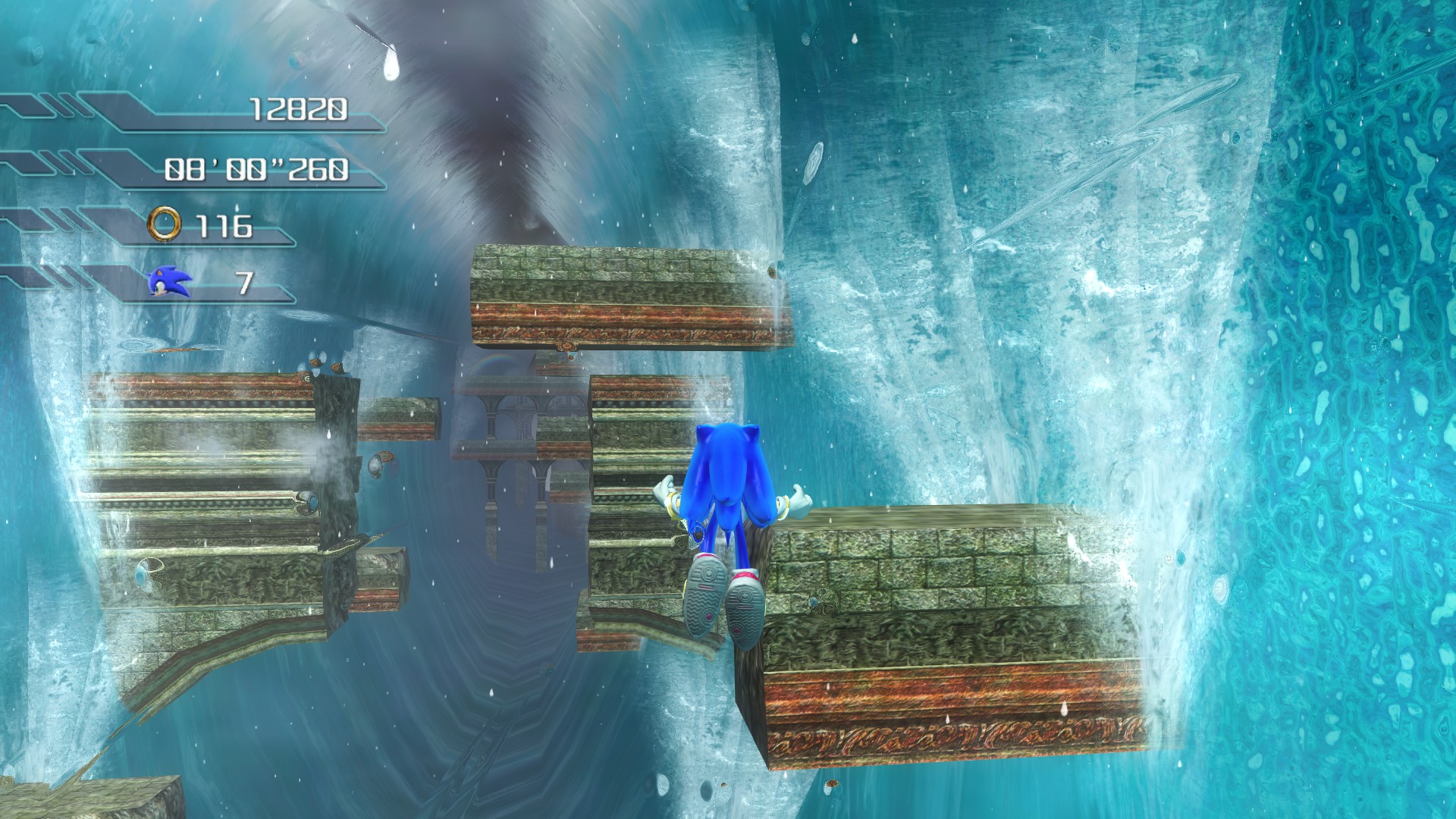 I can tell my Windows might struggle with the new versions of Eternal at the moment: my NVIDIA GPU died a couple of weeks ago due to a code 43 error so now i'm saving up for a replacement (preferably one that can run both Doom Eternal and Half Life Alyx), which I was going to do anyway since Eternal (the Doom one) doesn't work on my hardware, which is a first. The dead GPU also means that Sonic P-06 as in the screenshot now runs like molasses going uphill in January with crutches, other games as old as 2003 have framedrops at decent graphics settings & Xenia doesn't run at all. I do have the Xbox New Sonic, Shadow & Doom Eternal to keep me company until I can raise the required £2500 or so.