Loath as I am to contribute to the activity of the Mararthon community --- worse, by posting "sightings" --- I just noticed this evening that the eye from the opening of Where Giants Have Fallen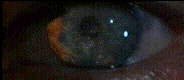 looks a lot like the intro to Blade Runner.

Certainly this is known to experts and probably has even been pointed out before, but a quick Google search doesn't turn up a discussion. Hm!