These values are unofficial and collected manually by me from the Bungie REACH project page. I make no guarantees for the accuracy of this data and provided no quality control or quality assurance for my work in collecting it.
http://www.bungie.net/Projects/Reach/default.aspx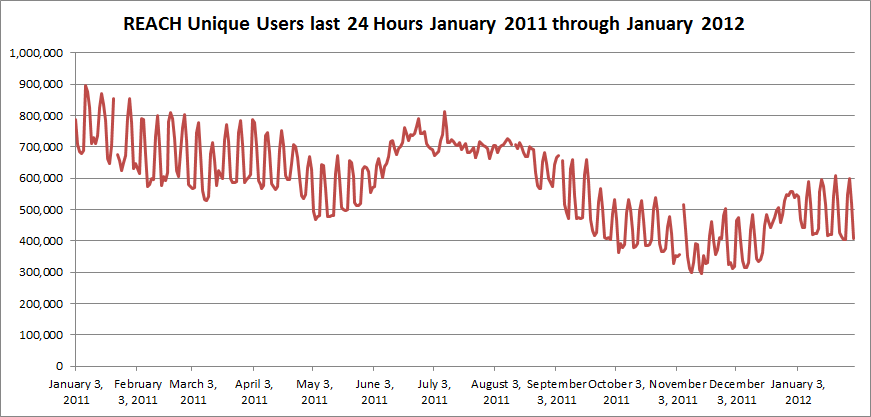 In the following graph I attempted to offset Halo 3 values such that similar days of the week for January were compared. I am not 100% happy with the result but I still feel it is a better comparison than just using exact dates.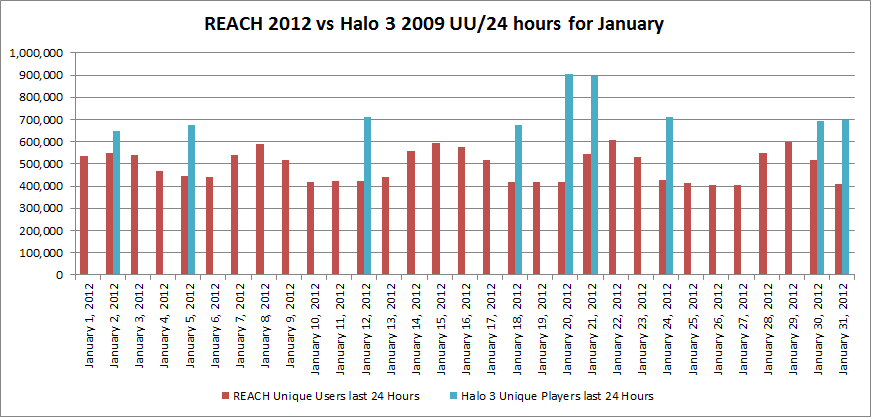 January 2012 REACH UU/24hr
Date, Games, Unique Users
January 1, 2012 1,206,817 537,140
January 2, 2012 1,202,405 548,657
January 3, 2012 1,129,350 540,306
January 4, 2012 912,248 466,355
January 5, 2012 826,839 443,688
January 6, 2012 834,251 440,819
January 7, 2012 1,059,523 539,049
January 8, 2012 1,290,695 588,511
January 9, 2012 1,020,055 517,671
January 10, 2012 789,485 419,835
January 11, 2012 809,657 422,753
January 12, 2012 778,300 422,797
January 13, 2012 832,922 439,099
January 14, 2012 1,107,833 555,796
January 15, 2012 1,377,907 594,595
January 16, 2012 1,252,136 574,239
January 17, 2012 1,015,112 516,033
January 18, 2012 759,403 417,509
January 19, 2012 772,028 418,761
January 20, 2012 772,836 420,030
January 21, 2012 1,100,170 544,035
January 22, 2012 1,420,243 607,853
January 23, 2012 1,120,234 530,898
January 24, 2012 809,809 427,617
January 25, 2012 739,634 414,341
January 26, 2012 701,281 402,860
January 27, 2012 706,742 404,378
January 28, 2012 1,104,247 547,250
January 29, 2012 1,344,498 597,420
January 30, 2012 1,023,835 517,638
January 31, 2012 704,350 407,128
Disclosure for my collection methods.
I use a simple copy and paste from Bungie's REACH project page around noon local time. Not all values were collected at exactly that time. Occasionally collection could be off by several hours. I only guarantee that I have made no willful misrepresentations by deliberately skewing collection in such a manner that poor conclusions or comparisons could be made or that any numbers presented are anything other than attempts to collect data from Bungie.
Draw conclusions at your own risk.
My observations.
REACH's 24hr UU population for January 2012 was very steady. The week after year end holidays were over, the population declined slightly and then went into a very normal weekly rhythm with no significant gains or losses in population. The very last week did show some signs of a small steady decline. Compared to December the population was about 100,000 per 24 hour period higher.
Highest population value collected . 607,853
Lowest population value collected . 402,860
Weekends have typically had a higher population.
REACH population during January 2012, was under performing by ~100,000-~350,000/24hrs as compared to Halo 3 during January 2009. This performance is worse than in December.
Conclusions.
Halo REACH's population is healthy and very stable.
Opinion.
This prediction from last month was mostly incorrect. Prediction for next month. January 3 should mark the beginning of a fairly steep decline in population that should bottom out after about a week and then commence a steady weekly rhythm with little population change. The month should end with a higher population than December started with. I am assuming more Halo CE Anniversary and REACH units would have been acquired over the Christmas holidays. The steep decline in population did not occur an instead went into a steady weekly rhythm with peaks significantly higher than anything in December. Also the end of month population was easily 100,000 higher than what December started with.
This prediction from last month was on the money. Halo 3, at this point after launch, began its inexorable climb back to top the XBLive charts. Though REACH closed some of that gap by the end of December, I can't imagine it continuing on that path, so the population differences should widen considerably in favour of Halo 3 as we go forward. As mentioned in the observations the population difference gap widened in Halo 3's favour by a good margin.
I believe there has been in influx of players to REACH from other games. I say this because the playlist study I'll soon be posting shows the population percentage for Anniversary playlists has dropped post holiday season and yet the overall population has risen. The overall REACH population should have dropped as population owning only Anniversary shed players as normally happens a few weeks after acquisition. I'm also guessing this influx is from other FPS titles. Hmmm.
Halo REACH is not dead and has indeed rallied its troops. Any news of its death have been greatly exaggerated?
FPS fans need a good quality FPS title to play. Even with new AAA titles coming out REACH will continue to be a top tier AAA experience. Currently, only REACH can provide the best 'Halo experience'. Its core fans will stick with it until Halo 4 but even they will take breaks from it.
If your Friends List is no longer showing anyone playing REACH, I recommend you get some new XBL friends.
Links to previous population reports.
Newest to oldest.
http://carnage.bungie.org/haloforum/halo.forum.pl?read=1118599
http://carnage.bungie.org/haloforum/halo.forum.pl?read=1114365
http://carnage.bungie.org/haloforum/halo.forum.pl?read=1109470
http://carnage.bungie.org/haloforum/halo.forum.pl?read=1103658
http://carnage.bungie.org/haloforum/halo.forum.pl?read=1098060
http://carnage.bungie.org/haloforum/halo.forum.pl?read=1091242
http://carnage.bungie.org/haloforum/halo.forum.pl?read=1084475
http://hf.smallbits.com/haloforum/halo.forum.pl?read=1068845
http://carnage.bungie.org/haloforum/halo.forum.pl?read=1074439