In Response To: Extremely Awesome HaloFest Write-up (Day 1) (Avateur)


This post is nowhere near as long as the one describing Friday's events, and I even included a decent amount of pics! Sunday's post is included below Saturday's. Enjoy!

The Second Day - August 27, 2011

Bungie: Hatching the Cosmic Halo Egg

Wilshire and I made our way back to HaloFest just in time to meet up with t6ram and claim seats in the first row or two for HBO! I got to meet more HBOers before the panel started, and it was filled with a lot of interesting and hilarious exchanges between the Bungie members on the panel. The panel featured Dave Dunn, Joseph Staten, Marty O'Donnell, Chris Butcher, and Eric Osborne (otherwise known as Urk). The entire panel is up on Waypoint's YouTube channel and is absolutely worth watching, so if you haven't seen it, get to it!

After the panel, Bungie, Tim Dabado, and Pete Stacker set up for autographs right beside the stage. The line for autographs grew so quickly, and sure enough most of the HBOers were near the very end of the line. That didn't stop people like the Grim Brothers or myself from going right to the table and having conversations with Urk on all manner of topics. Then I got a brilliant idea: I should go buy a Grunt plushie and get it autographed! I decided to go purchase that Grunt and meet up with my fellow HBOers in line, and while waiting I finally got to meet KP as he helped monitor the Forge contest. Hey KP, I didn't get the chance to play BF3 like you suggested. Two hour lines of doom! :(

And then I got my autographs! Thanks again for signing the Grunt plushie for me!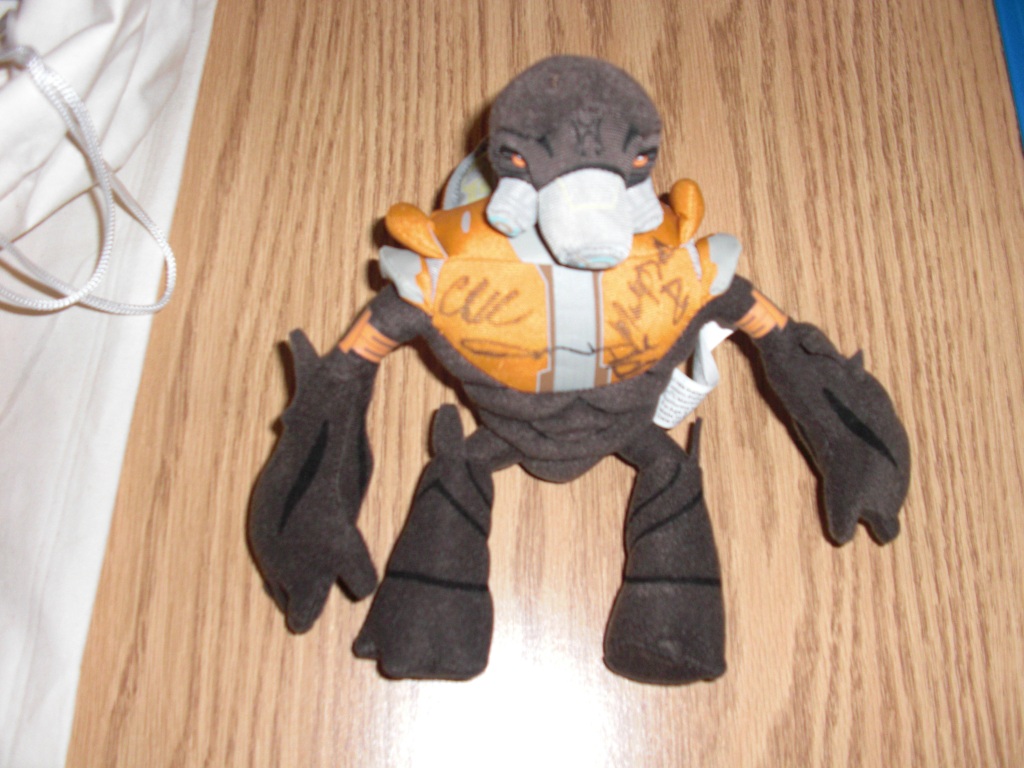 And a really, really big thanks to Urk for putting up with us. Thanks for making sure Kermi7 got his DVD collection autographed, and thanks for signing padraig's First Strike novel. Thanks for putting up with me asking you if you would mind signing these things for them and others. I really didn't want to be a bother, and you said I wasn't, but it's really nice to know that you have our backs and that you'd even take the time to do any of this for us! And also, thanks for just shooting the breeze and talking for that long while before all of those requests! It was greatly appreciated by everyone involved!
PAX
Wilshire and I were in such a hurry to get to HaloFest that we didn't even eat breakfast. Wilshire, t6ram, and I split up from the rest of the group to go and get some Subway and then finally check out PAX itself. It's no Comic Con, but the exhibit hall was still pretty nifty! Unfortunately, every game I wanted to play had lines of nearly two hours long, so I had to pass on ME3, BF3, and Counter-Strike. At least I got to watch people play them. Oh, and I also saw this: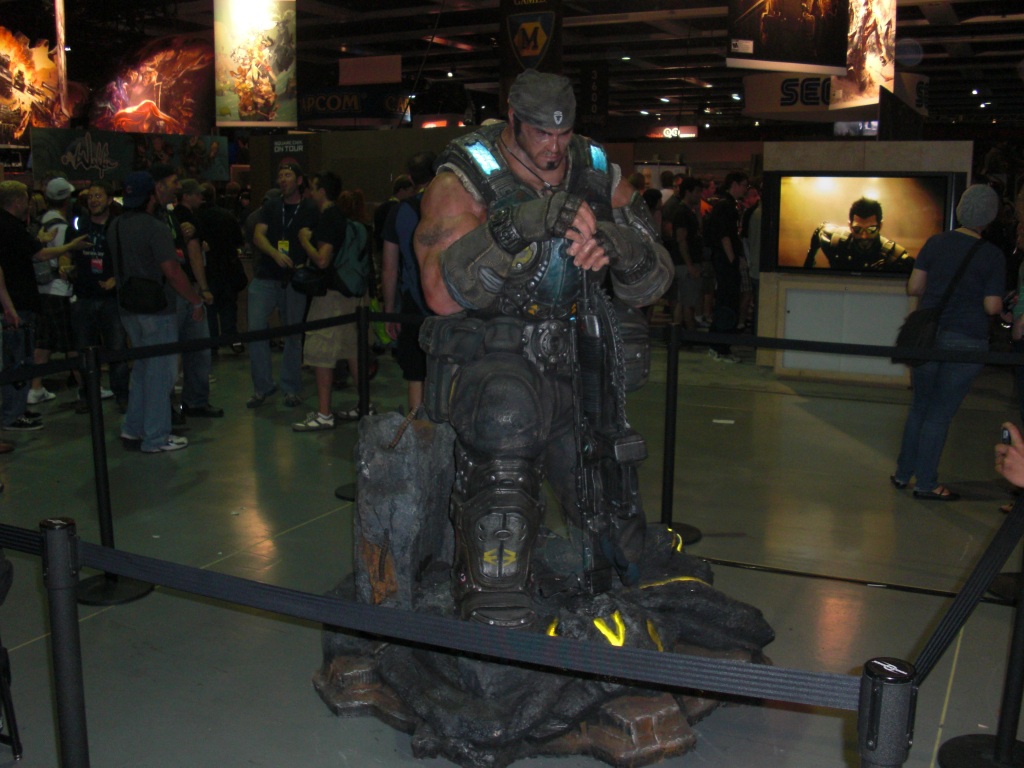 I can't wait for Gears 3! Luckily it'll be out on the 20th!
This section is actually really short because although we spent an hour or two at PAX, it was mostly wandering around and looking at things. I don't really have anything to elaborate on or to go into detail about. It was actually fairly surprising at how fast Saturday went by compared to Friday, especially since Friday was filled with an endless amount of things to talk about. So it was time to head back to HaloFest!
Bye Bye HaloFest
PAX/HaloFest would be closing soon for the day, so I wanted to get some more time in there for the last hour. Although I had played the new Beaver Creek on Friday (and didn't write-up about it, but the map played very well), I still had yet to play my favorite Halo map of all time: Damnation. First, some feedback on the new Beaver Creek. It played really, really well. The air lift to the top of the bases needs work. At one point a player got stuck in it and couldn't get out without us killing him. This happened twice. Hopefully that issue is taken care of before launch.
Now on to Damnation. I unfortunately ended up having to play the version of the map with the walkway installed at the bottom. Figures, right? The aesthetic changes do make a difference in some cases of how I approach ramps, and while I have my personal gripes with some of the rooms, the map played extremely well and was a lot of fun. It was so much fun that Wilshire ended up getting 23 kills on it and I ended up with 21 (technically 22, but I had a really hilarious suicide in there). I also completely messed up an Extermination with the fourth guy right in front of me and dead to rights. I wasn't happy about that! But again, this new Damnation rocks and I can't wait to have it (without the walkway at the bottom) for real in Reach!
I also used this opportunity to take some pics of the display cases around HaloFest and the Master Chief statue:
H1 display case: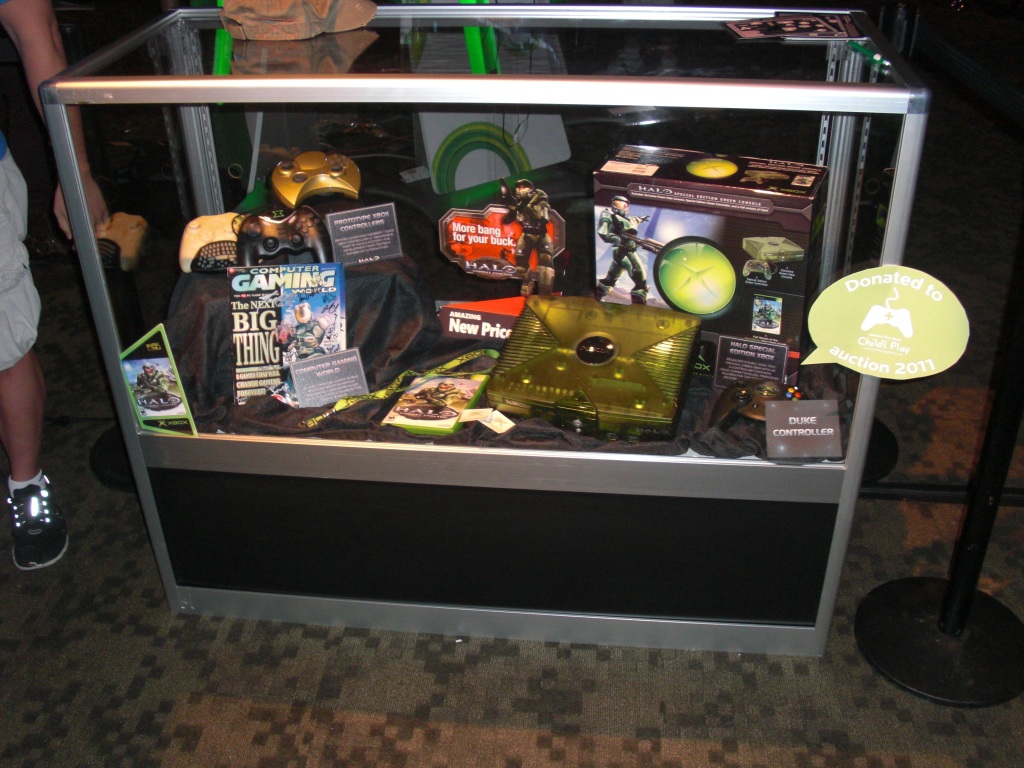 H2 display case: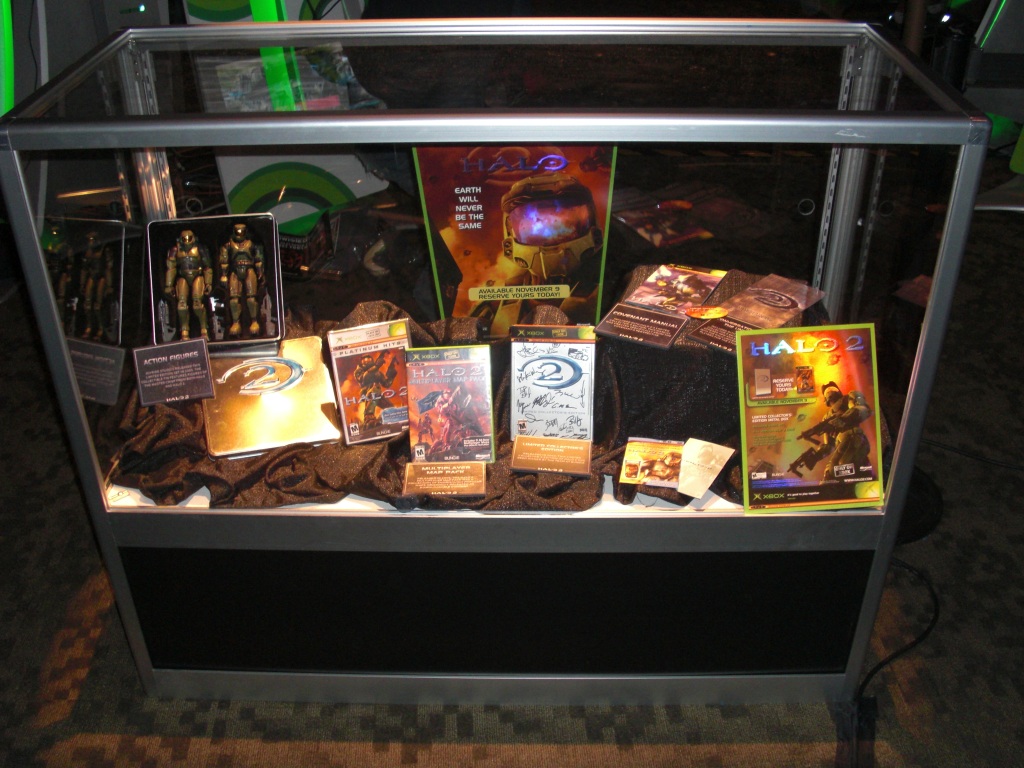 H3 display case (with a special Xbox signed by Bill Gates presented to the launch team, Halo Legends, and other not-very-H3 stuff lol):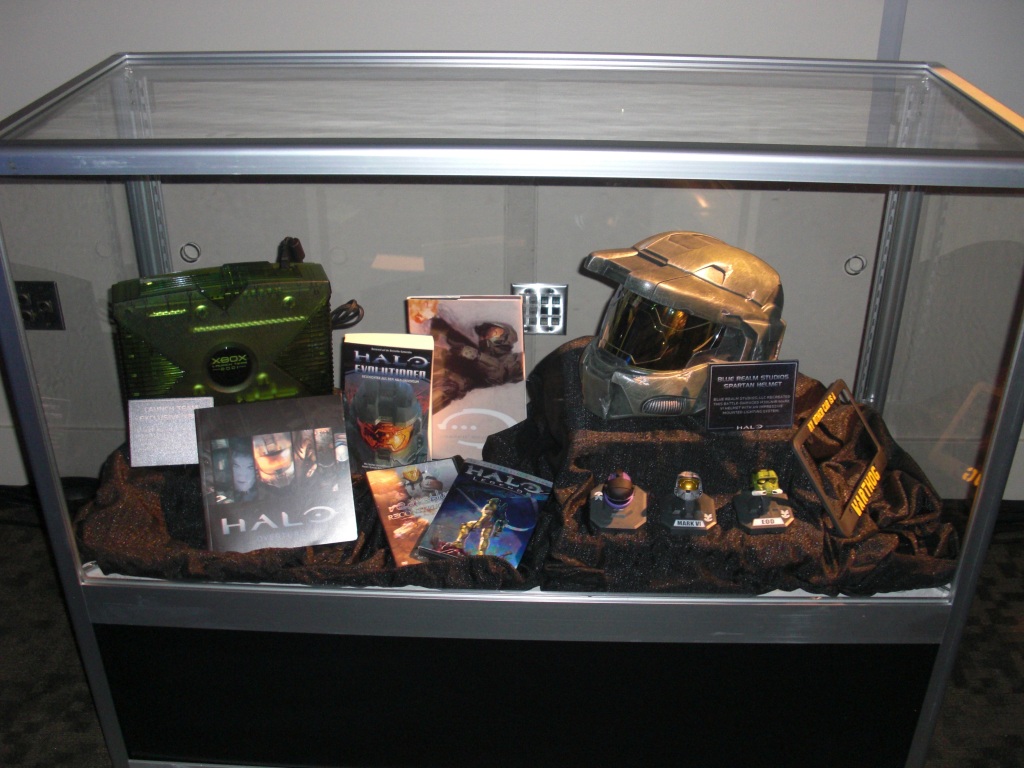 ODST display case:

Reach display case:

Master Chief statue: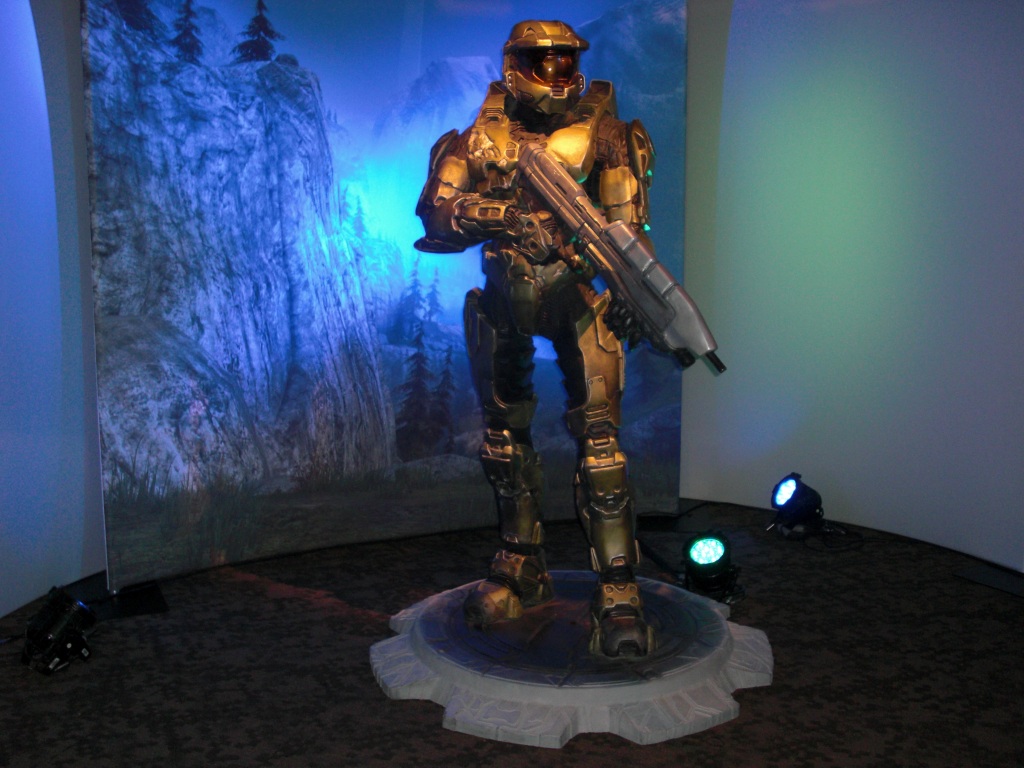 And with that, HaloFest was done.
Dinner, With Class
With HaloFest closed for the evening, Wilshire, CrazedOne, Kermi7, Das Kalk, and I knew we needed to get some dinner. Everyone else in HBO had originally planned on going to the Daily Grill to try it out before we had breakfast there on Sunday, but the wait was something crazy so they all relocated. By the time I found this out, we had already made our own reservation for the Daily Grill. It was going to be a 40-50 minute wait, which allowed padraig enough time to find us relaxing in the Sheraton so that he could join us for dinner. He made it just in time to watch Crazed attempt to cheat at a game of Chess to beat Wilshire. As far as he's concerned, hitting "undo" about a thousand times for the same two moves doesn't count as cheating and merely counts as stopping the game dead in its tracks. Sure Crazed, sure. :P
When we got seated it became more than apparent that our table was "different" from all the other tables. Apparently the Daily Grill is a classy place, and people were all dressed up and out to eat. We were dressed up for a convention, which was hardly dressed up. Luckily for our group, we're all so classy in general that no one noticed how we were dressed, and I dare say that they wish they could be as eloquent and sophisticated as we are. It was great being able to spend that extra time with all of you getting to know you better over our classy dinner!
And with that, Saturday came to a close.
The Third Day - August 28, 2011
The Ultimate HBO Breakfast
We got to bed early in order to show up at breakfast somewhat well rested. Wilshire and I arrived around 6:30am at the Daily Grill, just in time to grab a table with Pete Cooper, Wu, Mig, and Levi. Slowly but surely the rest of us began piling in. Here's a list of everyone who showed up:
Pete Cooper, Wu, Mig, Levi, Wilshire, CommanderTony, sorahn, nscuDuncan, Fyrewulff, Das Kalk, CrazedOne, ElusiveEagle, Kermi7, Stephen Loftus, Postmortem, Grim IV, Grim One, padraig, NsU Soldier, Domino Theory, Hitmonchan, GhaleonEB, INSANEdrive, Mad Cow, SilverBrin, Psyrixx, and myself. I'm also positive that Mad Cow had one other person with him (I don't know who, though. Sorry!) and I swear I'm leaving out someone who showed up a bit later and sat at CrazedOne's table, but I can't figure out who. That makes 29 people who showed up for the Ultimate HBO Breakfast. I'd call that a success!
Near the end of breakfast (aka after everyone was done eating), chris101b, bryan newman, and AngelicLionheart showed up. Apparently they were too [not] cool to join us for breakfast and went elsewhere, but at least they managed to show up in some capacity at the end. Pics were taken, dollar bills were flashed, Wu was trolling, and people were photobombing. And then we all gathered up for a gigantic HBO group picture that I'm sure only enraged the already flustered Daily Grill associates even more. And then it was time for Wilshire and I to leave. Hands were shaken, hugs were exchanged, and then the rest of HBO departed for the Halo 4 panel.
Epilogue - The Flight
Something completely awesome happened on the plane flight home. We were on the side of the plane that happened to be facing Mt. Rainier, otherwise known as the nastiest volcano in this country that towers nearly three miles up from the ground. I've never seen a volcano in person before, and I can't say I've ever seen a mountain or anything that rose so high up. Check it out: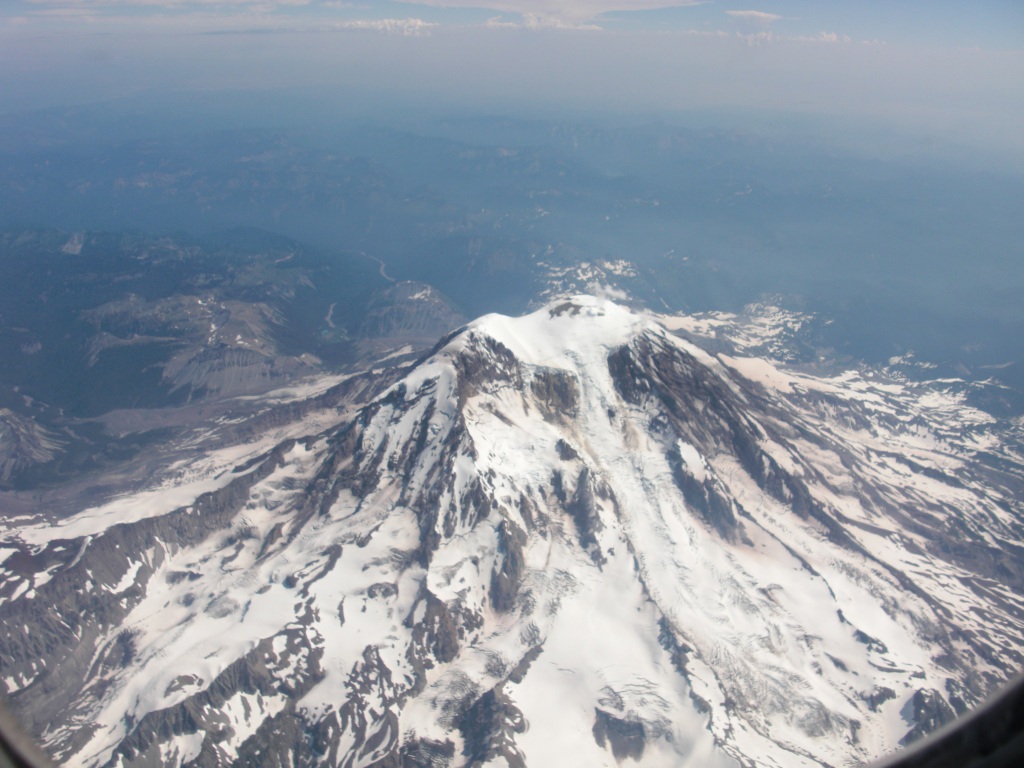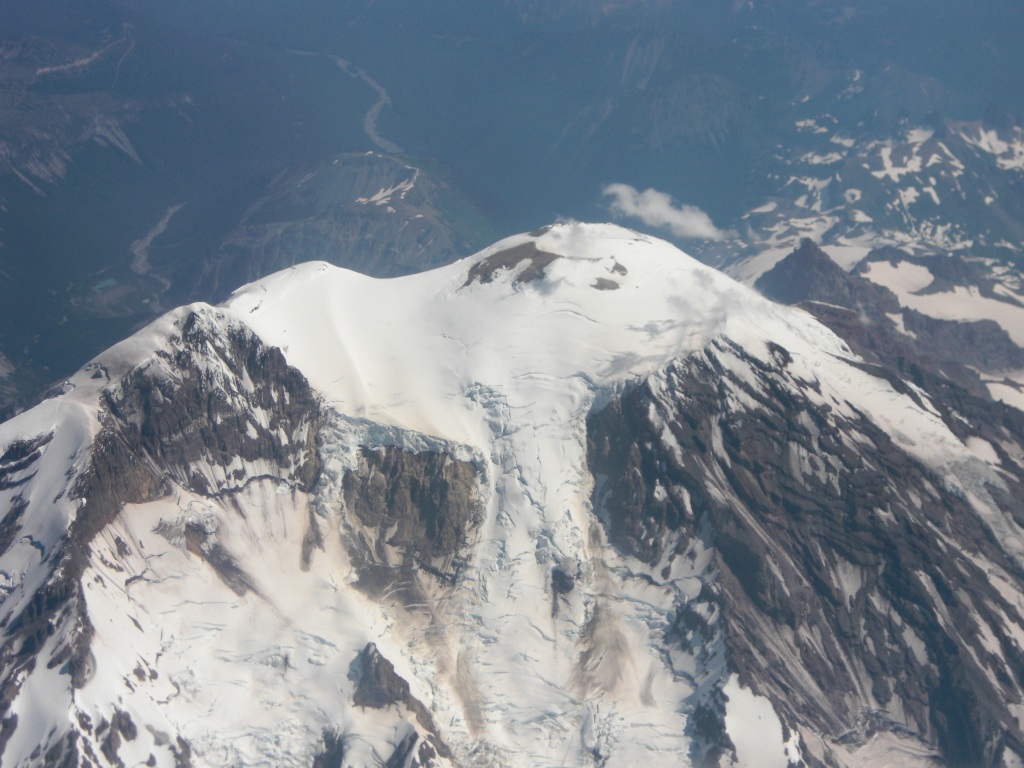 That volcano is by far the most epic thing I've ever seen. Just wow. And with that, I bring this write-up to a close! I'd like to take the time to thank Louis Wu again for hosting HBO for all these years, Bungie for giving us Halo and thus making it possible for this community to exist, 343 Industries for making HaloFest happen and for the future of Halo, and of course everyone from HBO who showed up and made the HaloFest experience an even more awesome one than I could have ever hoped for! See you on the forums and on Halo!