Hi everyone, how's it going? This post is heavy on the text, and while I do have pictures, I ended up doing more chatting and hanging out with really awesome people than picture taking. I have managed to include some pics (I may reply with more pics later). This post captures all of Friday, August 26, and I have broken this post up into sections to make it easier to find areas of interest. There isn't going to be a TL;DR beyond "absolutely awesome" so go grab yourself some water (drink of champs), some snacks, and enjoy the write-up.

The First Day - August 26, 2011

Late To The Party

I ended up getting into Seattle after all the festivities began. t6ram, Wilshire, and I made our way to HaloFest and got there around noon. We managed to show up at HaloFest right as the Community panel was beginning (featuring our very own Louis Wu, for those of you not paying attention).

I met up with kanbo somewhere near the end of the panel and obtained my HBO shirt (thanks again kanbo and Levi, the shirt rocks!), chatted with my fellow HBOers for a bit, and then made my way to the stage to introduce myself to bs angel. I've played with her for years and it was really cool to finally meet her! I also had a gift to deliver to her from Antithesis721. Pretty nice sculptures, right? I had already commissioned him to create a secret surprise for Wu (more on that below), and he asked me if I'd be willing to give angel one of his original sculptures that he knew she really liked. How could I turn him down?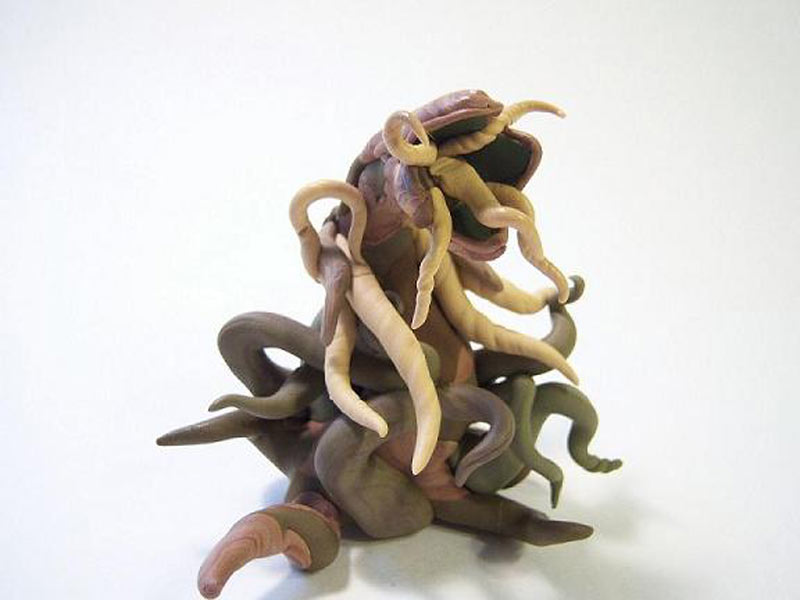 And sure enough, she absolutely loved it. Unfortunately, angel had to go to the Community meet-up and I had to hurry up and go find Laird a few blocks away. Luckily, angel gave me a VIP pass, so I'd end up seeing her later in the evening. Thanks again for the pass, angel!
With bs angel's surprise gift delivered, it was time to vacate HaloFest with Wilshire and t6ram in search of Laird. He posted here a while back telling people to email him if they wanted to participate in a secret surprise for 343 Industries that would be named later. "Later" had finally arrived, and it was time to check it out.
When we arrived, Laird let us know that we were one of the last few people who had yet to sign it. Signatures were all over the top and sides and possibly even the bottom, so the three of us elected to sign the top front (since the front was about the only place that had any room left):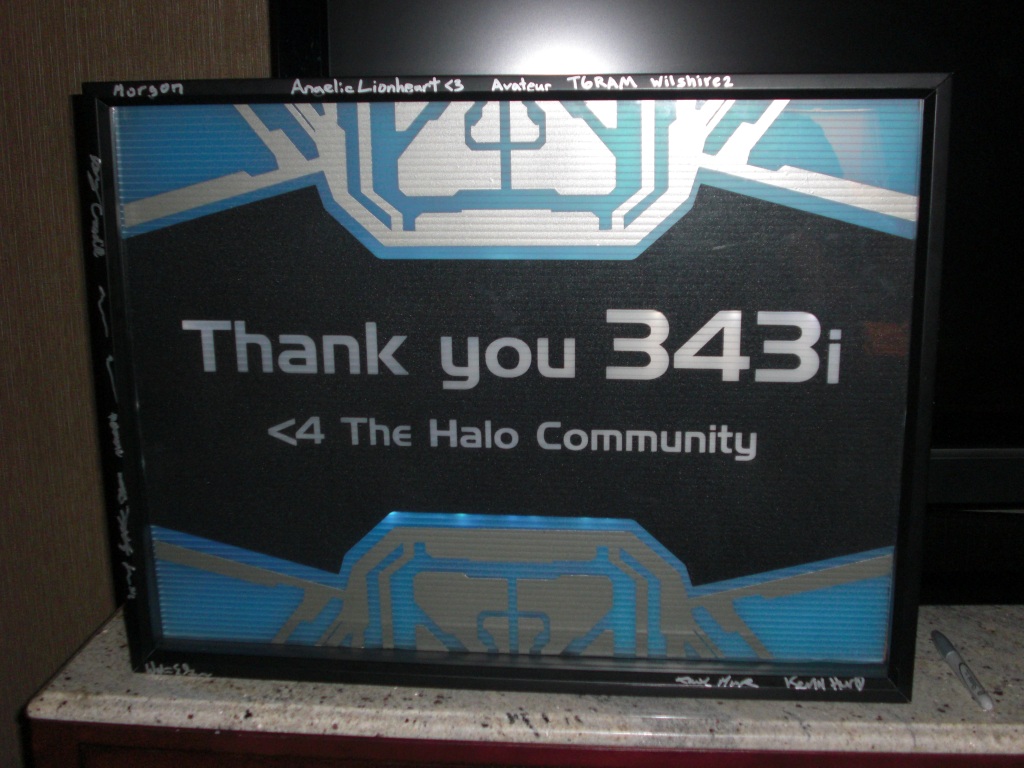 With our mission complete, it was time to head back to HaloFest. There were new maps to be played and HBOers/other long-time Xbox Live/Halo Community friends to meet. Wilshire, t6ram, and I made our way to the Title Update and H1A Reach DLC map playing areas where we met up with CrazedOne, Kalamari, Mr. Meyagi, Das Kalk, and ElusiveEagle (who were PAX Enforcers at HaloFest). It was nice to finally meet them, and I also got to see this: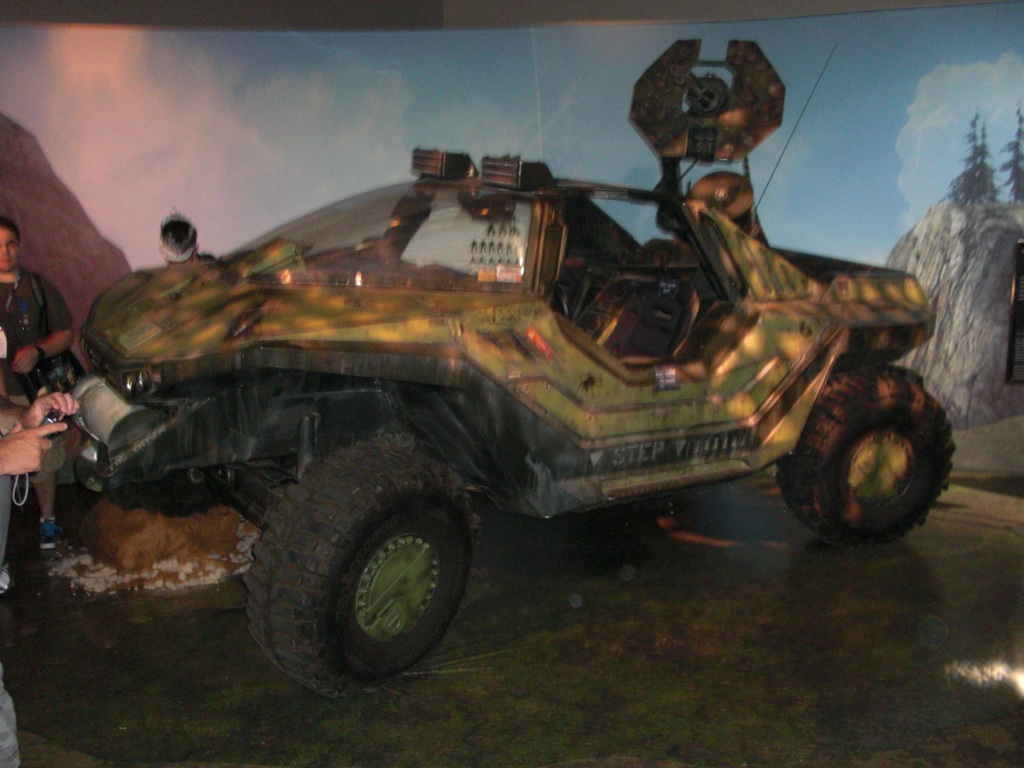 I got to finally play on the Timberland remake, and my first kill was a splatter in my Warthog. It's such a great map, and I can't wait to get it for real in Reach. After we were done playing some games of Halo and checking out the Warthog, CrazedOne, Kalamari, Meyagi, and Elusive joined us to eat at the NYC Deli. The sandwiches were delicious! I definitely recommend it to everyone here.
Hurry! More Surprises And The Halo Universe Panel
t6ram, Wilshire, Kalamari, and I split off from the others after eating to wander back to my hotel so that I could check in before the Halo Universe panel. We dropped off some swag and rested for a bit when suddenly Mig text messaged me to meet up with them somewhere at the Sheraton. Apparently HBO was going to be getting in before everyone else, and I was still a few blocks away. And then I got this message: "Hurry."
I took that message to heart and told everyone it was time to move. We were literally running at some points while trying to get there on time, and sure enough we made it just as they were letting everyone from HBO in. Thanks for the heads up Mig! This was technically my first opportunity to introduce myself and say hi to everyone from HBO. Yeah, I had seen some people earlier, but not like this. After we got our seats, I implemented the next parts of my surprise.
Remember those sculptures Antithesis made? I commissioned him about a month ago to make one of Louis Wu's spartan carrying a flag with the Bungie.org insignia on it as a way to give personal thanks and representative thanks from everyone at HBO for everything he's done for me and us over the past decade. Again, thank you for running HBO and being all around awesome, Wu! I have a pic of it and I'd post it, but I'll leave that up to Wu (if he wants to) since in the moment I totally forgot to even ask to take a pic of Wu with the figure. Oops! What do you say, Wu? :D
From there I moved to the stage. I had one final gift to give to Frankie from both Anti and me. It was a bust of a Mark V Spartan whose little symbol was made up of the colors of Scotland's flag. Hey Frankie, if you're reading this (since I also sort of mentioned it but forgot to actually tell you), the Spartan goes by Spartan-0131 (named after Edinburgh's area code, and also conveniently not conflicting with any other Spartans to my knowledge). Just like with Wu, I totally forgot to get a picture of Frankie with the figure, so if you're out there reading this Frankie and feel like posting a pic, that would be awesome!
I returned to my seat and then the real hilarity started. 4Helmut. I'm fairly sure pics will be posted here eventually, and I'll probably end up posting some myself as a reply later. And then the panel started. If you haven't seen it, you need to:
Eating My Words
I would like to take a moment in this section to talk about the second Terminal shown during the Halo Universe Panel. I got up when it was question time so that I could eat my words in front of everyone, but we were turned away before I got to the mic. I managed to tell Frankie everything personally, but I'll say it again here.
So, I've been on my soap box at HBO for a while now about how these Terminals can't possibly be canon in relation to the Master Chief in Halo 1. I didn't question whether they were canon in the overall universe, and even hinted that they were fan service to broaden our knowledge and understanding of events that have occurred or will occur. This second Terminal essentially confirmed that the Master Chief is not actually seeing these Terminals, but is acting more as a portal for us to view the Terminals in preparation for Halo 4. That second Terminal was amazing and really sets us up for some interesting speculation, and I am now unbelievably excited to see the other Terminals. I know how to admit when I was wrong and when I was worrying incorrectly, and I have no problem admitting it in front of all of you (or in front of that giant room of fans if only I had had the chance).
These Terminals are going to rock, and in terms of the larger Halo universe, they are going to be pretty big. I've been really looking forward to Halo 4 from the start, and I have it on good authority that these Terminals are going to make me even more excited for it. I can't wait!
Autographs, Pictures, and Banter
What followed the panel was just amazing. Jay Weinland had been in the audience and ended up moving close to the stage after the panel ended, so I got to meet and talk to him for a bit. Then we all followed Marty, Frankie, Jen Taylor, Steve Downes, and Pete Stacker outside of the theater in order to get autgraphs, take pictures, and chat it up. For practically a decade I've wondered if I'd ever get the chance to meet Marty and get my H1 OST autographed by him, and it finally happened!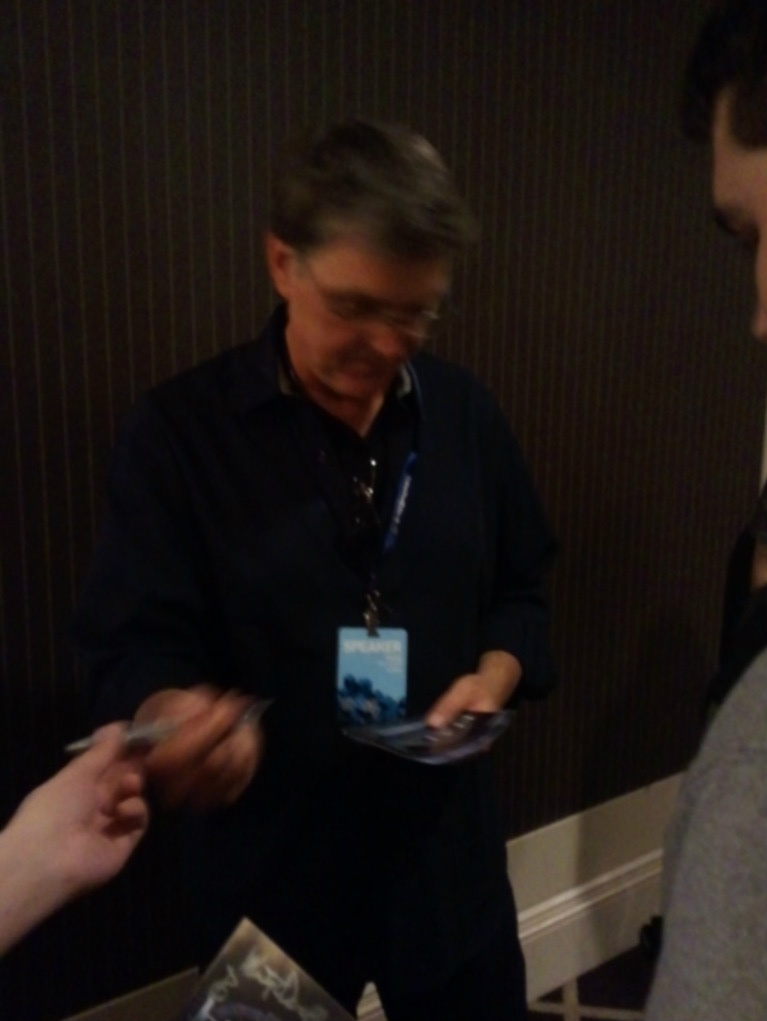 A lot of us had name badges at HaloFest identifying who we were, and Steve Downes was kind enough to sign mine. Jen Taylor also signed my HaloFest badge. Pics were taken, conversations took place, and awesome times were had. And then it was time for dinner.
The Hurricane Cafe
I might not have been able to visit the Space Needle, but it was pretty awesome finally getting to see it looming off in the distance as we neared the Hurricane Cafe.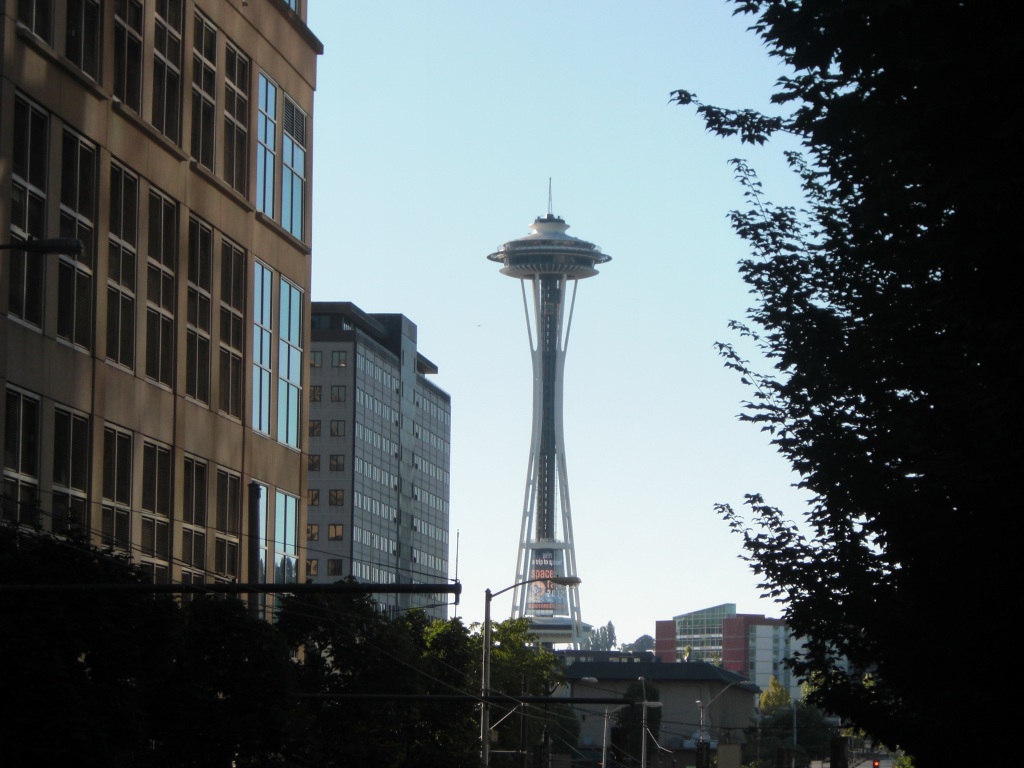 And then we made it to the Cafe! As has already been hinted at in other threads, I had probably one of the best burgers I've ever had at a place where you order a burger to eat as opposed to cooking or grilling one yourself. Others seemed very pleased with their food as well. We were given an entire section of the place to take over and be loud and chat about many random things. Here's a break down of the events:
Totally independently without any input from anyone else at the table (I'm lying so hard right now), I began crafting an HBO post that took into account people who had posted very recently on the forum who were not at HaloFest. Some of you might remember it as the one where Hyokin and others were listed. Now, this post was made strictly out of love and roflcopters and was not intended to be hater-ly. But it was intended to be mean, with love. Think of it like a "Wish You Were Here!" type of postcard, but delivered in a much more fun way. :P
bryan newman ended up getting an appetizer that showed up promptly and was eaten just as quickly, but he didn't receive his actual dinner until after nearly all of us had finished eating. I don't know if his meal would have ever come out or if someone reminded the staff, but we were all pretty shocked. We remembered him eating and never thought anything else of it until he spoke up near the end. But here's the classy part about this situation: bryan probably waited about 45 minutes to get his main course, yet he was still polite, kind, and didn't flip a table over having to wait for so long. I applaud you!
We ended our meal with a very heartfelt toast from Mig followed by another heartfelt toast from AngelicLionheart. I felt I should at least acknowledge these toasts here while holding the content close to my heart, for I will never forget what was said. None of us will.
VIP Party
The night was filled with many VIPs and a lot of fun. I mean, it was a complete and total blast. I almost want to make a write-up out of the VIP party itself, but I'll just leave it to the key points and great things that happened.
First Wu was presented with the first annual Claude Errera award and a 360 Duke controller. I can't say that any of us really knew what they were going to do when they called him up there, but we loved it. Congrats Wu! And then Laird's surprise from earliear was finally presented to 343 Industries. After the awards were presented it was time to socialize with people!
I finally got to meet Urk beside the Halo cake and have a very ridiculously brief conversation with him. I don't really have anything else to add here. I know this has been posted many times before, but here's that cake: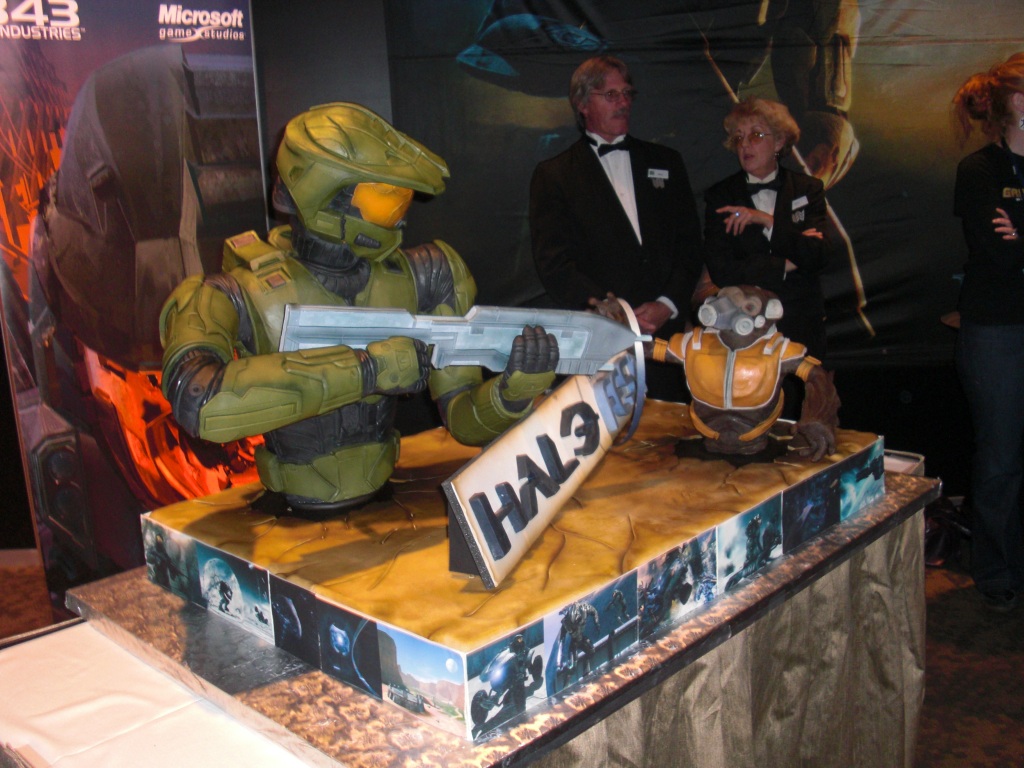 Then I wandered off with Wilshire, t6ram, padraig, chris101b, and bryan newman to check out everything that was going on. We ended up wandering into Stephen Loftus and Mr. Vociferous, which was actually really cool and convenient because I had wanted to meet Vociferous and I finally got the opportunity to question some things that didn't quite add up (aka have not necessarily been revealed and might not be for tha while) in the Essential Visual Guide. Sorry DHalo, but I didn't bother asking about Mendicant Bias because I figured I wouldn't get anywhere with it. That and I was too busy asking about other concerns regarding H1A.
So about those concerns! I told him how my posts at HBO about the Terminals weren't about whether they fit into overall canon, but about whether 343 was trying to make these Terminals actually fit into H1 canon as if they were being viewed by the Master Chief right there. They aren't. Master Chief is just a portal for the player to view some really, really awesome universe-canonical stuff that appears to totally be setting us up for Halo 4. I am completely fine with this, especially since it's been clarified to me. He hinted and teased at some things, so I can't wait to find the rest of those Terminals!
And then all of a sudden we were standing at the end of a huge line. Yes, just like that. While I had been talking with Vociferous, the line to get some cake had been forming and eventually extended by some hundred or so people to where we were standing far away. My conversation with Vociferous ended and we officially waited at the very end of the cake line.
The line began moving (slowly) but a pretty cool thing happened! I ended up seeing Luke Timmins and shouted out to him and introduced myself. I mentioned that I was on the HBO Humpday team that played against Bungie after Reach launched and he appeared to remember me! That was pretty awesome finally getting to meet him, especially since my Trophy pic on my profile has been our Hell's Hog since the bonus game they played with us after the Humpday: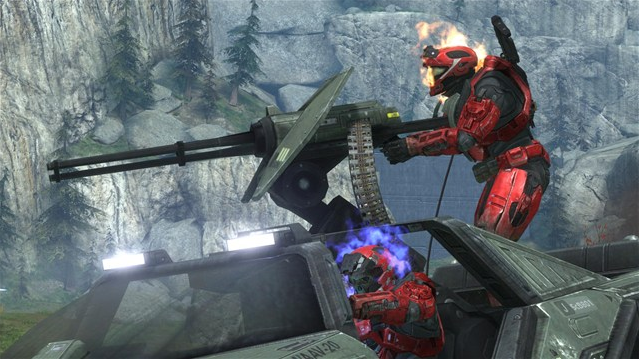 Thanks for chatting with me a bit Luke! And then I finally made it to the cake! I got myself a slice and also broke off one of the Grunt's fingers. Who knew Grunts tasted so great?
Insanely Awesome LAN Time
And now the most awesome time of the night arrived. A lot of people cleared out of the VIP Party with maybe an hour left to go. Wilshire and I went to the FFA area of HaloFest to play on the new Prisoner remake with Mr. Meyagi, CrazedOne, the light show, and Kalamari. No one else was playing in the area, so it became a mini-LAN for all of us. We play all the time together over Xbox Live, but getting the chance to take over an area, battle it out, and talk trash in person was priceless!
Eventually bs angel wandered up and watched me play, and I finally got the chance to talk to her about Anti's present, how awesome HaloFest was going, how great the Prisoner remake is, and a number of other things. We even got her to join in and play a bit! Then seemingly out of nowhere Tim Dabado, showed up and was kind enough to take a picture with me. We talked for a bit and then it came time to pressure him into playing some Halo with us. How could we pass up on an opportunity to play with Tim Dabado? The best part? We didn't have to pressure at all! He let us know that he hadn't played Halo in a while, but then sat down and was totally ready to go.
We were informed that HaloFest was about to close in something like two minutes and that we couldn't play, but we begged and pleaded and the Enforcer people were kind enough to let us play that one final game. Then, just as we were about to start, Marty O'Donnell came walking by. I felt obligated to start shouting "HEY MARTY! COME PLAY WITH US" when I saw him. I thought he'd just ignore it or be like why's this guy shouting over at me, but sure enough he joined us and sat down to play! Tim Dabado, Marty O'Donnell, and a Prisoner remake. It was on, hardcore!
We got to play for a few minutes before the contractors running HaloFest came over and ended the game and told us that HaloFest was closed and it was time to leave. Whoever was in first had 10 kills and the game was pretty close between all of us, so we definitely got in enough time to have a lot of fun! As we were being rushed out of HaloFest, Marty, Tim, and angel were kind enough to take a pic with all of us in front of the Weta Warthog. Assuming any of you took the time to read this far (or this section), thanks so much for playing with us and taking the time to be in a picture with us!
Winning At Irony
The night still wasn't over! Downstairs right in front of the exit, Halo Legends posters were sprawled out on the tables for fans to take for free. I decided to win at irony by asking if Tim and Marty would sign the posters even though they had nothing to do with Legends (especially Marty, since he's Bungie and all). Marty noted the irony, laughed, and was more than happy to sign it with Tim. Think of it this way: without Bungie and the success of their games, Halo Legends wouldn't have even happened. That and it's Marty's music (even if "enhanced") in Halo Legends. It all makes sense, okay?
Hey Look, It's JonnyOThan
We exited HaloFest and, practically right outside of the doors, was a man in a Bungie shirt. It was JonnyOThan, as the title of this section so elloquently spoiled! It was awesome finally getting to meet and talk to Jonny in person. We all talked a bit about what had happened throughout the day. Apparently Jonny hadn't even had a chance to go to HaloFest yet! After standing around and talking for another thirty minutes, Kermi7, Stephen Loftus, padraig, chris101b, Jonny, Crazed, Kalamari, Wilshire, and I went our separate ways. Crazed and Kalamari accompanied Wilshire and I before we split off to our respective hotels for some much needed sleep!
Thanks for reading this far (if any of you actually did :P)! See the next post for Saturday and the HBO Sunday Breakfast!