Yesterday, I posted a topic, just a simple request for 343i to make a field guide to the wildlife of Halo along the same lines as "The Wildlife of Star Wars" book by Terryl Whitlatch.

http://carnage.bungie.org/haloforum/halo.forum.pl?read=1086860

Hedgemony here sent me a message shortly after, essentially saying why wait? Why not do it ourselves? And so we communicated back and forth for a little bit, before I decided I would give it a shot.

The following image is the result of ten to fifteen minutes worth of work, using only preexisting images with little editing: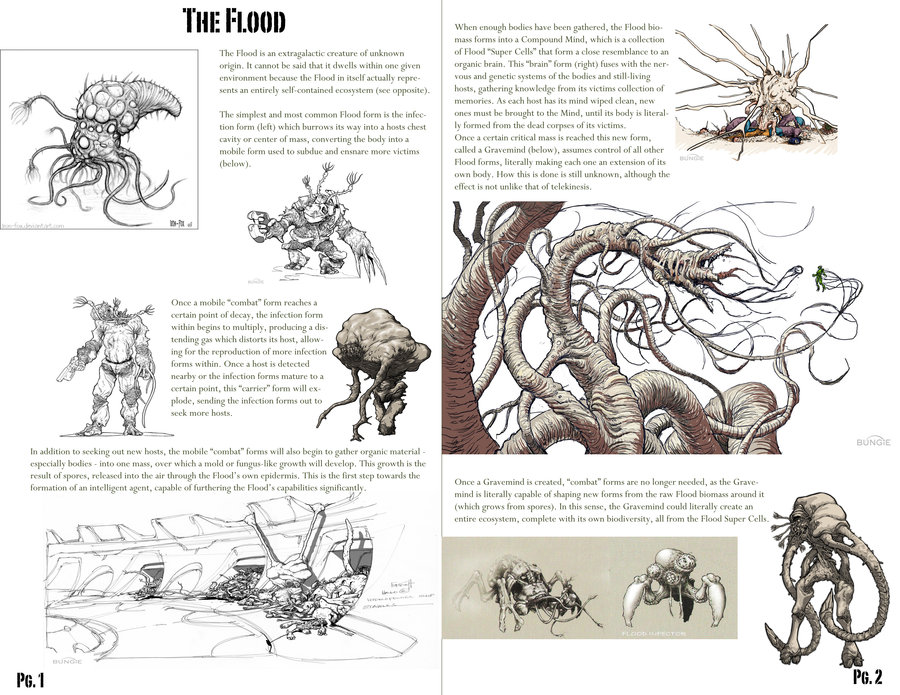 This is still considered a rough draft. None of the text, images, or even layout is final. Everything you see is subject to change, although I can guarantee it will only be changing for the better. The reason the Flood was chosen is because out of all the creatures in the Halo universe, they have the most detailed life-cycle and readily available images. But we plan to go much deeper than this. The Flood would likely be the most major of additions to this book, with everything else ranging from the four-winged dinosaur-birds seen around many Forerunner installations to the scrub grubs of Grunt fame, mentioned scarcely in EU fiction.
The goal is to make a field guide to the many amazing creatures of the Halo universe, both major and minor. It will be primarily a collection of high quality concept art of the various creatures of Halo, both official from Bungie and 343i, as well as unofficial from us fans. These images will be tied together by in-depth examinations of the creatures and their lives, creating an amazingly informative and visually appealing read. The guide will pull from all Halo sources, including games, novels, comics, and many others.
This project is still in the initial planning phase, although we are devoted to its creation in the most impressive and professional manner possible. Any and all ideas will be taken into consideration at this point. We want the end product to be something that all of us as Halo fans can look back on and feel proud of.
When the project is finished, the book will be hosted on an as-yet undetermined web site (open to suggestions), available for everyone to view. Where we go from there, depends on where we go from here.
What can you do to help?
Currently, we are looking for talented artists who are able to match the quality of artwork displayed in the image above, and in other Halo concept art from Bungie and 343 Industries. We are aiming for this level of creativity and also attention to detail and realism:
http://www.google.com/search?tbm=isch&hl=en&source=hp&biw=1440&bih=780&q=terryl+whitlatch&gbv=2&oq=terryl+whi&aq=0&aqi=g3g-m1&aql=undefined&gs_sm=c&gs_upl=2232l3830l0l10l9l0l0l0l0l225l1196l2.5.2l9#hl=en&safe=off&gbv=2&tbm=isch&sa=1&q=terryl+whitlatch+creatures&oq=terryl+whitlatch+creatures&aq=f&aqi=&aql=undefined&gs_sm=e&gs_upl=11668l12779l0l9l9l0l8l0l0l115l115l0.1l1&bav=on.2,or.r_gc.r_pw.&fp=5444184ebb018ec9&biw=1440&bih=780
The artwork (and artists) that are most likely to be accepted will be those that can show an extreme amount of detail in a realistic fashion, getting creative with their work, but not venturing into the realm of absurdity. These should all feel like creatures that could actually exist, and the more realistically you can flesh them out and make them look this way, the better.
How best to show your talent?
Pick a creature from the Halo universe, either one that has not yet been seen, or one that could use a lot more detail. Present both a rough sketch and a fully detailed/colored version. Artwork can be digital or otherwise, as long as its style matches (relatively), those shown in the images and links above. Get into it. Think about what this creature's life would be like as you draw it. Imagine what its various features are for and how it fits into the Halo universe. Your thoughts on these animals are very likely to make it into the book, alongside your artwork.
Because in the end, this is going to be a team effort. We want to get input from as much of the Halo community as possible to redefine what it is that we as fans are capable of.
So what do you think? Are you up to the challenge? If so, then submit some artwork or ideas and let's get to work! :)
- Postmortem