In Response To: Re: Speaking of Reach's moons. (Gravemind)


: Nah. There's no way it'd be a "gas moon." The reason gas giants are
: gassy is because they're giant. IIRC, if a protoplanet gets big enough,
: say 10 Earth masses, it starts to accumulate a gaseous envelope. That was
: the case with Jupiter and Saturn. Anything small like a moon, especially
: the moon of a terrestrial planet, will largely be a terrestrial body.
: Hence, I'm thinking it's rocky and either simply has a moon-wide ocean or
: a thick, opaque atmosphere, the latter making it like a warmer version of
: Titan. As for its rings, perhaps there was a collision of two rocky bodies
: nearby or another smaller body got to close (within the Roche limit) and
: was torn apart by tidal forces.

Pretty much. It's possible for moons to develop rings (after a meteroid impact, for instance), though they usually only last for a few million years. I think the biggest moon (which I'm going to call Csodaszarvas) is pretty much like Titan. Reasonably big (pretty close to being the same size, I think), perhaps with the possibility to sustain life. The coloring makes me speculate it might actually have an oxygen atmosphere. We know Epsilon Eridani has a lot of habitable planets, so it's certainly possible. Then again, the UNSC probably focused on builing up Reach, instead of devoting resources to Csodaszarvas.

Titan's in the middle. It's only slightly bigger than our own Moon. I think Csodaszarvas would be pretty similarly sized, especially considering Reach is bigger than Earth.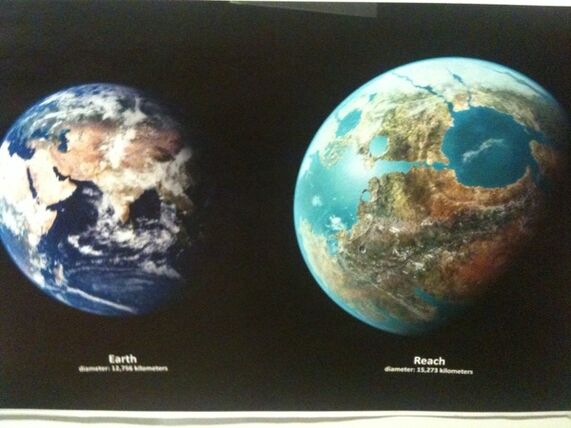 Turul (the smaller one, I'm just assigning the names based on their size and the length of the word :p) looks like an asteroid captured around Reach/Csodaszarvas' orbit, like Mars' Phobos and Deimos (though that's just a theory).

Phobos and Deimos are peas when compared to our moon, which dwarfs a lot of other moons in the solar system, as well. Either Turul is a lot bigger than Phobos or Deimos, or Turul is a lot closer to us during Reach's space sections.
Anybody with a better astronomy knowledge than myself, correct me if anything's wrong in here.