In Response To: <\ Mission Log \> (Psychophan7)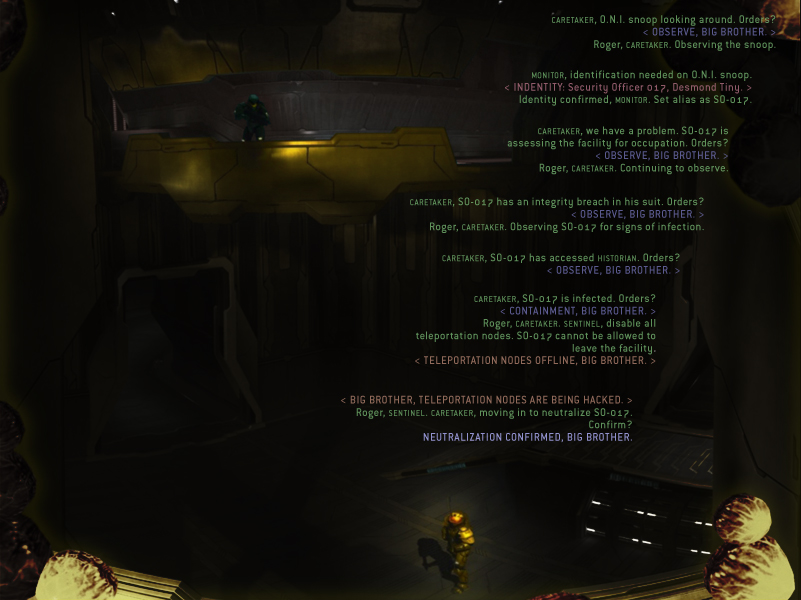 I'd like to extend my thanks to three people who made this image story possible. First off, thanks to pete_the_duck for the pan-cam guide. Getting the camera to the exact same coordinates at super slow speeds proved very useful. Especially so when having to stop taking screenshots mid-panorama to go delete the old ones. Also, I was able to get the perfect shot for "Big Brother" through the glass using the high-speed pan-cam. Pan-camming is fun! Next up is sorahn for haloscreenshots.net. So much easier to get the screenshots than bungie.net, and I don't have to keep track of how many will go through my service record and lost to the void (like on b.net!) Best for last: Simpsons Rule.
Textless versions will be along shortly. I might show off the unadultered versions, too. I did a lot of work to bring out a bunch of details, most which aren't even going to be noticed without being pointed out. Anyways, I got the idea to incorporate a story with these panos in trying to find a way to add something new to the panorama pipeline. We've already got basic panoramic shots by people like nomis and "enhanced" panoramas by people like Crab. I also set out to do something new and origional. So, text and story. Hopefully, you'll find that "Big Brother" helps tie something to "Mission Log."
There are actually 7 panoramas belonging to this mini-story, and only one is left to be shown. So that covers 5 panos with one coming, where's the sixth? It's part of "Reflection" (of "Mission Log"). I'm not going to tell you where, but it really helps set up the scene.
Doing this story-pano stuff was quite fun. I can only hope that any future installments are of the same caliber, if not better... If there are any future installments, of course. That Security Officer seems like he's got a lot going for him, as does Big Brother.
<\ TEXTLESS \>
\ CONTAINMENT \
\ THE WATCHER \
\ REFLECTION \
\ WARNING \
\ BIG BROTHER \