I was goofing around on Blackout trying to throw power drainers into the basketball goal, and decided to throw a radar jammer instead so my controller didn't try to shake out of my hands. I deleted the power drain, placed a radar jammer, and went to throw it at the hoop. I was caught off guard when the jammer fell far short of the hoop, where at the same angle the power drainer would have gone too far.

Now, this may seem obvious, but it intrigued me: different equipment can be thrown farther than others. So, being the nerd I am, I devised an "experiment" to see which piece of equiment can be thrown the farthest, and charted all sorts of physics nonsense about each one.
[click for full-size]
Here, you can see the maximum height and the inital velocity (i.e., how fast it was thrown) of each unit;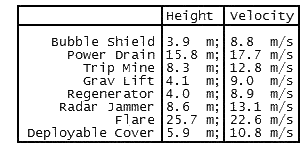 Enjoy!