In Response To: Worth a thousand and one words - *IMAGE (Wado SG)
This is what I see when I look at the image. I'm not saying it's actually there, but if I see anything in that picture it's a person sitting on a throne.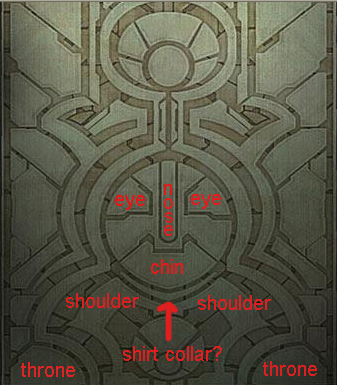 I don't really believe this . . .
. . . is anywhere on that mural. I understand exactly how other people see it, but it seems like a stretch to me. I think the "body" and "limbs" seem disconnected, like they were never meant to look like a single object. Also, I don't think the creature people are seeing is the focus of that mural. To me the "limbs" and "body" look like they're spread AROUND the circle in the middle (the one I think looks like a face). I would expect the focus of the image (especially something so important) to be in the center.
Still, it's good that you're looking in the first place, so good job. Personally I just don't think it fits.