In Response To: Beginner's Guide to Halo PC Hacking *TUT* (XLNC)
Trainer - Sheep's Halo PC Trainer Engine +9
Also known as Outcast's Trainer in some sites.
For this tutorial, you will need:
- Sheep's Trainer
- Halo PC, ver. 1.0. *Fresh Install*
This trainer requires Halo PC 1.0!!
Which means, if you installed Halo and patched the latest update to play online, this trainer will NOT work with that version! Never fear, you can install Halo twice so that you can keep one installation updated, and the other as 1.0.
Here is how you install the game twice:
1) Move currently installed folder anywhere else on your hard drive. This will fool the CD into thinking the game has not been installed yet.
Ex: C:\Program Files\Microsoft Games\Halo -> C:\Halo.
2) Run the Halo PC cd. Select install and set a new directory.
Ex: C:\Program Files\Microsoft Games\HaloTrainer
3) Now move the first folder back to its original location.
Ex: C:\Halo -> C:\Program Files\Microsoft Games\Halo
There is another way to do this (in case you mess up the previous method):
1) Uninstall Halo.
2) Reinstall Halo in any directory. Ex: C:\Program Files\Halo
3) Copy the entire Halo folder.
4) Paste it in a new directory. Ex: C:\Program Files\HaloTrainer
5) Now you have two fresh installations of Halo. Go ahead and update one, but not the other.
I have been told that the second method works, if it doesn't, all death threats should be directed at BOLL. You will have to create short cut icons for the second installation yourself, since it was not actually installed.
---
The Cheats
Here is a shot of the trainer.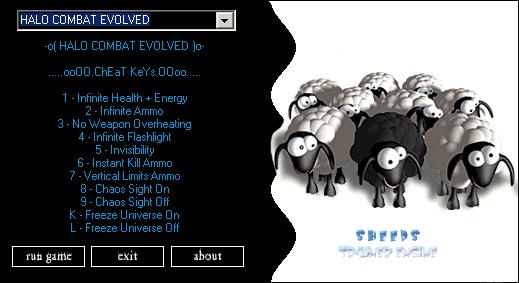 Calm down Louis. These are Sheep, not Goats.
There are multiple trainers out there for Halo PC, and most of them do the same thing. Infinite ammo, Infinite health, etc. There is one, however, that stands tall above them all. Outcast's HPC trainer rocks, period. Here is a list of features it has.
1 - Infinite Health/Shields
2 - Infinite Ammo
3 - No Weapon Overheating
4 - Infinite Flashlight
5 - Infinite Camoflauge
6 - One Shot Kill
7 - Vertical Limits Ammo (puts any object you shoot at 1km into the air.)
8 - Chaos Sight On (enemies fight each other, same with marines.)
9 - Chaos Sight Off
K - Freeze Universe (Freezes all objects and characters in the game, except you.)
L - Unfreeze Universe (Unfreezes all objects.)
---
Installing the Trainer
1) Simply unload all contents into the main Halo folder. In my case, it would be: C:\Program Files\HaloTrainer.
2) Open trainer.exe from the main folder.
3) Select Halo: Combat Evolved.
4) Run game.
5) In the game, you'd press the keys that are assigned to the specific cheats to activate them.
6) Have fun! :)
---
Troubleshooting
If the trainer is not working, chances are your shortcut icons got messed up and you updated the 1.0 into the latest version.
- Goto the folder where your Halo PC 1.0 is supposed to be.
- Right click on Halo.exe
- Goto Version Tab.
- If the version is anything other than 1.0, it means you've updated it by mistake.
- Reinstall to get it back to version 1.0.
[/Trainer Tutorial]