While doing a 3-way side-by-side analysis of M2, M2 Windows, and M2 Pippin, I found a few more differences between the Windows 95 version of M2 and the Mac/Pippin version that are not detailed on the Facts and Puzzling Things About section. Several terminals had differences in spacing - a few extra lines here, a space there- nothing worth detailing.
M2 95 has an ever so slightly darker S'pht logo:
Sorry Don't Make it So is missing 4 AR clips, the coop-only invincibility, and the line:
*polygon_index= polygo
For Carnage, Apply Within is missing the line:
__v__CURSORSECT7F,73944
Aaron Freed pointed out to me a few new ledges on For Carnage, Apply Within, highlighted here in blue:
Kill Your Television is missing several lines:
aysendingsmokingchipsofstoneskippingintoth
efogshesplinte!sanancientoakwitha/orcethat
takesmybreathandhurlsmetothegroundshelea%!
Finally, All Roads Lead to Sol naturally has an extra entry in the credits term: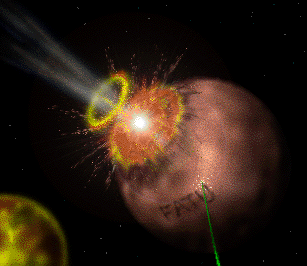 Finally, after three years of dealing with the same source code base, I am going to be able to take it out back and shoot it. How I look forward to that. If I only had a messaging laser....
Porting products, by the way, isn't that fun. There's only so much room for creativity, and in Marathon 2 for Windows 95, most of it came in the form of the networking. I hope you enjoy kicking the ass of your friends and coworkers.
On to bigger and better things....
Ryan Thursday, August 1, 1996

If you're wondering, I was unable to find any differences in the map file or terminal resources between the Mac and Pippin releases of M1 or M2, beyond some bytes in the header and footer. Of course Pippin lacks pattern buffers and simply covers them with a different texture, but that is entirely in the Shapes file. Curiously, M2 Pippin uses M∞ shapes and sounds with the M2 shapes pasted in, so there's everything present for the SMG, VacBobs, Grendel, etc. VacBob, not that they're in the scenario, have a "sigh of relief" sound in his TrashTalk entry.