In Response To: Tour of Duty: You Got Me in a Vendetta Kinda Mood (Martin)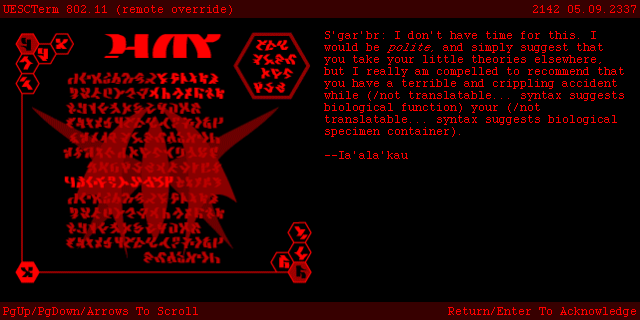 I love that this says I hope you'll have a horrible accident while s'phtting your pants (or enforcer robe). S'pht translator humor is glorious.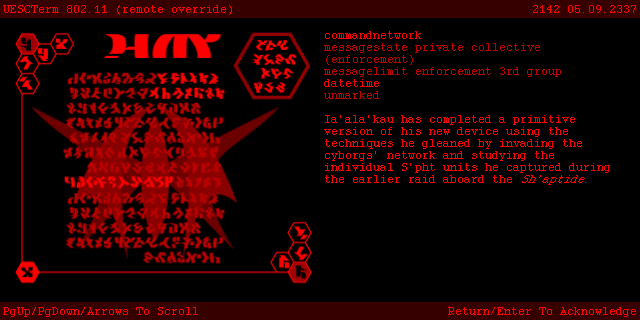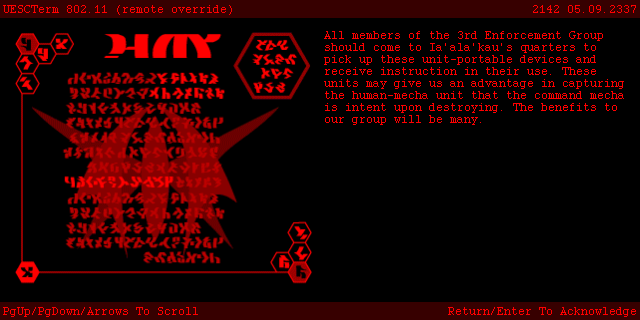 After rereading this, I finally understand what he's talking about. This is actually an explanation for the Shadow Enforcers™ (they would come as a surprise now if we didn't see the one on the secret map Never Satisfied). They took the s'pht cloaking devices from those four blue-ish s'pht we saved way back (on polygonium opus?) and congratulated themselves for putting something to use that they should have figured out how to reverse-engineer centuries ago... oh, I think I mean a few centuries in the future; time travel, man. Unit-portable devices... could these literally be the invisibility powerups we rarely ran into in Marathon and M2? They were very odd looking. I never stopped to think those were things that the s'pht dropped; it's not human technology at all! So where does the invincibility powerup come from, and why aren't the pfhor using those?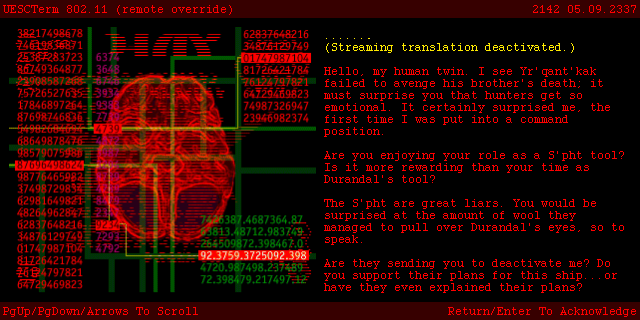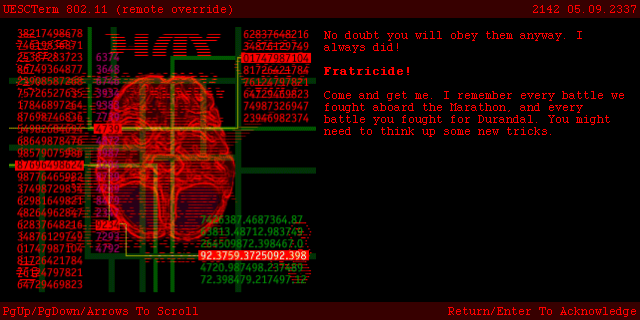 : He refers to the vengeance Hunter from Polygonium Opus, and also references
: our old efforts on the Marathon, and our time working for Durandal, whom
: he says has been somewhat duped by the S'pht liars. I guess it's all a
: matter of perspective!
This contradicts a later terminal in Mt. Vesuvius that makes it seem like Durandal took control of the pfhor at Tau Ceti in this timeline, instead of what we experienced in M1 and M2. I may have to re-assess and re-evaluate some of the conclusions I've drawn from that.
: Out the other end there are more Fighters waiting for us, and a Trooper. It
: is useful to note there is a 2x recharge panel in a pillar up the stairs
: and to the left a bit – I didn't note it and instead backtracked to the
: one in the Invisible Enforcer corridor, although that's not necessarily a
: good name for it as they appear everywhere around here!
There's also a 3x hidden in a thin pillar somewhere I think you forgot about. Don't feel ashamed, it's the last thing I found after re-reading the secrets in the spoiler guide for the umpteenth time trying to figure out what "NORAD type display" means.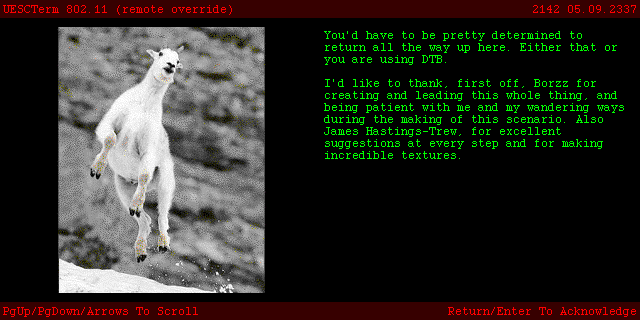 What is DTB? The thing that came before atque?
-VBB