In Response To: Re: Tour of Duty: Hang To Dry (General-RADIX)
: Early on, I was expecting Leonardo's mysterious friend to turn out to be a
: bit more sinister than S'bhuth. Probably because of that "shadowy
: spectre of death" thing.
Banshees. They're everywhere. Can't stand 'em.
: That illustration on the first of Cosimo's notes here is also more than a
: little worrying; did he off himself?
There was an illustration a few writeups back on The Revealing Science of God that showed what looks like the pfhor-constructed s'pht exoskeleton, which I think might be S'bbhuth?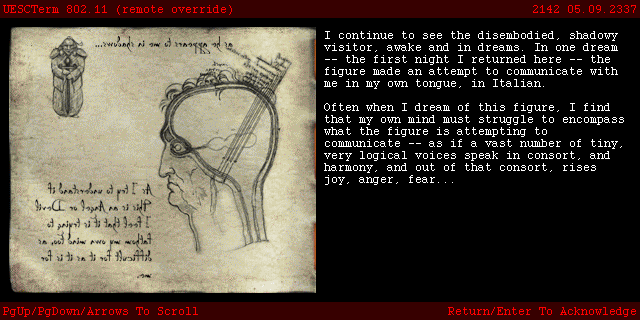 It being the pfhor slave model throws a retroactive monkey wrench into this, but the s'pht citatel on that M2 chapter screen already had that anachronistic imagery.
The human face on this one is kinda weird.