Last time on tour of duty, we played Try again but with deep lava, and I gave up on the whole TC thing because there was too much else to do. A task for another day :). We found the same old secrets but with new messages, and a rather nasty 'fail' message and laval dunking. We left that land of no pattern buffers, expecting that trend to continue, what with this challenge being so hardcore.
Instead we find ourselves here, in a very memorable and very quiet room, with some 'goo' channels just hanging out, some windows, some shotguns, a terminal, and a pattern buffer. Someone was getting soft! Still, that's definitely for the best, or I would have totally checked out. This has to be one of my least favourite levels, in both incarnations. And there are indeed a few changes this time around, and none of them all that gratefully received.
I don't think there's any difference in the map from last time, so I'll just use the same link … just bear with the level number discrepancy. PS wrote the level up last time, on 25 October 2013. It really is time we bring this chapter of the series to a close!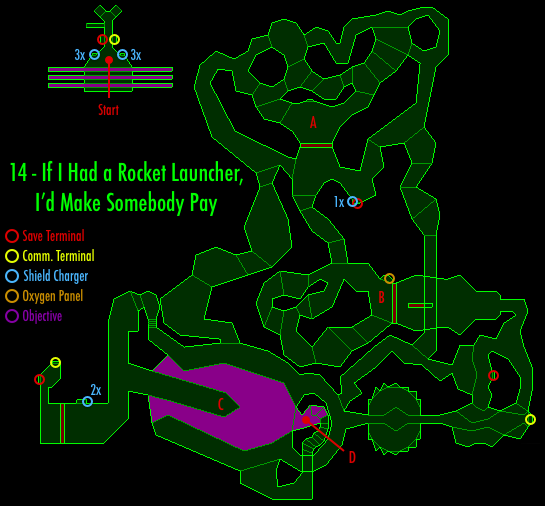 Okay so actually, this time it is a rebellion level; I think that's the terminology, where it pinches all our weapons just for kicks. Conveniently, there is a Fusion Pistol and an Assault Rifle up by the goo channels this time, but we lost our SPNKR and Tozt from Try again, aww. The latter would have been proper handy with the Troopers and BoBs. Oh well.
As I mentioned, there is a pattern buffer just nearby, so the next level pain is rather less than that of Pfhoraphobia – Ain't Got Time Pfhor This…. Those wasps did me in on more than one occasion; it's just lucky they didn't make it to Lh'owon! And I also mentioned the terminal here. More questionable grammar, and more doubting of our abilities … lucky I'm still on low difficulty, or I'd be doubting them as well :D.
And then we are thrown into the fray all over again. It seems there's not quite as much shotgun ammo around this time; the Troopers are the YTYBT grey version (still easy on low difficulty, but I shudder to think about TC), and the exploding BoBs are fusion-packing ones – the first like that we have ever seen, if I recall. Thankfully, the health recharge canisters are still there by the first switch.
Beyond the first door, the whole BoB pack is fusion-packing, the health recharger is still only 1x, and oh! Actually the pattern buffer is absent, presumed missing. But I'm still not updating the map :). Good to see that the meanness does continue to some extent. The next change is that the M2 'blue' hunters have become Moo 'grey' MoaHs, with extra toughness, and extra awesomeness for this section before the next PB that hasn't been rudely painted over. That second door delay must be seriously nasty on TC.
Behind the second door, we find the first friendly fusion-BoBs since Foe Hammer, and I never realised those ones were supposed to be friendly until this series anyway ;). The ones on the demo version of Ne Cede Malis are a different story. And another difference is the provision of a Flechette and a bunch of ammo for it, nice. On my difficulty, the fusion-BoBs are both more useful than their magnum cousins, and more amusing, against the Hunters in the next room. They're not all that clued up about the dangers of killing Hunters with fusion at close range – so they kind of get themselves killed en masse, but at least it's funny :).
The PB here remains intact, and would obviously be of great relief if I weren't the wuss-boy that the nearby terminal accuses me of being lol. More so the highlight of that terminal, though, is the MoaH that suddenly appears, every time you are near….
Well, just the once, but I couldn't resist, clearly. And then on to the last part. No further surprises really. If planned well, the MoaH can actually be used to take out a bunch of other nasties when it explodes, but that might only be viable at low difficulty! Other than that, the promised SPNKR is indeed where we would expect it, and the last door and terminal are as well.
No mortal. Well, the jury has to be still out on where we fall on that point. Destiny aside, we have infinite saving and loading on our side, and with that we head into the promised ARENA.