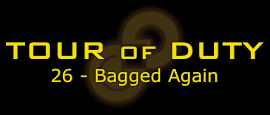 Last time on Tour of Duty, we finally reached a different conclusion to the story of Thoth, enabling something of a merge between him and Durandal, courtesy of his primal pattern having been stored in our impenetrable brainpan, somehow successfully since Hang Brain! And this new entity just told us that the S'pht'Kr were on their way, and now here they are!
It would seem that we were just sent back through the teleporter we took to get down below, and in the few minutes we were down there – umm, depending how many attempts we needed on the jumping puzzle? – the Pfhor followed through on their plans to blow this Son of Grendel facility up. As for the implications of this for us, it's hard to say, but a brief look around shows that there isn't very much left to explore, with various cave-ins, closed doors, and otherwise inaccessible areas. The MSG says that the room with all the pointless switches from Son of Grendel also exists here, albeit even more pointless as we have no way of getting to it! I've done my best to patch it into my in-game map screenshots, and to cut off the different areas where it suggests they cut off … a real manual operation :).
So, looking around, we also find that two of the terminals we can reach actually work and they give the same message, but we're not hearing from the new merged entity, oh no … we're in for a rant from Tycho, whom we last heard from on By Committee. I guess he was trying to track us down the last few levels? Maybe Tfear even kept him out of the loop for the time -he- was somewhat in control of our Destiny?
Tycho's style is always good fun to read. The bad bad unit doing bad bad things lines especially are just so different from anything else we get. And it's all so cryptic (oh really?) that we're still discussing it now :). It seems Tycho is aware to some degree of what we have been doing with our jumping around through time – massacres occur at your beck and call, worlds destroyed ... only you can't remember exactly, is that it?". It's hard to say where he's been getting his information – perhaps from all that digging around in our brain around the time of By Committee? – or what he knows for sure, but he is certainly not best pleased.
You've been fighting doubt itself, elusive as I am has also led to much discussion – depending on intonation, he could be claiming himself to -be- doubt, or merely making a comparison; if you want to put labels on people/AIs, it's not a bad choice really :). Additionally, he claims (doubts?) that our new Durandal-Thoth entity will "escape" and I guess that's still about the end of the universe … our priorities are still so much more immediate than that, we're just trying to stop the Pfhor using the trih xeem and releasing the W'rkncacnter, which never really sounded like causing the end of the universe; rather just causing trouble in this part of it.
Anyway, Tycho must still be somewhat in the loop, because he has the power to call on forces of Tfear's personal guard! Whom we'll be facing next – duh duh dunnnnnn!
And with that I hand over to our resident Viking, who recently laid claim to our two final levels. He was cautious about it, not wanting to steal anyone's thunder, but I was happy enough to hand them over – it was great motivation after the major delays with PS's issues with the Internets. And now I'm away for a week, and then it's Christmas! When I started the writing for Infinity at the start of the year, I wondered if we would get it done within 2014, and now I leave us with just a slight chance … although the two last levels will doubtless (Tycholess?) take a lot of covering :).
I can start on the TI scripts instead. Cheers.