Do I have to do this? It's just aie make sicur again. The map title says all you need to know about both the plot and the funtacular difficulty. I'll just post the terminal message and let PerseusSpartacus get on with… oh? We're in a different section of the Jjarro Station now? Well in that case, as refreshing as it may be, this one's the biggest pain in the butt out of all of them (save the last one where we succeed) and I don't wanna. *Sigh…*
Last time on Tour Of Duty we made some paths, attempted to decipher the meaning of durability, and found a secret message telling us IM HOME, or IN HOME, or NO HOME. Who's home? I don't know.
Here's our home now: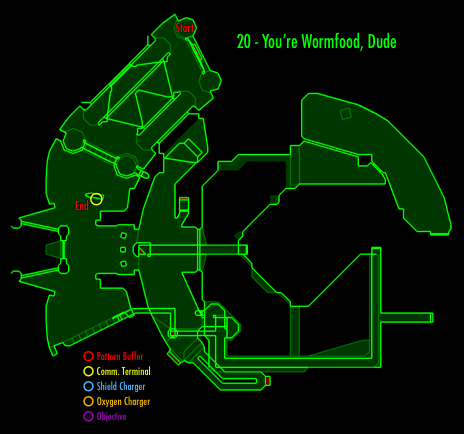 The music I have chosen is Hunter Holiday by Treellama. It's very ominous and sets up the mood well.
We start off this map on one of four raised octagons. Some of these octagons are lifts that are not active on this map. We could drop down and battle the hunters, but if we manage not to fall off and run up the stairs we can jump into an elevated door containing a 2x canister.
It doesn't take long to notice this is Yet Another Vacuum Map. I hate those. Who doesn't? It's not like we're intended to enjoy playing this map.
We drop down and continue into the next room to see a whole lotto troopers and hunters teleport in! And a couple of s'pht'kr, thankfully. Yay? I only saw these guys come in when I did level select on Kindergarten, I don't recall finding them on Normal in my regular playthrough. Maybe that's because I was rushing too fast to get out of this map at the time.
At the south end of the map we find a door where we can explore some claustrophobic corridors. If we haven't killed all the hunters, you'd better believe they'll hunt us down here, and it's absolutely terrifying to get cornered (unless you're playing on kindergarten, in which case it's pathetic and you can kill them easily with your one magnum). A lift will take us up to some ammo and shield canisters, and the doors that would connect to the rest of the station are inactive.
Other than that, there's a trollish area near the south end of the map with two very narrow halls with a dead end that loops around itself (because the door is inactive) and a trooper that teleports in. If we're rushing past everything, the aliens will love trapping us in here. There's a drop down leading to the main elevator we've seen in the past two aie mak sicur maps, except it's locked so it's just another long dead end with some ammo.
There's some scenic windows on this map with lots of areas on the map we can see that we can't really get to, which is okay if we're in the mood - but we aren't because this is a vacuum map.
The exit is on a peculiar triangular polygon that's easy to miss since the terminal is on the opposite side of the wall that we'll only see when we decide to run back to where we started.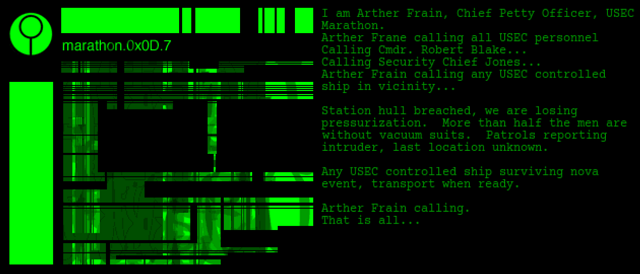 So the first time we were here, we had a terminal from Tfear, the 2nd from a s'pht-like AI entity, and now we have one from a BOB named Arthur Frain, who we've heard about oh so many times in the past (i.e., never, and won't be mentioned or referenced again), making out a last desperate call during Lh'owon's final hours. So the humans got here somehow, even though Durandal is gone. Did Robert Blake know about the Jjarro technology to subdue the W'rkncacncters? Was it thoth that directed the humans here? Whatever happened, they failed and impending doom is upon us.
So we slip out of this universe to eat a path into the final timeline.