I'm not usually much for arts and crafts, but in the spirit of - something or other, I've spent some of the last week putting together a plush, huggable S'pht.

The extreme homemade-ness shows - but so does the love! (Sorry about the lousy webcam shots; I think I left the camera at my parents' house last time I visited.)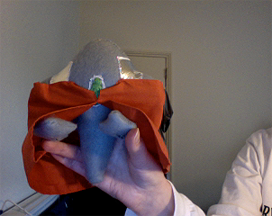 Comes complete with tiny exoskeletal hands and magic cloak-opening action.

The bow is optional but recommended. For maximum prettiness. (Or hiding especially messy stitching. Your call.)