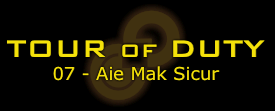 Last time on Tour of Duty, we managed not to get eaten by a grue, but we ran around in circles being shot by invisible enemies, so not that much of an improvement, really. Also, nobody knows what Double Aught were on when they were writing the dream level terminals, but it is quality meta material for sure.

Where are we now?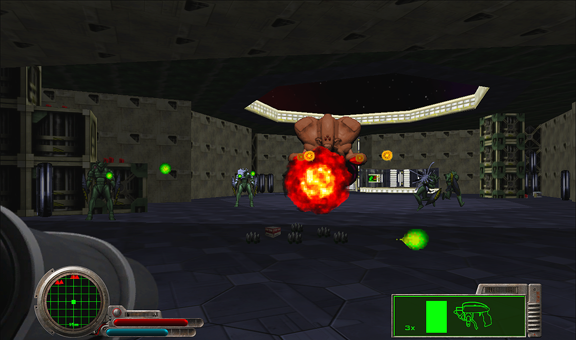 OH SHI-

It's okay! It's okay! We can handle this! We have a rocket launcher and rockets and shotgun shells and grenades and we can totally handle this. Which is good, because your mission in this level is basically "survive."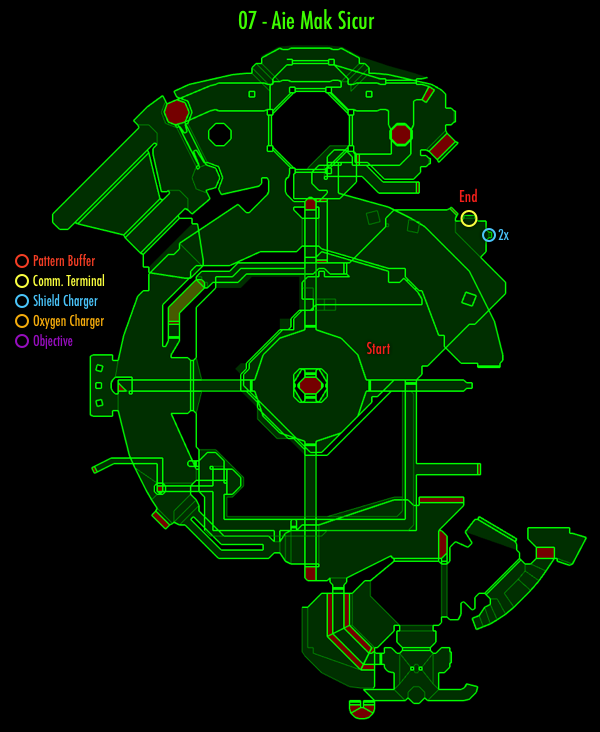 You'll be seeing a lot of this map (different parts of it, at least) in the future, so start getting familiar with it. In between dodging the Hunters and the Juggernaut, anyway. I tend to handle this particular room with strafing runs and the rocket launcher, especially since there's quite a cache of rockets tucked behind the giant pillar/elevator at one end of the big room you beam into, but whatever keeps you alive is good.

Technically, you have no need to leave the starting room, since it contains the only active terminal and the only working shield charger (not to mention shotgun shells - so many, many shotgun shells). However, you can get out and explore more of the station, so why not? At least the lights are working and the enemies are normal (if frustrating), so it seems like we've woken up from our "dream." Maybe. Those are some extremely disconcerting groaning noises echoing in the background...

Of course, even with the lights on, you still run into some doors that won't open, like these here.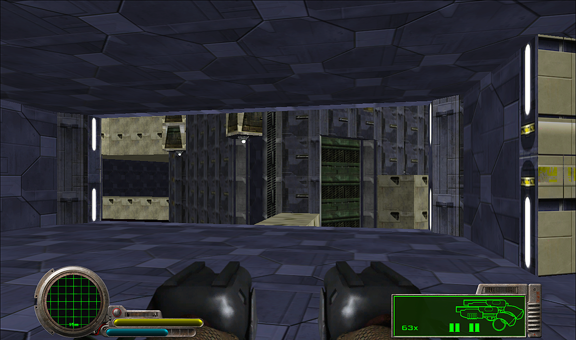 But you can find some nice ammo caches and views of places you can't get to! Shotgun shells scattered about the place, assault rifle clips and grenades if you drop down the elevator inside the giant pillar in the starting room, a yellow shield charge canister along with more ammo in one of the hallways - all kinds of goodies, really.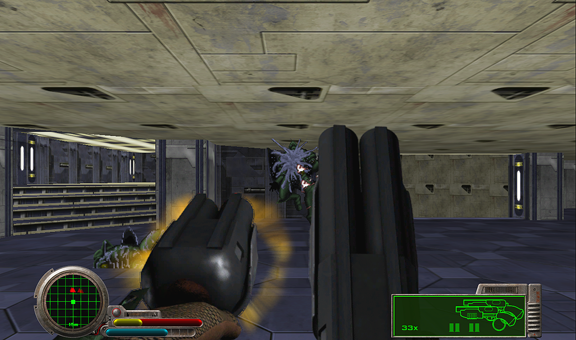 On the other hand - you can also end up burning through the ammo you find pretty fast, so take care as you explore. And the Juggernauts in the first room respawn - but the rockets don't.

Anyway, no matter how you play, you'll be seeing this place at least once more, so I won't linger on the scenery too much. Time to circle back to the starting room (if you left it in the first place), make sure your motion sensor's clear, fill up those shields, and read the terminal!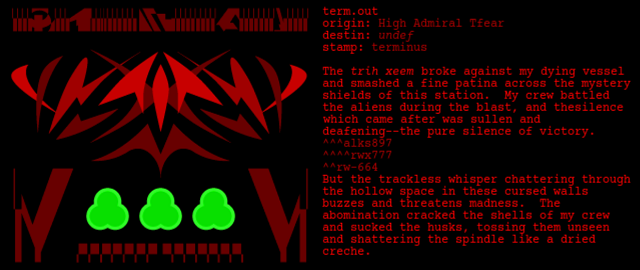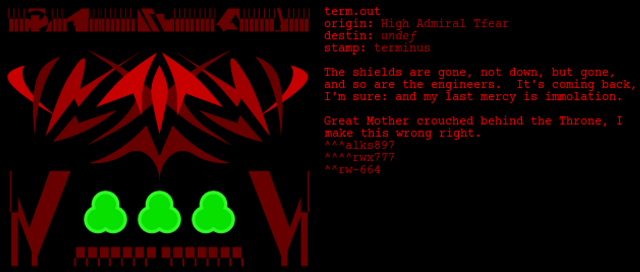 ... oh. Uh. That's not good. In fact that sounds like everything's gone to hell in a nice, fashionable little handbasket. Whatever happened between "Confound Delivery" and now, while the security officer was running around in his own mind or - something, Tfear decided he needed to use the trih xeem. So now we're right where we started all the way back in "Ne Cede Malis" - a cosmic horror is eating up reality around you and Tfear is dealing with it by blowing up the station. Yeah - good luck with that, Tfear, but peace out, we're going to try something else.

(For the record, I think "Great Mother crouched behind the Throne, I make this wrong right" is one of the most chilling and evocative lines in the game. There are others I love more, but this one has a perfect balance and rhythm to it.)

Sorry for the short write-up once again, but it is a fairly straightforward level. Now, back to our regularly scheduled Tour of Duty writers! And thanks to all for allowing me to contribute.