Wait - this isn't Durandal's ship. Or Tycho's. In fact, it doesn't look like a Pfhor ship at all.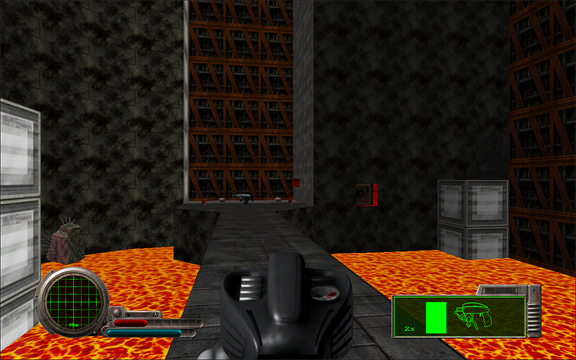 Welcome to "Electric Sheep One."

(Kindly ignore the fluctuating health; I got distracted taking screenshots and had to take a couple of runs at it.)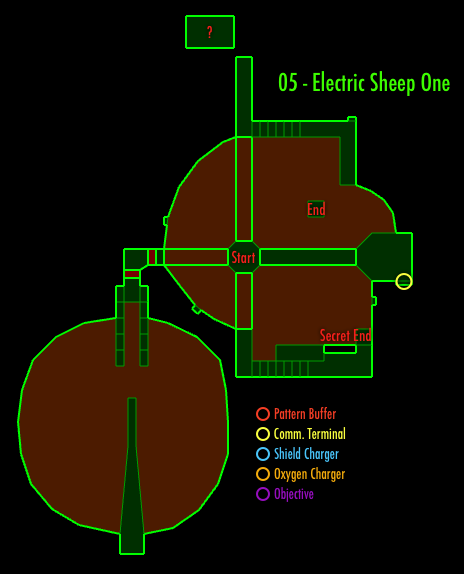 As you can see, it's a pretty simple, straightforward map - which is the only truly straightforward thing about the Electric Sheep levels. If you got here through "Two for the Price of One" (as I accidentally did despite intending to do a regular playthrough, but hey, why not go the convenient route?), you probably have plenty of ammunition, but it can't hurt to pick up the shotgun shells and grenades laying around at the "Start" platform and near the terminal.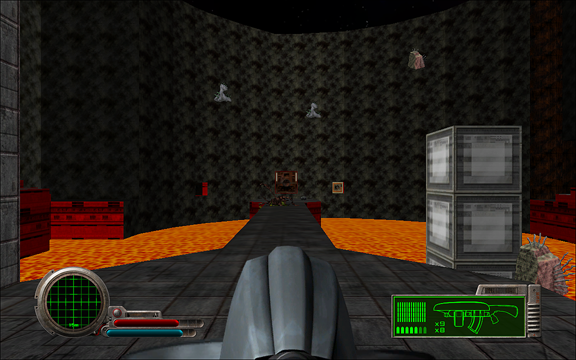 All of the switches but one are inactive; we'll hit that one in a moment.

If you're good at grenade-hopping, you can use that to reach these other platforms and skip to other levels. If you're me (or don't like to skip levels - which is also me), you'll just saunter over to the terminal to see if there's anything helpful to tell you where the hell you are.

Nope. The text and style of this terminal are highly reminiscent of Thoth's terminals from M2, but the green infinity symbol we've only seen on "Ne Cede Malis" so far, on a similarly oblique terminal. This one, with its talk of your former self destroyed definitely sounds ominous, but it doesn't explain where you are or what's going on, so you might as well shrug it off for now and hit that one active switch.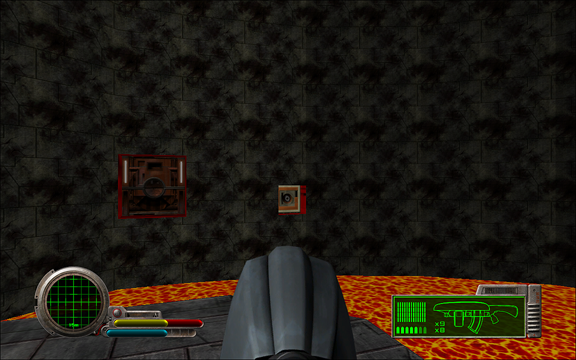 This will raise a bridge leading to the stairs and platform on the north side of the room. If it's the first sound you've made on the level, it will also activate several energy ticks and this guy: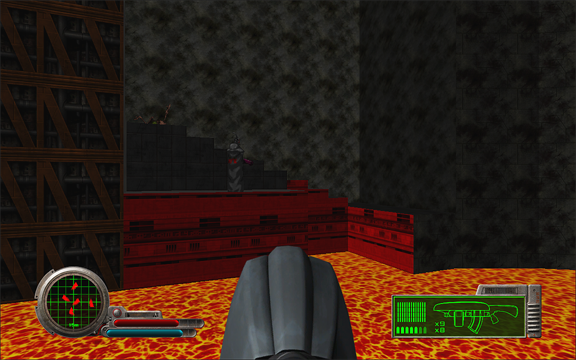 Hey, but Enforcers don't come in gray! At least, up till now; this is clearly not your usual reality. Still, he'll mostly ignore you until he's taken out all the ticks, so I usually return the favor to conserve ammunition.

Sadly, the little brown alcove at the base of the stairs doesn't seem to lead anywhere. At least, not at the moment.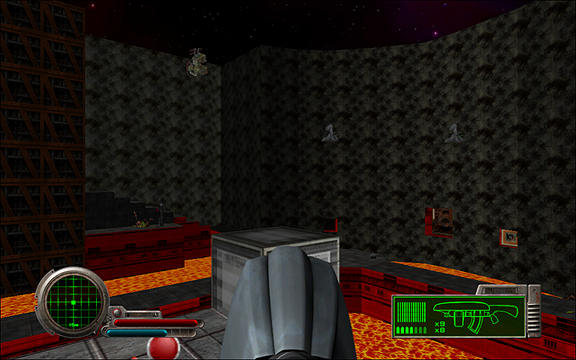 Once you've gone across the bridge and up the stairs, you can pick up a 1x energy canister if you need it, and then you'll run across to the big gray pillar, which will teleport you out to the next level, "Where are monsters in dreams."
Before we take that plunge (because that'll definitely be a longer write-up), let's talk a little about what, exactly, this level may be. The Dream Levels and Failed Timelines section of the site talks extensively about the way the levels of Infinity connect to each other and to M1/M2, but not so much about what the Electric Sheep and associated levels actually are; we call them dream levels presumably because of their surreal, disconnected nature and the obvious Philip K. Dick reference ("Do Androids Dream of Electric Sheep?"). The Electric Sheep levels specifically appear to act as a kind of staging area to catch your breath after a timeline starts down the wrong path, before sending you on to the "full" dream levels where you can choose another way - but more on that later.
So, as a prelude to the full dream level experience of "Where are monsters in dreams," what do we have? The ceiling appears open to the stars, but it's not a vacuum level; bits of alien (Jjaro or S'pht) statuary float in the air and in the lava; the area is empty at first, but if you make a sound a distorted but recognizable real-life enemy appears; and the narrative thread of the terminals breaks from the story of the previous levels, instead connecting back to the beginning of the timeline jumping in "Ne Cede Malis." A very dreamlike situation, indeed - so does that mean this level is occurring within the security officer's head? Is there some mechanism in his brain that allows him to leap from alternate timeline to alternate timeline?
Well - there's no answers on this level, so we'll just have to keep going and see. Apologies for the short write-up, but it is a very short level - the next will certainly be longer!