In Response To: Tour of Duty - This Side Toward Enemy (Martin)
: At the back of the
: column is a brightly lit platform (at point B on the map),
Map? What map? I see no map. Are you referring to this: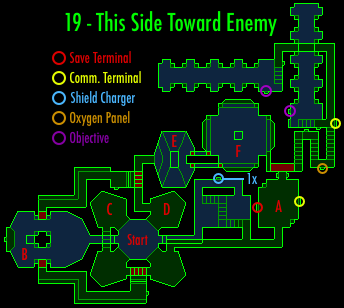 : The switch up the stairs lowers the water level, the one below turns up the
: lights and gives a bit of ambient sound. There are Fílickta here, and, as
: we come to expect, heading down the end of the room brings in a bunch
: more. In some instances it also brings in ammo and/or weapons, so itís not
: all bad. Indeed, here we get a Fusion Pistol, which is never a bad thing
: :). Finally, further along the corridor from the terminal is another
: personality cell, second verse the same as the first. Now Blake is
: happier.
Strange - I didn't know that ammo and weapons would teleport in if you ventured to the end of the computer rooms. I mostly just tap the necessary buttons and get out of there, which is what I did on this last playthrough of mine.
Vale,
Perseus