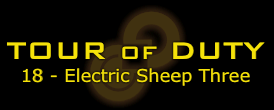 Last time on Tour Of Duty we destroyed a delirious Durandal's core only to find him not dead, but an entirely new entity familiar to us as an omniscient force from beyond linear reality. The only terminal we have seen outside of our dreams from this Durandal-Thoth, or Jjarro AI, our own mind, or whatever you want to speculate this thing is was way back on Ne Cede Malis. It has brought us back here.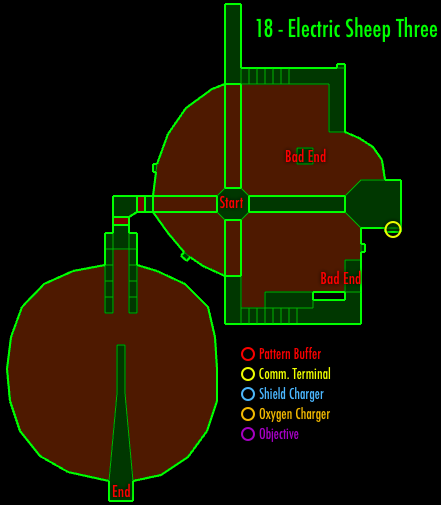 It's Electric Sheep 3, we're familiar with this place already. This time we'll get to explore that other large, circular room in the map we couldn't earlier. The music I chose is Black Hole from the resurrection album. So what does the terminal say this time?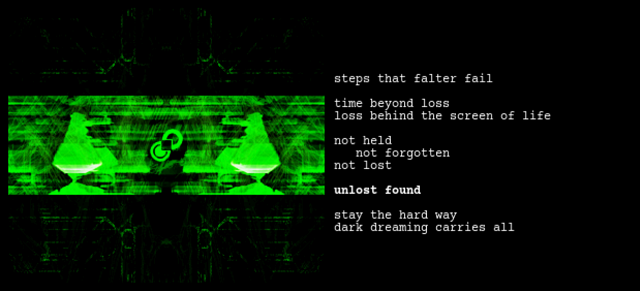 I'll just take that as Jjarro mumbo jumbo for never give up.
Thanks to Hokuto, for the first time I take a moment to look straight up at the starry sky filled with dormant ticks and floating space chunks:
All the blastable buttons appear to be inactive. After looking around a bit in confusion, we finally spot the one active switch on the wall above the west platform. Firing at it wakes up the flying ticks and a gray enforcer teleports in. On an off-topic aside, is it spelled gray, or grey? Both are considered correct by TextEdit, which is an oddity by English spelling standards where every word is given only allowed one correct spelling. Except grey, apparently. So I'm naming the enforcer Christian Grey =)
The door on the other side of the lava pit opens and a bridge rises, finally allowing us to see what's back there. You know that magical video game feeling of seeing something just out of reach again and again for a long time and the moment arrives when you finally have access to that mysteriously sealed off area? Well, I don't think that door has been mentioned in the last two electric sheep write ups, so I hope you saw it in a screenshot and were writhing in anticipation. Where monsters are in dreams and Whatever you please are probably also accessible on this map if you try hard enough. I didn't bother trying to get to them on this run, but we want to progress, don't we?
We arrive in a room with a very odd set of stairs. It looks like the staircase itself has fallen and all that remains is the side rails, which we must jump between each side to make progress.
At the top we see our exit.
So we enter our last dream.