In Response To: Tour of Duty - Charon Doesn't Make Change (PerseusSpartacus)
: Short, sweet, simple, and straight to the point. Not very much like Durandal,
: is it? Then again, he's had time to mellow out, or perhaps he actually
: became meta-stable - the so-called "Holy Grail of cybertronics".
Yeah apparently the BoBs are not fantastic company or maybe just not interested in listening to D's rants. Whatever. I think he's just glad to have us back. <3.
: Before continuing, let's look at a map, shall we?
: As you can see, this level is full of terminals.
And I think you only missed one :). There are two terminals in the F'lickta crusher area. There are also other seemingly inactive ones about the place but I guess they're not worth noting.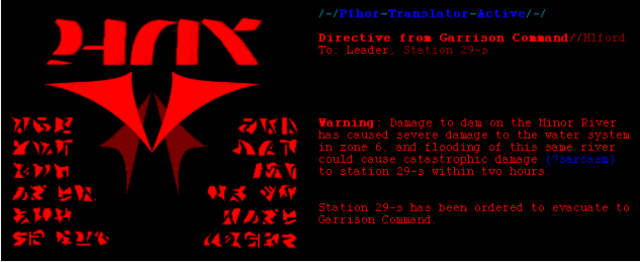 This one only becomes interesting when we find ourselves in charge of the assault on the Minor River Dam in Where Some Rarely Go / Thing What Kicks, a couple of my favourite levels in Infinity.
: The first thing I usually do is jump out the window at the start, without
: even reading the terminal. If you continue to the left, eventually you'll
: find a bunch of Fighters doing something very unusual (point A on the map
: above):
You could carry on noting the Windows '95 version differences - according to the Story page the teleporter is gone, but we have access to the roof of the structure. Interesting about the Pfhor having achieved a goal and teleporting out - I wonder which level they teleport to :).
: Interesting. Proceeding from here, you'll find that you're overlooking
: another outdoors area, with a large sewage-filled river. There's a few
: raised (and therefore dry) spots, one of which has an oxygen tank and some
: ammo that teleports in. From here, you can return to the early indoors
: areas via a window, which are by now filled with sewage.
I've always been confused as to what triggers the sewage to rise on this level. Most of the time I don't even get to the 2x charger before I can swim up to it - in fact in just trying a scratchstart (to check out the terminal above to make sure I wasn't missing something) I think was the first time I've ever climbed up the pillar stairs. Good practice for One Thousand Thousand Slimy Things!
: There are two secrets in this level. One is only accessible if you're playing
: from the previous levels (AFAIK), and another is so hard to find that I
: honestly can't remember how I got to it. I'll start with the first: in the
: far east of the indoors area, there's a small walkway that you can't quite
: get onto. If you have an AR, you can grenade hop up to it, and if you tap
: around a little bit, you'll find a second Pistol! However, it's so low
: that I think it might be possible to just aim down, fire the Shotguns, and
: have the recoil knock you up - I haven't tested this, however.
: The other secret is a room with some F'lickta stuck inside a crusher room
: that you can activate with a switch, along with a terminal that I believe
: says this:
: All very interesting. There are more terminals of this nature in Infinity
: (specifically on ' Where Some Rarely Go... '), which provide more in-depth
: descriptions of the F'lickta, but we'll have to get there first! As for
: how you get into this room with the crusher, I honestly don't remember. I
: know I've gotten into there before, but I don't recall how I did it. If
: anybody could help me with that, I'd greatly appreciate it.
To get into the room where you can activate the crushers, you take the door from the teleporter terminal in the start area - just knock! Unless you mean actually getting into the crusher space itself, in which case, I don't know.
I don't think you mentioned the other secret ammo stash - jumping in the deep sewage near the start and swimming east you encounter a few stairs, and in incredibly strong current pulling you in. If you fight it hard, you can get onto a lift to the right, just as F'lickta come to pin you into the dead end. This leads to a ledge above the sewage, and further along, a bunch of ammo teleports in. The end of the ledge has you drop down into the odd waste of space area beyond the pillar puzzle to the 2x charger. There are some Ticks sitting about, and an interesting spot where the roof is too low for us to explore :(. Of course you can also approach that ledge with a grenade jump from this side, if you've played right through.
Good writeup overall - with pictures telling 1,000 words I think you beat my word counts :D. Not a very interesting level IMO, but some interesting story stuff, which makes it all okay. The name is reused from one of the PiD demos, where you first really -had- to learn about side-stepping to dodge Nightmare bolts. That demo also had a secret so secret that the Story page didn't hear of it until 2000! The Slings & Arrows of not having a map editor, eh!?