In Response To: Re: Pict text (Hamish Sinclair)
Original image: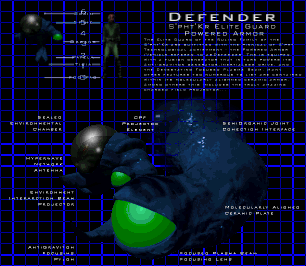 Image with blue channel suppressed and contrast heightened: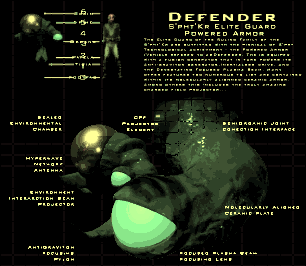 Here goes my attempt at deciphering it (undecipherable stuff is denoted by asterisks). Corrections are encouraged. There do appear to be some spelling/grammar errors, as with the other pict text, since this stuff wouldn't receive the same level of proofreading scrutiny as the term messages proper.
[Main paragraph. "Achievement" seems to be missing an "e." Line 2 Word 6 could logically be "pinnacle," but it looks more like it ends in "al." The paragraph does end with an ellipsis, as indicated.]
Defender
S'pht'Kr Elite Guard
Powered Armor
The Elite Guard of the Ruling Family of the
S'pht'Kr are equipped with the ******** of S'pht
technological achievment - the powered armor
******** ******* ** ** Defender. *** ** *******
with a fusion generator that in turn powers its
anti-graviton generator, ************ drive, and
the devastating focused plasma beam. Many
other features too numerous to list are contained
within its molecularly aligned ceramic armor.
Among others this includes the truly amazing
******* field projector...
[Parts of Defender, clockwise from upper left. The one missing word might be an acronym, like "GPA" or "OPF," although it almost looks like the word "gas." Could "con(n)ection" and "intera(r)ction" be some other, properly spelled, words?]
SEALED
ENVIRONMENTAL
CHAMBER
***
PROJECTOR
ELEMENT
SEMIORGANIC JOINT
CONECTION INTERFACE
MOLECULARLY ALIGNED
CERAMIC PLATE
FOCUSED PLASMA BEAM
FOCUSING LENS
ANTIGRAVITON
FOCUSING
PYLON
ENVIRONMENT
INTERARCTION BEAM
PROJECTOR
HYPERWAVE
NETWORK
ANTENNA