In Response To: Official confirmation that Halothon was real (General-RADIX)
: Well, we already knew that Halo was set in the Marathon universe in earlier
: drafts via Forrest sharing his account of being told this by a Bungie
: employee, plus the Marathon emblem being present in earlier builds and on
: Halo:CE's logo, but now we have it in plain text from a developer on
: Halo:CE, Paul Russel .
: "The Drinol designed by @shiekthegeek and originally built by yours
: truly back in 1999, back when Halo was in the Marathon universe! "
: Brought to our attention by Herald of Oblivion in the main Marathon Discord
: server; Aaron grabbed the link.
I even mentioned the Drinniol were included in Halo once; it was in the Halo SPV3 Tour of Duty primer, covering the books leading up to the events of Halo 1 I own, specifically the two Story Page entries covering Contact Harvest (Circle 2 of 3) The Halo ones were renamed "Sharquoi" before being cut completely:
On a final note, I also recently learned that the Drinniol were going to be in Halo, going by the scrapped Alpha story Forrest used for Eternal. Excuse me, I mean Driniol, also known as Sharquoi. They even come with hideous butt teeth, which Marathon hulks never have.
https://halo.fandom.com/wiki/Sharquoi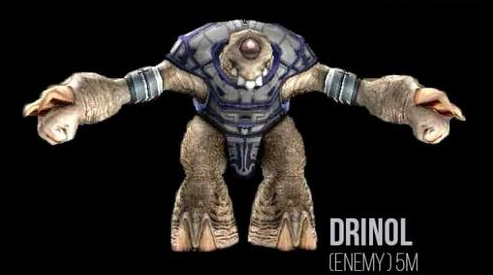 Source: http://forums.bungie.org/story/?noframes;read=72493