Chapter 4: Legacy Stage 3: Revelation
Act 1: Dread Not
Last time on Tour of Duty, we thought we succeeded in destroying the Jjaro dreadnought Mighty Philanthropy but instead Hathor stopped the self-destruct sequence, fully powered up the ship and used its cybernetic junction and her own to kill the Pathways into Darkness Wírkncacnter that was trapped in our sun all along. She became Sekhmet: Honou no Saiyaku, the flames of disaster in doing so before literally setting the universe on fire. Hellfire that is, as it took a long time for the lionís share of matter to be consumed by it, more to torture humans.
She dumped me on Fourth Earth further into the future than when I initially arrived at the end of the timeline, but I fought through her fire and her flames to a spare cybernetic junction conveniently on an alter to Iblis inside the volcano at the heart of my grandmotherís hometown.
Now I intend to prevent that happening by doing something I didnít do last time and was unable to try when I returned to the ship in the failure plank: Hathor is hiding on Mighty Philanthropyís Cybernetic Junction, which is in a door I previously didnít take. Iíll spare you the majority of this mapís second time as usual but the same main thing happens:
This time, I head for the door next to the kiosk that I didnít enter the last time I was here. Itís the one where the exit is on Run Coward.
There you are you sneaky AI copy of the Lioness! She was hiding in that server all along.
Caught you! All I have to do is smash the panels on the server tower. As the end terminal, except for Leela mentioning that destroying the Electric Sheep just in case wasnít a bad idea either and maybe one other word, literally nothing changes. Now we redo our last, interrupted mission fully and actually destroy the dreadnaught this time.
Act 2: Once More Unto the Breach
This map is more or less the same as Map 35 but with new areas open and others locked off. The east wing of the flagship is now sealed and I canít get in, and this time I teleport into the thundrillium pool hub perimeter hall on the east side of the map.
There used to be Pfhor cyborgs in here but they were replaced with those enforcers in 1.2. The star platforms must have been power sources for them.
Just north of here is a 1X shield terminal and a save terminal. A Comm one is in a small recess nearby. The message appears to be the same as the failure plank:
This glitch doesnít warrant a Gordon Ramsey clip as you arenít supposed to reach here (without grenade jumping) anyway, but you know Halo fans and their love of deliberately breaking out of bounds. Actually that applies to all 3D games. True 2.5D ones i.e. Marathon and Ion Maiden style 2.5D too.
This map is a lot less hard than Bug-Eyed in Space and better for it.
The big cargo hold like area to the south is still there, as is the tough windows room north of the oval fuel pool I started at and the door to the latter is locked again, meaning a trip upstairs. We also make a trip to the fancy bridge room and its switchback stairs. Itís literally the same dealio as before.
Act 3: Genie in a Bottle
ďdrictelt Ď07Ē
The control glands of the pfhor seem to be inside those ďhead tailsĒ they have. They are apparently an opposite Marathon equivalent to the CNI transponders from Halo.
Christ on a bike do I hate this map. I only like 1 part of it and thatís the northwest area for a very specific reason. Itís full of tough enemies including the hitscan enforcers with scatter rifles. Thereís a big room near the end that sucks hard and you may need to use the portable halo there. Save your zero-point energy cells though. Youíll need them later, trust me. To summarize, too many tough enemies, not enough health and shields and itís a fucking maze. And not a good maze either.
After listening to Leelaís message and saving, I head through the northeast door and deal with some drones in a dark grey-green room. Thereís a 1X shield terminal over the wall. Hopefully just shield terminals and no plain health ones on this map but I canít remember. You need shields too. Thereís hunters and enforcers in here too. I soon come to a junction with a thundrillium solution fountain:
This is where the map starts sucking, despite the lovely fountain: hitscan enemies you can barely see let alone counter. I lose all my shields and almost all my health dealing with those guys and their hunter buddies when drones swarm in and I see the suns fired by a plasma flamethrower enforcer come flying in through the doorway with the drones. I survive and save.
Looking at the pool up top, it reminds me of Duality/Two for the Price of One, or Gemini as I knew it. Thereís a hole in the right corner when facing out over the fountain falls. It leads onward northeast. Once you jump down, youíre trapped down there and not even jumping will save you.
I doubt thereís any shield terminals down here either. Down a small curving staircase is an enforcer and 2 hunters. Behind them is a goo room with 2 more hunters and some fighters including a commander hunter.
This is the part I like. It reminds me of a similar outer hallway on the Space Colony ARK back over Third Earth.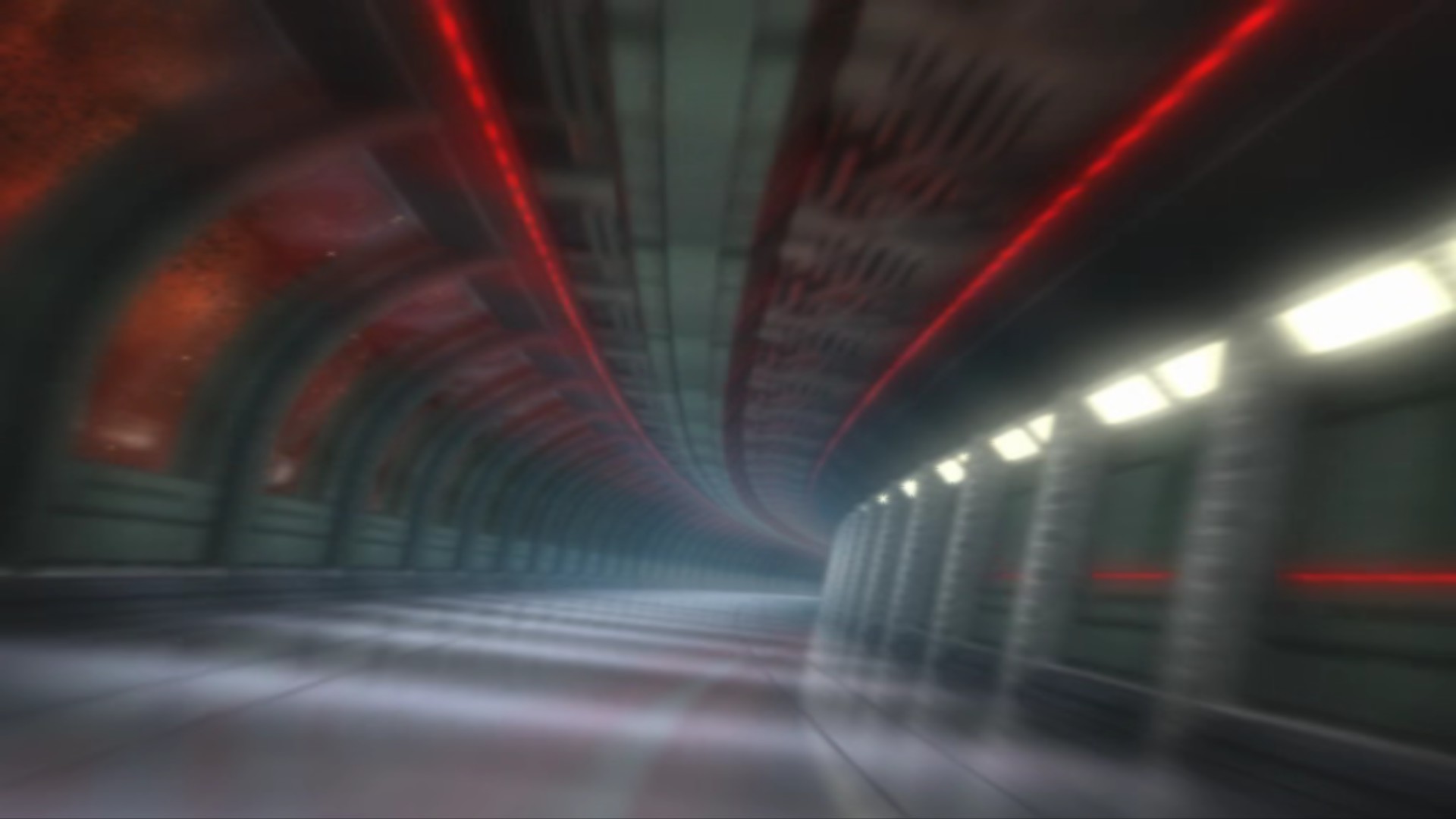 https://youtu.be/HGonkFXk_GU?list=PLbIN7v5nv4aNEpa7YCLyOHL1A85ECjfR9&t=18
Instead of a copy of the ARKís observation room complete with escape pod hatch (the one that got rigged with C4 that one time), I find a pattern buffer, a Comm terminal and a switch that opens a shortcut back to the stairs. I also find out after saving that a Halo grenade jump + grenade climb lets me backtrack to the shield terminal by the fountain. Ha! >:)
Leela teleports me to the worst part of the map.
Lots of fighters, hunters, enforcers I cannot see and troopers too. Feel free to use the wave motion cannon here like I said before. Just donít use too much ammo. Thereís no saving here for a while either. Have fun! Killing thus gained, you need to go into the door at the end. Thereís stairs with 2 buttons in here. The left button door has a switch guarded by more lizards and 1 bird (a minor enforcer). The right button door just has a simple switch.
These open a couple of more doors. One opens the right side of the star shaped room next to where you teleport when you enter this area. The other opens the northwest at the opposite end of the bad room (the switches are in the southwest) Use the shield terminal in the star room as soon as you can and risk a grenade jump or just take a normal jump to reach the pattern buffer nearby as the only other way to reach it is via stairs behind a locked door I donít know how to reach let alone open.
The northwest door is a massive ambush in a long, winding blue hallway. Fighters and troopers teleport in behind you while more simply wait up ahead, forcing you to turn back to avoid getting sandwiched. All that for some tiny stairs with 2 enforcers and drones at the bottom. Thereís a pattern buffer and 2 switches: 1 opens the door back to the room with the commander hunter and the other doesÖsomething. Thereís a switch I missed north of the star room that opens the left side of said room.
Both halves have panels that are guarded by hunters and drones with a connecting passage between the rooms to let the drones into the hunter one. The latter also has a pattern buffer.
*Whistles* It must be one of the 700 wonders of the universe! Sound familiar? It should, though this is a Dyson sphere like the Shield Worlds from the same game in question such as Trevelyan AKA Onyx from the books and Requiem from Halo 4. Unlike Halo, living Jjaro still exist within this fortress world. Well, unlike Halo until Halo 4 that is.
Iíll be perfectly honest, I was a little pissed off when I found out that the Jjaro were just humans. Thatís boring! I preferred it when the Jjaro were simply an alien race with better technology. When reading into it a little further, I found out that the Jjaro title used to refer to ancient humans and it now refers to any alien species that reaches their level and joins their collective in the Macroverse.
Those advanced ancient humans from Halo that were devolved by the Didact? Those are the Jjaro. In fact in the Marathon universe, the Jjaro were the Forerunners as well. I reference a quote from Forrest from a few years ago regarding Eternal as well:
ďWell all the leaked info I remember is basically in the plot of Eternal now, though I had to add some extra to fill in the gaps that I didnít know. But in an old, pre-Microsoft version of the Halo story, Master Chief was the player-character from Marathon, the Covenant were the remainder of the Pfhor empire after its sacking by the combined Human and S'pht'Kr fleets, the Forerunners were the Jjaro and, as in Eternal, they were human (though the exact mechanism of how a human spacefaring civilization existed prior to when we think human life evolved on Earth was not revealed to me, so the time-travel part of that plot point was made up by me for Eternal).
The rest of the details of Forerunner/Jjaro history and the plot of the game were, as far as Iím aware / can recall, the same, as was the nature of the Covenant/Pfhor having stolen most of their technology from the Forerunners/Jjaro.Ē
Refer to the Halo SPV3 Tour of Duty Primer (starting with Circle 1) to see what I mean.
And for the first time ever, this is what the Jjaro look like:
This is despite the universes having been separate for a long time.
The Jjaro as they are now are essentially the personification of the same idea that forms the core of the Covenant religion in Halo: species who ascended to godhood even if they are not any of the God species. Gods of our own time who used to be humans like Tenjin, the Japanese god of knowledge and Dionysus, the Greek god of wine were likely Jjaro. The ancient Egyptians likely tried to recreate this with their pharaohs, presumably hoping to become Jjaro post death.
With that, I activate the Electric Sheep with Leela and travel through time for the final time.
Act 4: Floating in the Void
You know the drill; itís the same as last time, just go.
Calling back to the first success plank dream level, I see.
I guess the ďold bardĒ in this case was named not William Shakespeare or Edgar Allen Poe, but Howard Phillips Lovecraft? Great stuff he wrote: Iíve got the complete works on hardback. Thereís also Stephen King for concepts like the Macroverse AKA the ďOutsideĒ.
Indeed it does. The more sentient we are, the more we want to preserve our lives as we are self aware enough to TRULY fear death.
Now comes the final timezone. From now on, the gloves come off: the remainder of the game is brutally hard and very unfair in ALL levels, even harder than the original trilogy but thankfully not completely unplayable on Total Carnage like many other mods (looking at you, Rubicon X and EVIL).
Iíve only played Marathon Eternal on Major Damage and Total Carnage to the best of my knowledge, though I possibly played the original Eternal X for the first time on Normal. Major Damage is like the main trilogy on Total Carnage, Chapters 1-4 on Total Carnage is harder and Chapter 5 on Total Carnage is like https://youtu.be/puYhzJvXz2s?t=110. Yes, the first time I beat Marathon Eternal X 1.0.3 on Total Carnage it was a Vidmaster run, thank you very much.
Tune in next time for the final timezone, the Jjaro Shield World itself, Chapter 5: Antiquity. Donít miss it!
I now end this with a footnote. You can safely skip this part:
As I travel through time, I prepare myself with a battle hymn from during the events of Infinity, especially the ending as well as something that occurred before I became a Battleroid, back on Earth centuries ago post a traumatic event I shall refer to as S1E13 and during an unrelated time travel bit where Solaris himself intervened (I was not present in the original timeline and it was doomed in a similar way to every other failed one Iíve seen). This period was S1E15 and S1E16.
Waking up! Breaking out!
This is what itís like to be free!
Rip it up, tear it down!
This is what it means to be free!
Jet sounds a distant roar behind you,
As you try to clear your head.
You start to look and answers find you.
Your inner purpose lies ahead.
Waking up! Breaking out!
This is what itís like to be free!
Rip it up, tear it down!
This is what it means to be free!
Waking up! Breaking out!
This is what itís like to be free!
Rip it up, tear it down!
This is what it means to be free!
One step to calm the storm inside you.
Unlock the secrets in your head.
Not another day, no more confusion.
No more living like the dead.
It seems sheís just out of sight.
The ones with answers always get their way.
And I think they should knowÖ
ÖTHAT IíM COMING FOR THEM!
Waking up! Breaking out!
This is what itís like to be free!
Rip it up, tear it down!
This is what it means to be free!