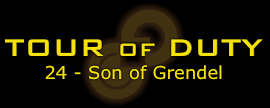 Last time on Tour of Duty, we stopped the humans from escaping via the volcano, like the right bastards and traitors we are, or have been, or have dreamt of being, only we're not quite sure.... We switched switches, ran through an awfully long corridor, flooded the basement with lava, and found our way to some fairly interesting secrets. As a reward, Tfear wanted to send us to a nice resort to get brainwashed, or something like it, while Thoth told us he was waiting far beneath to be joined with Durandal, and presumably needed us.
We are spared any further secret levels, but where we end up now is something like a compromise – we're not in either of the places we might have expected to be; rather this is where the different sides fight over us, and our Destiny, but we are finally taking a bit of control, and we're only going to leave on our own terms, not their comm terms :).
We start looking at a window to a room with a Fighter and a terminal, but we can't get in there right now. We're still in a natural, rocky environment, and nearby, the way we can go, we find a pattern buffer, and then a drop off to a river. At least it's not lava! Not being big on just abandoning everything to a big dive, we look across and find a likely candidate for one of those great feats of falling with style ... over to a small area at the top of some stairs, with what is actually a lift up from the river, in the corner, so we needn't have worried about falling in. We may find some Drones waking up from nearby around the river, and there's a Fighter up here, and several more down the stairs, where we find something of a courtyard, with a terminal in one corner, and a couple of pillars in the middle. The brown one with a hole through the middle is actually the level exit; it's just not ready for us yet. There is a small window in one wall here that actually grants us a view of the switch to open the exit, and permits its activation via grenade or similar. Unfortunately, I'm stuck scratchstarting ... and I realise now I'm really going to have to do another start from By Committee to tell the full story here, so I'll see you in a few hours....
Right. Let's continue. We still won't be hitting that switch, as it would kind of ruin the writeup, but there are a few other things I wanted to check out – like that raised passage off to the side. I found I couldn't get in there except as a corpse, but there doesn't seem to be anything there, anyway. At least I feel like I'm doing my job :). Also in this room our map starts picking up other bits and pieces we can't access yet. I just started playing Halo with the release of the Master Chief Collection, and man do I miss the overhead map! Here's the whole picture for this level.
And next would be the terminal, which has Pfhor High Command telling all Pfhor patrol units to drop everything in favour of tracking down and killing -us- even if it costs them their lives. Apparently they still have that transport ready to take us to Gr'ndl Prime. So one has to ask again, where are we and how did we get here!? The terminal shows a screenshot with distinctly M2 textures, and a segment of the map from much later on, rotated – why? It reveals a secret, but not a big one – still, interesting. Then it shows us a full map image, including the locations of a bunch of other terminals, and actually the level exit as a white circle. When we finish reading the terminal, it does us an intralevel teleport, just like we had on slimy things. Again, exactly why is a bit of a mystery. Who is in control here? I tend to think we are, and this is our way of giving the Pfhor the run-around, while we work out how to get out of here, but it's a bit hard to make sense of properly. I know, that doesn't sound like Infinity at all!
The teleport finds us on a stepped ledge above the river – over to the west on the map, for what it's worth. Some Drones shoot at us from behind, and further that way we see a couple of Troopers on a platform. First walking up the stairs, however, we see similar ledges just across the river, a lower one that is kind of useless, and a higher one that leads up to a courtyard with a structure in the middle, but it seems to be just slightly too high for the distance we have to jump – I'm sure I remember going that way in the past, but have not been able to make it in testing recently. So that leaves us heading towards the Troopers instead. Up some stairs the other way, we find a dropoff to their ledge, and to another terminal. This one is from Thoth, who mentions threads pulling, just like all of the parties vying for some kind of control over our Destiny, and wills us to [a]venge the hotspur, which I'm taking to be Durandal, and referring to what we do on the next level, using the upload of his primal pattern to merge with Thoth. But why are we here reading all of these disparate items? Somehow we can only reach that place "far beneath" from here, but how did we get here and know that? In Volunteers, Mark Levin suggested that this place was something of a key to Thoth's mind, something we didn't find in M2 – I guess something he would only share with us when he knew we could follow through on the merger ... cos Durandal was dead at that point, and stuff.
Before we leave this area, we can explore a bit more, to the large closed double doors heading east, and across to a staircase that heads down to the river, another safeguard against our falling in, and we do generally seem to be better off avoiding such. And so we teleport again, to a ledge above the courtyard we looked at from the ledge just earlier! Too many ledges, not enough time ... well actually plenty of time. There is no sense of urgency at all here, as compared to when we were working for Durandal while he was trying to fight against the Battlegroup.
We find ourselves in the company of a Trooper again, and there is another just through a door, along with another terminal – this is a very short stop. We may notice the middle pillar in the courtyard opening at least from one side – I'm not fully clear on how/when that occurs, but Narcogen had it as happening when one approached from the river side. Anyway, there are a couple of Troopers inside, kind of, probably dead ones, and not much else of interest. Maybe this was another special teleporter like our exit one? Anyway, it's easier to continue if we don't go down there at all! This terminal is a pretty clear-cut teleporter, without preamble, and all it really does is deal with the fact that this place is just packed with doors that won't open – we're still overlooking that courtyard!
This time a switch opens a door out onto the open ledge, and carrying on further takes us to a dropoff. Down below, a Fighter is waiting, as is a locked door – yay. But that's not the only way we can go, as more incoming Fighters make clear. On past another two locked doors, we find another terminal, but much more interesting, something of a base of operations, wherein a 2x recharger, oxygen recharger, and switches, lots of them! It's hard to keep track of what these all do, and hard to say it better than Mark did 13 years ago, although I'll reorder and edit it slightly, so:
"On the south column:
– The north switch opens a door next to the point where you jumped down from the third area; going through this will bring you to a ledge which overlooks a courtyard full of Troopers and a 1x charger.
– The east switch opens the northern of the two doors you passed on the way here, leading to another perspective on the Trooper courtyard.
– The west switch opens the southern of the two doors you passed on the way here, and the south switch opens a door beyond that one, ultimately leading to a ledge overlooking the first courtyard we came to, with the level exit.
The south switch on the north column opens the door that separated the two ledges above the third area; you'll notice that none of these switches is required to actually complete the level."
Curiouser. Five switches that just don't matter, and eating the paths opened up by which is really just going to slow us down! Falling anywhere on the level just means we have to repeat teleports; even when we open up connections, they tend to be at incompatible heights!
The terminal to our next useful point is another straight-up teleporter – "coil hot!" – but with slightly different cryptic epithet strings.
It takes us to a ledge over the river, just south of our first courtyard, and very much the same as the western one at our second area, but the way towards the middle is open here. It brings us immediately to a pattern buffer and another terminal – the first one that is not a teleporter! Instead, it tells of Pfhor experiences with investigating an "alien artifact", which just happens to be our exit from the level!
Basically they sent several teams down below, and they all wound up dead as best they could tell. I especially like the last part, where the author tries to get out of investigating this stuff further, lest he be sent through the teleporter :). Anyway, I guess those Pfhor teams loosened the lid a bit, because there really isn't much resistance when we get there! Spoiler! Nearby we find the switch that opens the exit square, if we didn't already hit it from the first courtyard, and another switch that opens the big doors into the same. And so we have come full circle, and if we read and understood what this last terminal was on about, we could head straight through to the exit spot.
But that would leave quite a bit unexplored. I certainly remember carrying on to the rest in my first playthrough back in '96 or maybe '97 – the game wouldn't run on our LCIII, and was almost bigger than its hard drive anyway, but my brother had bought a PowerMac 7200 and I got to play while he was in at university and I had school holidays :). I also remember understanding very little of the story, and I'm pretty sure I didn't put two and two together here, but I did find the exit without -too- much trouble. Anyway.... Not exactly hidden, in a room just opposite those switches, is another terminal, which contains a memo that kind of forbids the Pfhor from talking about the alien artifact any further. For whatever reason, it also teleports us away again!
This time we head south across the river to a high ledge. A short walk later, we find ourselves in the room we looked into right at the start – we kill that Fighter, if we didn't do so through the window at the start – and find a pattern buffer, and yet another terminal! This talks about preparations for the Pfhor getting the hell out of this place. And I've never understood this until now! This all explains the situation we see when we return in Bagged Again! They blow the place up, hence all the blocked off passages and such. Oh, and for now, it teleports us AGAIN.
Now we're above the first courtyard, through some narrow openings that we could see on the map but not reach. Along from here we find another no-nonsense teleport terminal, but there's plenty more to explore. Through a door we enter a horseshoe stairwell, going up around a small water pool – there's a lift in there to save us from a fall-in. Through the door at the top is a very strange pool, that appears to have a completely impossible current … there is nowhere for the water to go, but go it does! Nothing else to see here. But back in the stairwell, we remember something, as if from an old dream, or just an earlier terminal – halfway down is a secret door!
This takes us through to a narrow bridge over yet more (troubled) waters, and to a very elegant secret. It's no use to the scratchstarter, as you need to have weaponry that can flip switches. Up above, over to the right, is a corridor with a closed door at the end – and the switch to open it is on the wrong side for our purposes; we have to shoot it from this bridge in order to get through it. And it is worthwhile, netting us a Tozt and some ammo, yum.
For our last trick, we finally jump into the river. The near side here is connected to the rest by an underpass – they really did think of everything to prevent suicide traps here. If we head north, we find various nooks and crannies mainly underwater, and eventually one final terminal hidden away. And to keep things interesting, it's from Thoth. It reads as if it might be the level exit, but it repeats its message with a screenshot of the actual exit teleporter, which we have seen a few times now, to be fair. FIGURE IT OUT!
And with that, we are teleported back to the start of the level … *ahem* we find ourselves starting back, sorry couldn't resist. And now it really is time to leave – step into the quantum leap accelerator, and vanish.