In Response To: Tour of Duty - Ex Cathedra (Martin)
: A nice organic look, with stone walls in the back reminiscent of something
: like a Mayan temple. Is this what the Pfhor temple we're about to enter
: really looks like, outside of the limitations of our textures? More
: pictures like that would be really cool! Presumably there are Troopers and
: F'lickta just up ahead – the overlaid BoB warcry fits really well.
: Actually, having just looked at the picture fullscreen again, that's a
: trooper in the distance, bottom-right (didn't recognise him in green!) and
: is it a F'lickta falling dead in front of us?
I think that's actually another Trooper. First off, the death cry here is a Pfhor death cry, and second, F'lickta legs don't have 'stalks', while Pfhor legs do. Furthermore, if you look closely, you can make out that some of the green is a different shade of green, creating the shape of the Pfhor legpads worn by both Fighters and Troopers. Also, there's a metallic thing on the creature that looks like it could be a gun. Clearly not a F'lickta.
Also, Mayan architecture? Hmm...
Oddly, this is familiar to you, as if it were from an old dream, but you can't exactly remember...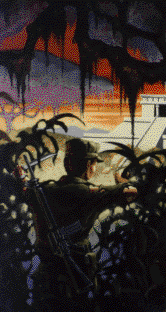 : The name. The Story page for What's in a Name gives the most obvious ideas,
: in terms of how the words sound: Michael Hanson writes: ex cathedra adv
: or adj [NL, lit., from the chair] (1818): by virtue of or in the exercise
: of one's office or position (ex cathedra pronouncements).
: Etymology is "from the cathedral", as in a proclamation that is accepted
: without question.
This sure seems plausible. However...
: The page for Latin in M2 goes further; I knew it was there somewhere, I
: remembered it, as if from an old dream: Out of the Easy-chair
: (Arm-chair).
Maybe Bungie's playing a bit of a joke on us? Sort of an 'arm-chair general' thing here, though with more of a double entendre? Maybe a comparison between some "office or position" (presumably within the Pfhor bureaucracy) and an "Easy-chair"? Just a thought.
: Then at the top of this staircase, we find the secret at point F on the map.
: The wall opens up to reveal a new style alien weapon, the first if we
: didn't deviate on Medicine, and we still haven't seen one actually
: attached to an Enforcer! Also here is a switch. A Labyrinth moment switch
: – I'm sure I quoted this earlier in ToD but I can't quite remember where:
: Don't go that way, never go that way! … Phew, if she had gone that way,
: she would have gone straight to that castle! That's right, this switch
: takes away the need to complete the first part of our objective for the
: level, opening the doors to the temple without destroying the circuitry –
: apparently the Pfhor don't realise, or they would just close the doors
: again!
Funny, I had forgotten all about this!
: Heading up the stairs, we finally get our head above water again. There's a
: platform in the middle of this space that we can get onto, but why bother?
: The window looking out just above water level is more interesting,
: revealing a wide open space with more deep water, and two Troopers
: shooting at us from a partially submerged ledge. Beyond them is the door
: that takes us to the circuitry we have to smash, at point A on the map,
: and an unmarked Pattern Buffer.
Dang - I added that Pattern Buffer to the map and then sent it to Hamish, but you posted before he could put it up. In any case, he'll probably get around to it at some point, and given that it will still use the same URL, the post will then display the new map instead of the old one.
: I remember its being even worse than it was in my last run
: through, but after a few ups and downs gradually clearing the room and
: returning to recharge, we can finally read the end terminal!
What's interesting is that if you cheat to the end before putting in the Uplink Chip, you'll still read the end message (I haven't tested this, but the Marathon Story Page doesn't show any other message for that terminal, so I'd assume that's the case) - seems like Durandal's still the big fat liar we knew and loved from M1! ;)
: Short and to the point, unlike this writeup. Mission successful. We've now
: got some Drones on our side, and to be honest, that's about the only thing
: that is clear about the next level. After the first room, it is all a
: mystery – good luck PS :).
Good luck to me? I thought you were the one handling Nuke and Pave, unless I'm mistaken somehow?
Vale,
Perseus