Yessss... the platform sound is back!
The audio clue to the secret flamethrower room has been restored to its full glory. The timings are all perfect. You have just enough time to grab the Tozt, the ammo, read the terminal and get out. Any dilly dally and you're stuck down a deep hole... how droll. ;)
Unlike the original game you MUST close both doors to successfully complete your mission. :)
But both doors don't actually physically have to close. I noticed this glitch at the left-hand door. When I attempted to close the door before the Wasps got through they got stuck on top, the platform stopped and the crushing sound went into a loop. See pic below.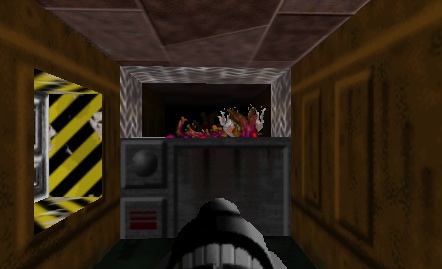 In the original game, the platform would have squashed the Wasps and closed completely.
Other than that the level is pretty darn perfect. :)
Cheers
Hamish