Yesss.... dead Bob scenery items are back!
Missing from M1A1 (for some odd reason) these mangled corpses add atmosphere to this level. How? Well if you are playing this for the first time and you are genuinely trying to keep each Bob alive then finding these dead bodies is like... WTF... who did this? "They killed Bob! Those bastards!"
I am not getting the feeling that the glue and super glue is partitioning off each fire fight correctly. Sometimes I would come upon a fight scene and it was already in progress. On reflection, it might be because the original game triggers these later. Sometimes you have to walk right up to a group before they activate. Which isn't very realistic. So it is quite possible that the beta is better in this respect. However, it makes saving enough Bobs harder. I certainly couldn't satisfy Leela. :(
Where's Dr Sumner when you need him?
MADDS have a tendency to cluster or stack even in wide open areas. See pic below.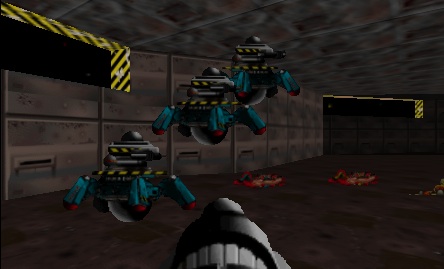 This makes them ineffective, thus making saving enough Bobs even harder.
Bobs, left on their own, cluster just like in the original game. Reminds me of that scene in I Robot. :)
Petals won't display (canon fans rejoice). :)
Dual pistols rule. As GK says... Never Stop Firing.
Found a suicide trap on this level. Never knew it existed. If you know it or can find it, post it here and win a case virtual beer. ;)
Cheers
Hamish