Now a while back, Baak of OoH (Order of Hpak) released a Multiplayer Anywhere Pak and Solo Anywhere Pak. Included in these was a Marathon Anywhere plugin that was a reworking of MaraMyth and Somewhere in the Heavens (both really awesome Marathon-to-Myth plugins for their time).
If you want to check both MaraMyth and SitH out, go here.
Now, the Anywhere Solo Pak has been out and stuck at version 0.2 since 4/19/08. They even have a Feeback/Comments thread on their forum and its been quite empty until I start posting in it recently. However, as much fun as it is playing MarathonAW on the solo campaign, I'm not the best bug reporter in the world and I thought it would be a great idea to get comments and anything that other people find that I might have missed. Then once we finish the entire Myth II campaign (not in one night of course, we can do it over a week or whatever people are comfortable with), I'll shoot off this giant PM or email to one of the OoH members.
A few questions I know that are going to be brought up:
Q: Are you an official tester for the Anywhere plugins?
A: No, the creator wanted comments and feedback from the community, so I thought why not get the Marathon community in on it.
Q: What are we gonna get out of it?
A: Some fun cooperative MaraMyth games and actually being able to put that fun to "good use" by helping someone with their creation.
Q: Why are you doing this?
A: Because I enjoy Myth and I enjoy Marathon and I like OoH's plugins.
Q: Do they know you're doing this?
A: No, but one of their members will most likely come across this thread if I post it on another forum. Not that that is going to change anything, unless they specifically request that I stop.
Q: What time will we be playing?
A: I'm going to be pretty free this semester so I'm rather flexible. We'll see how many people want to help and come up with something that works.
Got any more questions, feel free to ask.
Now onto the required resources:
A copy of Myth II Soulblighter updated to version 1.6
Anywhere Solo Pak - You can download it here or here. Specifically, we'll only be testing Marathon Anywhere, but you might as well keep all the other plugins it comes with, they're all fun.
Suggested material:
A marius.net account - Not entirely required, but highly recommended now that guests can no longer speak in the lobby, plus it just makes it easier to find people.
Somewhere in the Heavens tagset - This can be downloaded here. Why you ask? I dunno, its fun.
Anywhere Multiplayer Pak 1.15 - This can be downloaded here or here. Why? If we get bored of cooperative, we can always switch to blowing the crap out of each other.
Now some fun stuff: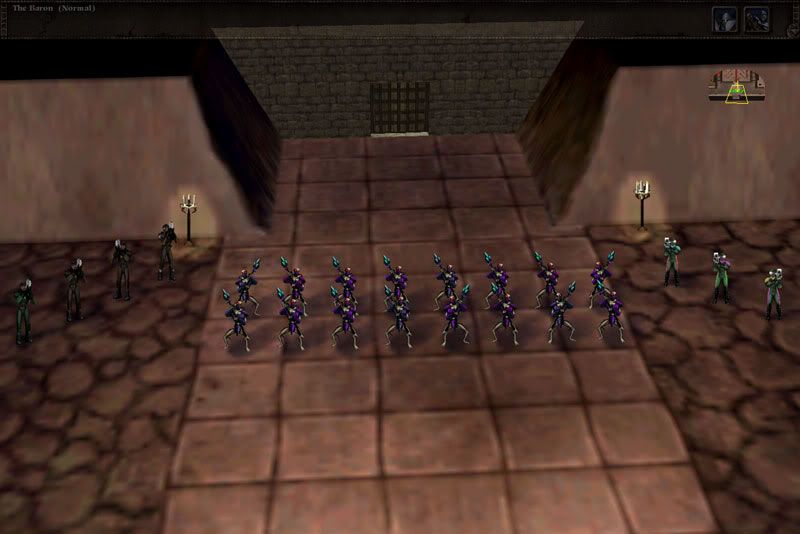 Yeah, the Baron is screwed.

Pfhor parts are messy.

But they brought friends.
You can contact me here, through email, PM, AIM, The Tain forums, or on marius.net (forums or on meta), or on The Pfhorums
I can also be found on #alephone and the "new" hl.bungie.org room.