Well this was fun, lol...

OK, there's been a bit of discussion about this one so I've had a look at trying to figure out just how big this new ship really is.
Pan-Cam is, unfortunately, little help in this regard when it comes to getting a good look at the Super Carrier and measuring it some what accurately.

So we're going to have to be a bit more old fashioned and crude in coming up with an estimate.
In the same way people used to try to figure out the exact size of the Super Star Destroyer against the normal Star Destroyers in the Star Wars movies.

This is unlikely to be 100% accurate, but its better than nothing to give us a rough approximation, and I think it should get us in the right ballpark, maybe give or take a kilometre.

Right, all we really have to go on is this image from a cutscene: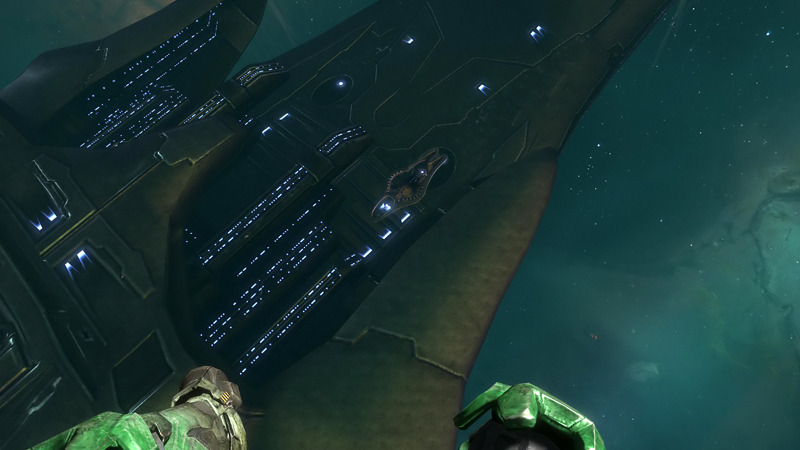 I decided to use the highlighted section as our reference point, as it is plainly visible from this angle against the Corvette, and from the side during the earlier space battle.
A bit of rough hack work gives us this result.
So to make up this spot, its roughly about two and a half Corvettes.
Apply what we know from the Corvettes and the markers, and you come up with this.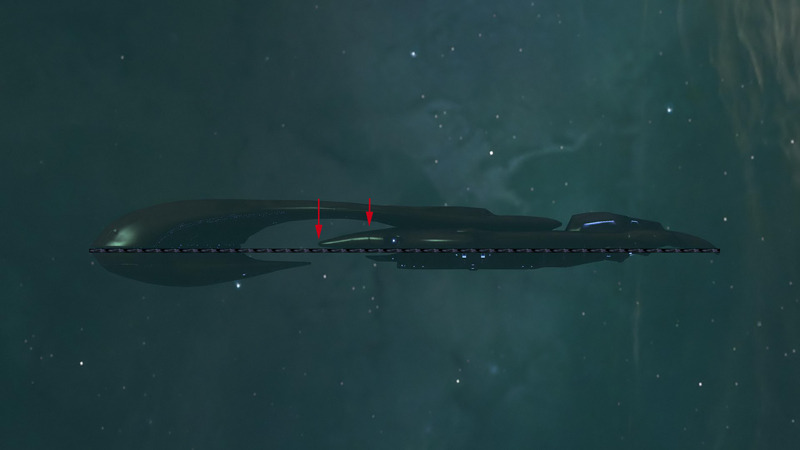 In a nutshell, we are looking at something along the lines of 34 Covenant Corvettes long.
But hang on, there is something else to look into first. How long is a Covenant Corvette?
I had been estimating about 1km long based on this picture from Halopedia.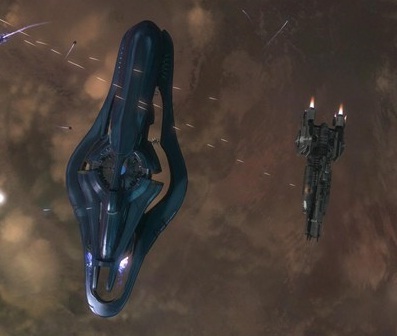 There is a problem with this picture though.
The UNSC Frigate doesn't circle around the Corvette on a level altitude. Its more like an elliptical orbit. At some points it is higher than the Corvette, at other points it is lower, which can give the illusion of it being bigger or smaller alongside the Corvette than it actually is.
I believe the pic on Halopedia was taken when the Frigate was at its lowest point, throwing off our sense of scale
Using the Pan-Cam and its measurements, I have come up with this comparison between the UNSC Frigate and the Covenant Corvette (UNSC Frigate side picture is taken from Halo 3 for convenience, the originals were measured from the top. This has been scaled appropriately).
A UNSC Frigate is 478m and I'd say the Covenant Corvette is roughly 1 and 2/3 of a UNSC Frigate.
For the sake of a straight number, let's say 800m long.
From this I think we can conclude with a reasonable amount of confidence that the Covenant Super Carrier, as seen in Halo Reach, is somewhere in the area of 27 km long.
Its not perfect, I'll be the first to admit it, and I'm sorry its not as good as I would like.
But its a start if anyone wants to try and be more precise about it, given what's available.
If you made it through this far, congrats, you get some bonus pics of me having fun while getting this info. =P
Damn I'm tired now.