Real life caught up with me so this has been pretty delayed, but here's my write-up! Instead of going into great detail about the overall experience, I'll be focusing on the Halo aspects.

Flashback to July 23! We arrived at Comic Con around 8:10am and waited in line until we were let in for the first official day of Comic Con! From there it was a mad dash to get to the Xbox booth where a line had already been forming. We were maybe 40 people back in line with play-throughs of ODST lasting 10 minutes, so the line moved relatively slowly.

One of the Xbox booth staff overheard Omega, j41m3z, and me talking about Halo and HBO and all of that and asked us where we were from and started talking to us about Halo. We all mentioned how big of fans we were, so he told us he would see about getting one of us to play up on stage with Bungie. The guy went over to ske7ch (who was further up the line talking to fans) and mentioned us to him, and when we finally got up to ske7ch in the line we started our own conversation. Pictures, autographs, and small talk ensued.

Any diehard Bungie loyalists should find this info very beneficial when it comes to future Halo projects. ske7ch mentioned how we'd really like what was going to be shown at the Halo Universe Panel later that evening, and we informed him that HBO already posted about how it was leaked and it would be some anime thing called Legends. I asked him what his thoughts would be on a scale of "1 to 100" and he said that for him, personally, it's in the 90s. He further voiced his opinion here. And if ske7ch's opinion isn't enough for you all, how about mehve's?

I then asked ske7ch about Halo: Helljumper and whether or not this is all Frankie and Microsoft or if there's any actual input from Bungie on anything regarding where they're taking the Halo Universe. ske7ch said that Joseph Staten did work with Marvel for Helljumper, talking to them and giving them info and other things to help them out with the story. As for Legends, whatever new Halo game they have going on (assuming there is one, though I'd say it's a given), ske7ch said that Bungie is far too busy with ODST, Reach, and other things to work closely with Microsoft. In other words, Bungie is not working with Microsoft on future titles beyond Reach in a major (as well as possibly a minor) capacity.

And being me, I had to ask how that new IP was going and if there was anything he could reveal to me! Well, I have the scoop right here everyone! ske7ch revealed that it's going well! Yep! You heard it here first everyone!

Other than just hanging out with ske7ch for a bit and talking about Bungie, games, Comic Con, vacations, life, the universe, and everything, ske7ch said I could go up on stage and play with Paul Bertone if I'd be willing to wait a bit. I was more than happy to wait and asked whether or not Omega and j41m3z would get to. He informed them of a 30-40 minute wait, and they quickly informed him that that would be absolutely no problem.

The very first thing I did in ODST's Firefight mode is throw a grenade at Paul's back, literally two seconds into the game. It was a complete accident, I was apologizing constantly, and I was forgiven as Paul wandered up and smacked me in the face with the brand new SMG. Awesome stuff!

It's my personal opinion that the night time visor rocks, ODST's Firefight is about 10,000 times better than GoW2's Horde, and ODST looks better and will probably be even more bad ass than H3! Also, Paul is DAMN GOOD at the game he helped make. Oh, and he's a rocket whore. Yep. He told me where the rockets were, I go running for them, and then he picks them up and laughs at me. And then I never saw them again. I'm sure I could have beaten his score if I had the rockets, too! :P But no, seriously, he's DAMN GOOD. I was also given a Bungie hacky sack, with Bungie logo and the 7th column septagon on it!

Paul Bertone has the highest score, and I'm right below him with 8473.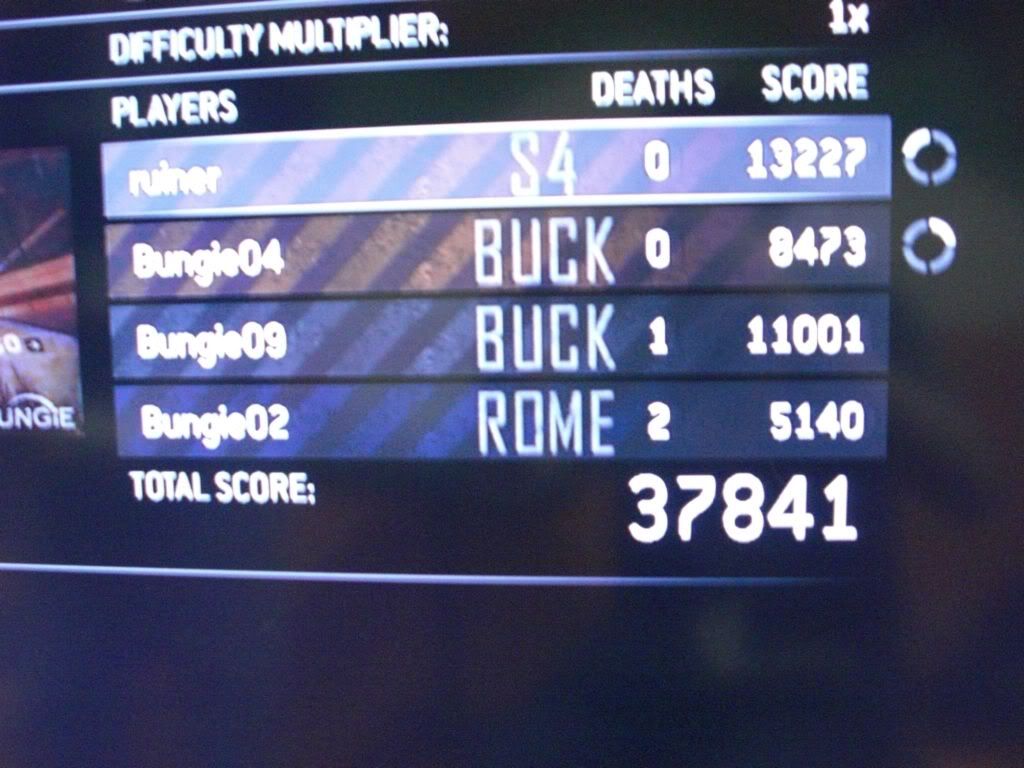 Then an entire day of win went by. Sat in on a few panels, and by the way, I have to recommend the movie "Cloudy With A Chance of Meatballs" based on the panel! Looks hilarious and should be very enjoyable.
Halo Universe Panel time. Halo Legends trailer shown. I was not happy. All I could think was that Microsoft was going to somehow water down Halo, exploit it, destroy it, turn it into Pokemon (Pokemon Brute and Spartan 1337 battling it out!). Frankie mentioned that these seven shorts would take canon strictly into account, with one covering form the Forerunner-Flood encounter all the way up to at least the end of H3. I never intended on asking a question at that panel, but once I saw the trailer and heard about how much it would take canon into account, I had to get up and do it.
I said something along the lines of: "Considering what you stated about the two-part episode covering the Forerunner's first encounter with the Flood all the way through Halo 3, will the Alternate Reality Games ilovebees and Iris be taken into consideration at all?" Frankie replied stating absolutely and that there they were just starting to look at some concept art of a character he couldn't reveal currently. That made me extremely excited (along with other questions at the panel and the Q&A put up here at HBO) for what's to come. Artistic liberties are awesome and I don't mind them--it's all about the story to me.
To make things even cooler, shortly after I got back from Comic Con, j41m3z messaged me when I was playing on Live to say that GameSpot chose my question as the Best Audience Question from the Halo Universe Panel:
"Best Audience Question: One guest asked whether the story from I Love Bees would be considered in the establishment of this fiction. O'Connor answered "absolutely." Talk about remembering your Halo history!"
After the panel, I hung out with TheBruce of WikiBruce fame for a while as we wandered to the Xbox booth to get some pictures and autographs. We each got three posters, each autographed by their actual artist. Frankie later posted at HBO that they were only available at Comic Con and won't be released elsewhere, so that's also really cool!
And that's that! I really don't think I can ever top the experience I had at this Comic Con. Oh, and one more thing...
Giant Pikachu!